Fujifilm XF1 review: Stylish, creative controls and image quality amongst the best compacts
By Paul Carroll -
Thursday March 07 2013
Sensor Review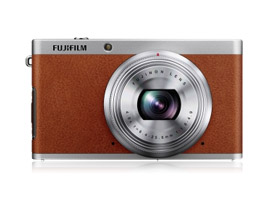 Launched in September 2012 the Fujifilm XF1 is a fixed lens compact aimed at advanced enthusiasts after a pocket-sized second camera for holidays and photo day trips. Featuring customizable function buttons, creative exposure modes and a manual barrel zoom lens with a 25-100mm equivalent focal length, there's plenty of control for serious photographers to sink their teeth into. What's more with a 2/3-inch 12-megapixel EXR-CMOS Sensor at its heart we're optimistic the $499 Fujifilm XF1 will deliver on picture quality, too.
As demand for better image quality from smaller cameras continues, more options flood the market with varying sensor and lens specifications. These range, from mirrorless interchangeable lens Hybrids featuring either an APS-C, Micro Four Thirds or 1-inch sensor depending on the manufacturer, and more recently we've seen a trend toward fixed lens cameras with large sensors such as the full frame Sony RX-1, the Canon G1 X with its 14 x 18.7mm sensor, or the recently announced APS-C Nikon Coolpix A.
Hybrids and larger compacts like the RX1 or G1 X are not really pocket size in the same way as traditional compacts with retractable lenses however. The Fujifilm XF1 on the other hand is a compact in the true sense with a slim line body that, with the lens retracted, will slip into a shirt pocket.
XF is a new product line for Fujifilm and sits within their Pro/Enthusiast X range, which now offers three types of camera; Interchangeable lens Hybrids with an APS-C sensor like the X-Pro1, fixed lens cameras with an APS-C sensor like the X100 and Bridge or Compacts like the XF1 with a smaller 2/3-inch sensor.
With an ISO 100-3200 (expandable to 12800 at lower resolution) sensitivity range, 4-Stop image stabilization, a manual zoom ring, 3.0-inch 460k dot LCD, HD video, RAW image capture with in-camera processing and "Advanced Filters" for previewing processing effects on screen, the XF1 has lots on offer. Let's see how that 2/3-inch EXR-CMOS sensor holds up in the DxOMark Scores.
Further readings for the Fujifilm XF1 review: Stylish, creative controls and image quality amongst the best compacts
To provide photographers with a broader perspective about mobiles, lenses and cameras, here are links to articles, reviews, and analyses of photographic equipment produced by DxOMark, renown websites, magazines or blogs.
---
---
---
---
Comments
Added by

jfy65

| March 26 , 2013

Lens performance for compact cameras

Lenses are often quite weak on compact cameras. However DXOmark publishes score for the sensor only. Is it possible to draw any conclusion from this measurement as to the photographic quality of the camera including the lens ? Do you plan to test the combination of lens and sensor as you do for DSLR ?
Thank you for your reply.


Reply | Read all replies for this comment
First replies for this comment
---
Lens performance on Enthusiast Compacts?

Thank you for another useful review. I often refer to your reviews when looking to make a new purchase, particularly for lenses. I note that DXO generally does not review a lens on compact enthusiast cameras. Most photographers, myself included believe the lens has a larger impact on final image quality than the sensor. I am sure the DXO testing experts would agree that a great sensor provides little value when pared with a dull lens with high distortion, vignetting and Chr. aberration. Image Quality is very important when comparing enthusiast cameras, please provide lens performance in future reviews.

Thanks



Reply | Read all replies for this comment
First replies for this comment
---
Added by

Hakeem

| March 10 , 2013

Once again the same repeated arrogance

You don't need to judge what's fair and not. This is so strange you think EXR Modes are cheat or unfair? Even if so, you can keep your combined score and comparison with the standard mode, but still mention how much DR and ISO performace improves in the respective priority modes.

Let consumers decide what it is ..


Reply | Read all replies for this comment
First replies for this comment
---
EXR score

"To ensure a fair comparison with sensors from other manufacturers however, DxOMark presents Sensor Scores for the Fujifilm XF1 using a normal exposure mode and not EXR Mode."

Totally unfair, if you ask me. What is the point of testing an EXR sensor in its normal mode? An EXR sensor is capable of delivering better results in its other modes!


Reply | Read all replies for this comment
First replies for this comment
---
EXR scoring

"To ensure a fair comparison with sensors from other manufacturers however, DxOMark presents Sensor Scores for the Fujifilm XF1 using a normal exposure mode and not EXR Mode."

Why not present both scores - with EXR and without - but use traditional scores in comparisons against others? I think it would be fair for the consumers to know what can be achieved with different approaches.


Reply | Read all replies for this comment
First replies for this comment
---
Added by

triglav

| November 10 , 2012

XF1 built-in flash

The statement that the camera does not have a built-in flash is wrong. It is just impossible to attach an external flash.


Reply
---