Latest results for Zeiss lenses
Monday March 28 2011
Lens Review
Distagon T18mm f/3.5
CANON MOUNT
This very-wide-angle prime lens reaches its best DxOMark Score (150 Lux - 1/60th exposure time) and its best mid-light scores (5000 Lux – 1/125th) at f/5.6 in both cases. Its very wide angles combined with its good performance make it a suitable lens for landscape and architecture shooting. Mounted on an APS-C body, the crop factor of the sensor makes this 18mm a bit longer (28.8mm) and suitable for reportage as well as for landscape shooting.
On a full-frame sensor (EOS 1Ds MkIII):
This 18mm delivers a very good resolution with 51lp/mm, and a rather restrained distortion measured at 0.4%, which is quite good for such a wide-angle lens. Its biggest weaknesses is light transmission above 4 T-stops (certainly derived from its complex optical formula), and quite pronounced LCA limited to the sides of the map between f/3.5 and f/5.6, but invading a much bigger area at f/8 and higher.
The best resolution is achieved between f/3.5 and f/11. Wide open, its center is already very sharp. Stopping down to f/5.6 delivers a highly detailed central zone (up to one-third of the map), with the next one-third being very good too (above 50lp/mm). Stopping down to f/11 will make the last one-third of the map and the angles much better.
Vignetting is quite important wide open, mostly in the corners. At f/5.6, things are much better, but no matter the aperture, the vignetting is always noticeable.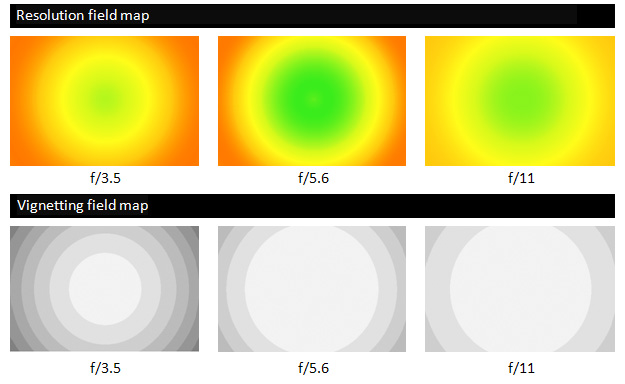 On an APS-C sensor (EOS 7D)
Mounted on an APS-C sensor, the behavior is similar. The resolution decreases a bit, which is normal. Although the map looks similar to that of the full-frame sensors, the best definition is found between f/5.6 and f/8, where it remains above 50lp/mm on most of the map, except for on the edges; but the overall homogeneity is quite good.
Reducing the sensor size always has a very strong impact on vignetting. If it was important on a 24x36 sensor, on this sensor it is halved, and much easier to handle even at full aperture. At f/5.6, vignetting simply disappears.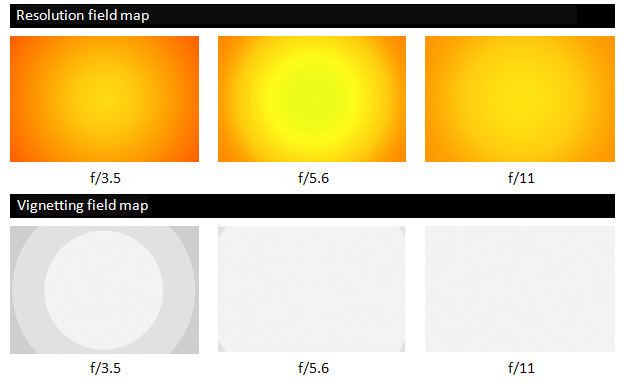 Comparison:
Zeiss Distagon T 18mm f/3.5 ZE Canon v. Canon EF 16-35mm f/2.8L II USM
NIKON MOUNT
Mounted on a Nikon body, this lens achieves its best low-light and mid-light scores at f/4, except for the mid-light score on an APS-C sensor (achieved at f/5.6).
The strength of this wide-angle lens is clearly its reduced distortion (0,7% on a full-frame and 0,5% on an APS-C); on the other hand, chromatic aberrations are pronounced, especially on the last one-third of the field when mounted on an APS-C sensor, and its resolution may not be as high as expected.

On a full-frame sensor (D3X):
Associated with a full-frame sensor, this 18mm provides a sharp central zone at full aperture. Stopping down to f/5.6 makes this central area wider, making the whole first one-third clear and sharp. But the corners remain much softer. At f/8 they are degraded, but improve again at f/11.
Vignetting is quite visible at f/3.5, but gradually diminishes when the lens is stopped down. But although it is easily manageable, it never totally disappears.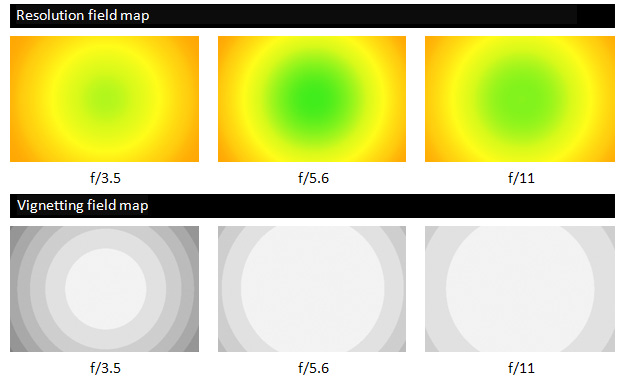 On an APS-C sensor (D300s):
On an APS-C body, this wide-angle lens is not as good as it was on full-frame. When fully opened, most of the field map is soft. Stopping down to f/5.6 and f/8, and even f/11, makes the center much better, but the last one-third of the map remains softer.
Vignetting here is not a real problem. Noticeable at full aperture, it almost disappears when stopped down to f/5.6, leaving only the corners a bit darker.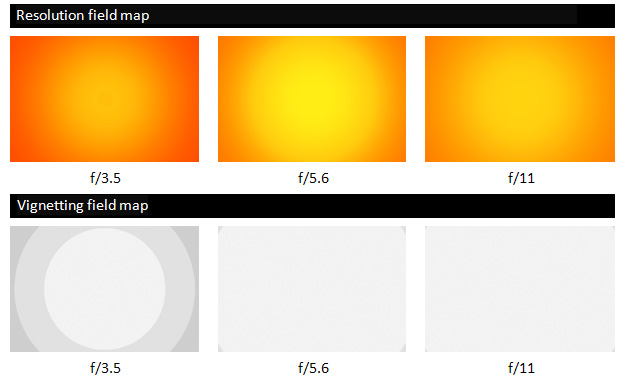 Comparison:
Zeiss Distagon T18mm f/3.5 ZF2 v. Nikkor AF-S 17-35mm f/2.8D IF-ED
Further readings for the Latest results for Zeiss lenses
To provide photographers with a broader perspective about mobiles, lenses and cameras, here are links to articles, reviews, and analyses of photographic equipment produced by DxOMark, renown websites, magazines or blogs.
---
Carl Zeiss is one of those almost mythical lens makers. Focusing on quality, its lenses almost always rely on complex optical formulas. Their price reflects this involvement in quality, and logically Zeiss lenses are on the same shelves as the very high-end Canon or Nikon models.
We have tested 14 of them so far, ranging from the ultra-wide-angle Distagon T18mm f/3.5 to the much heavier Makro Planar T100mm f/2.
The review is available here.