Latest results for Zeiss lenses
Monday March 28 2011
Lens Review
Distagon T35mm f/2
NIKON MOUNT
Mounted on an APS-C sensor, this lens is very good for shooting portraits or for reportage. On a full-frame body, it is a solid lens for landscape as well as for reportage.
Interestingly, it reaches its best low-light DxOMark Score as soon as f/2 on an APS-C sensor, and at f/2.8 on a full-frame. These figures are significant, especially when dealing with a fast lens.
The mid-light performance achieves its best score at f/2.8 on a full-frame, but on an APS-C, the lens needs to be stopped down to f/4.
On a full-frame sensor (D3X):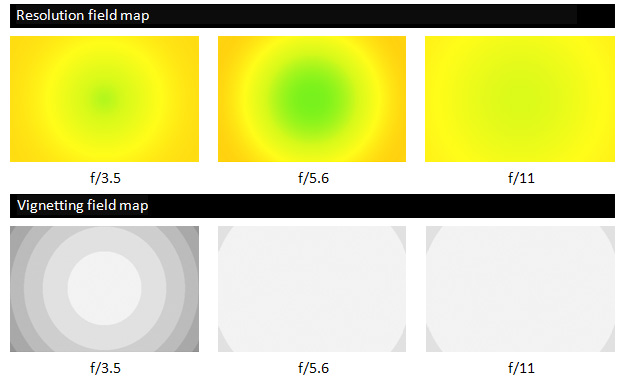 Fully opened, this 35mm offers an interesting field map, the center being already sharp, and most of the frame standing around 50lp/mm. The more interesting being that the corners are almost as sharp as the rest of the field. Stopping down the lens to f/5.6 will increase the size of the sharper central zone without degrading the borders, but without improving them, either.
Vignetting is important at f/2, but it decreases as long as the lens is stopped down. Vignetting becomes limited to the corners at f/5.6.
On an APS-C sensor (D300s):
On a smaller sensor size, the resolution behaves identically, except that the D300s's 12-megapixel sensor struggles to keep the edges above 40lp/mm. Here again, the optimal range is located between f/2.8 and f/5.6.
Vignetting is noticeable at f/2 but completely disappears as soon as the lens is stopped down to f/2.8 or smaller apertures.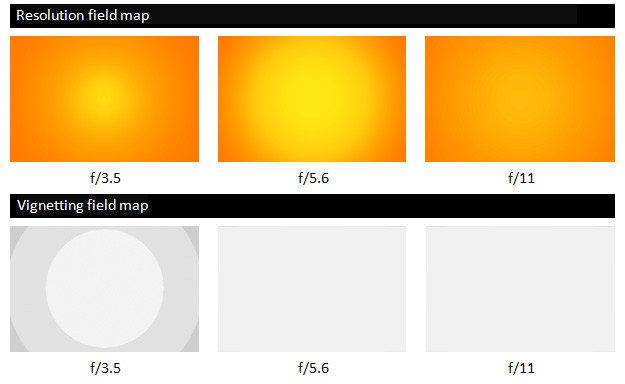 Comparison 1 (On D3x):
Zeiss Distagon T35mm f/2 ZF2 v. Nikkor AF-S 17-35mm f/2.8D IF-ED
Comparison 2 (On D300s):
Zeiss Distagon T35mm f/2 ZF2 v. Nikkor AF-S DX 35mm f/1.8G
Further readings for the Latest results for Zeiss lenses
To provide photographers with a broader perspective about mobiles, lenses and cameras, here are links to articles, reviews, and analyses of photographic equipment produced by DxOMark, renown websites, magazines or blogs.
---
Carl Zeiss is one of those almost mythical lens makers. Focusing on quality, its lenses almost always rely on complex optical formulas. Their price reflects this involvement in quality, and logically Zeiss lenses are on the same shelves as the very high-end Canon or Nikon models.
We have tested 14 of them so far, ranging from the ultra-wide-angle Distagon T18mm f/3.5 to the much heavier Makro Planar T100mm f/2.
The review is available here.