Latest results for Zeiss lenses
Monday March 28 2011
Lens Review
Makro Planar T 100mm f/2
CANON MOUNT
This macro lens is a really solid competitor. Sharp, it displays very homogenous resolution field maps, shows almost no distortion at all, very little vignetting even on 24x36 sensors, and very few chromatic aberrations. This is a reliable lens, for sure!
It reaches its best DxOMark low-light score at f/2.8 on both sensor types. On a full-frame, it is a remarkable portrait lens that also shows good capability for sports photography. On an APS-C camera, it remains very good for portraits, but proves terrific for sports.
On a full-frame sensor (EOS 1Ds MkIII):
Mounted on an EOS 1Ds MkIII, this 100mm macro is already above 50lp/mm at full aperture. More remarkable, it is perfectly constant on the whole map, even in the corners! Stopping down to f/4 preserves the edges and the corners, but increases the first one-third by more than 10 lp/mm. At f/8 the very sharp zone in the middle has shrunk a bit, and disappears when closed at f/11. The best aperture is f/4. But the edges and the corners are never softer than the rest of the field. Impressive.
Vignetting is visible at f/2, but disappears as soon as the lens is stopped down to f/4. This is really good on a full-frame sensor. Thus at f/4, you have the best resolution and no vignetting.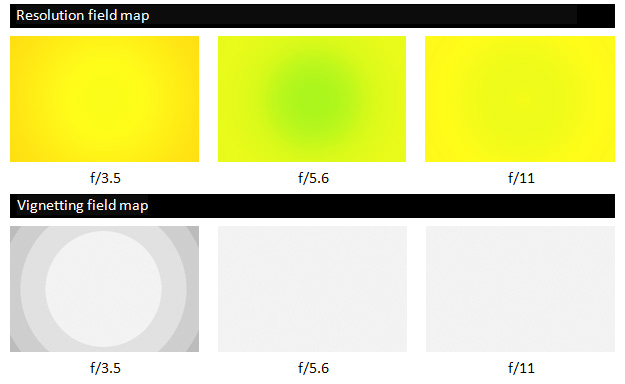 On an APS-C sensor (EOS 7D)
On an EOS 7D, the picture is roughly identical. The resolution is good and particularly regular on the whole field map. The best zone is located between f/4 and f/8, where resolution remains above 50lp/mm everywhere on the field map.
As on a full-frame body, vignetting is noticeable at full aperture, but simply disappears as soon as f/2.8.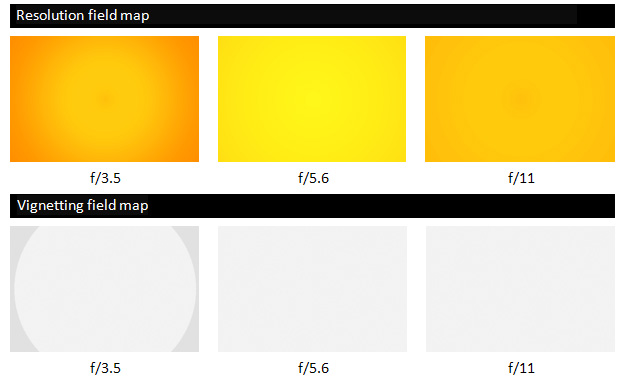 Comparison 1:
Zeiss Makro Planar T 100mm f/2 ZE Canon v. Canon EF 24-105mm f/4L IS USM
Comparison 2:
Zeiss Makro Planar T 100mm f/2 ZE Canon v. Canon EF 85mm f/1.2L II USM
NIKON MOUNT
No distortion, little vignetting, solid resolution, and almost no chromatic aberrations—the overall picture is really exciting. Its low-light score is just as impressive, since this macro lens is at its best even at its wider aperture, and for its mid-light score, when stopped down to f/4. This makes this lens it a very potent candidate for portraits as well as for sports, especially on APS-C sensors.
On a full-frame sensor (D3X):
The wider aperture is already good, providing around 50lp/mm on the whole frame, even in the corners. Stopping down to f/5.6 will improve the center resolution to almost 60lp/mm without degrading the edges.
Although vignetting is important at f/2, it completely disappears when the lens is stopped down to f/4 and beyond.
On an APS-C sensor (D300s):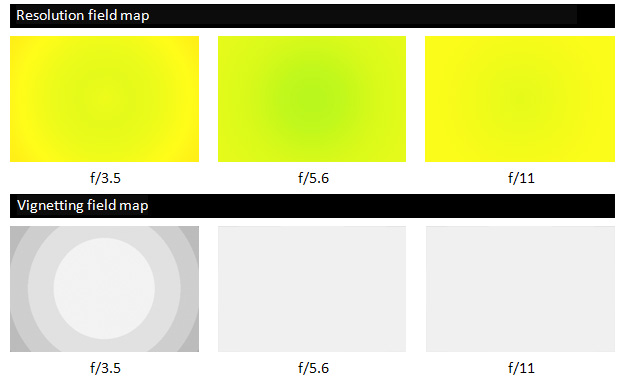 The scenario is similar for APS-C sensors: the whole frame stays very homogenous and the edges are never degraded compared to the middle of the field. Full aperture is a bit soft, but stopping down to f/5.6 will give the best resolution the lens can achieve.
Here again, as it was the case on a full-frame body, the vignetting is visible at maximum aperture but disappears 1 stop later.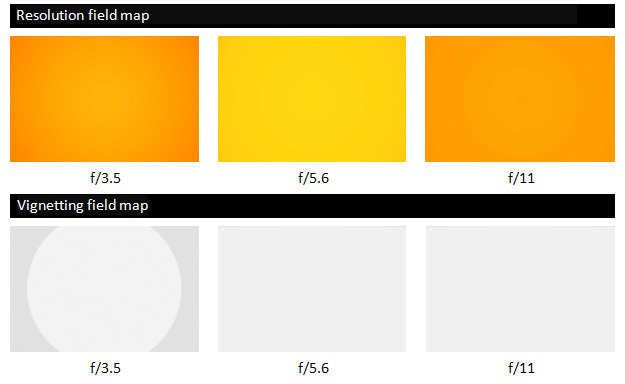 Comparison:
Zeiss Makro Planar T 100mm f/2 ZF2 v. Nikkor AF-S VR 105mm f/2.8G IF-ED
Further readings for the Latest results for Zeiss lenses
To provide photographers with a broader perspective about mobiles, lenses and cameras, here are links to articles, reviews, and analyses of photographic equipment produced by DxOMark, renown websites, magazines or blogs.
---
Carl Zeiss is one of those almost mythical lens makers. Focusing on quality, its lenses almost always rely on complex optical formulas. Their price reflects this involvement in quality, and logically Zeiss lenses are on the same shelves as the very high-end Canon or Nikon models.
We have tested 14 of them so far, ranging from the ultra-wide-angle Distagon T18mm f/3.5 to the much heavier Makro Planar T100mm f/2.
The review is available here.