Leica M9, M9-P and M-E Type 220 review – Ahead of the new Leica M we round up the DxOMark Scores of its predecessors
By Paul Carroll -
Wednesday March 06 2013
Sensor Review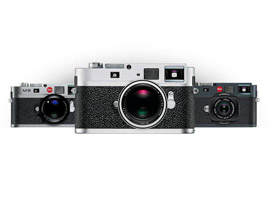 Leica enthusiasts are getting excited as the revered German manufacturer looks set to ship their new M Type 240 digital rangefinder very soon. Featuring a brand new 24-megapixel CMOS sensor, the latest model in the M Series departs from the CCD sensor technology Leica have previously used. So as we await the new, let's look back at the Sensor Scores for the M9, M9-P and M-E Type 220 using that CCD Sensor, to get us in the mood.
Dating back to the launch of the M3 in 1954, the Leica M System has a distinguished history and reputation for quality engineering that makes it the discerning professionals' camera of choice. Diminutive dimensions, minimalist design, and a rangefinder style viewfinder that allows the photographer to take in their surroundings and capture the decisive moment, as a scene unfolds is perfect for discreet photojournalism and street photography.
Launched in 2006, the M8 was the first digital version featuring a 10Mp 27x18mm CCD. The first full frame M9 came along in September 2009 with a higher resolution 18Mp 24x36mm CCD and a $7000 price tag. The cheaper but similar $5450 M9-P followed in January 2011, with the most recent $5450 M-E Type 220, launched in September 2012.
Opting for simplicity over technological gimmicks, Leica's are stripped back to the basics with dials for Shutter Speed and Drive Mode, Apertures set via the lens, and limited controls on the rear, but of course compatibility with almost all Leica M Mount lenses. Side by side with the latest DSLRs however, the specs are nothing to shout about with a 160–2500 ISO range, 2fps burst shooting, 2.5 inch 230k dot LCD, no pop-up flash and manual focusing.
So does the Image Quality on the M9-P and M-E Type 220 fare any better? The DxOMark Sensor Scores will tell us.
Further readings for the Leica M9, M9-P and M-E Type 220 review – Ahead of the new Leica M we round up the DxOMark Scores of its predecessors
To provide photographers with a broader perspective about mobiles, lenses and cameras, here are links to articles, reviews, and analyses of photographic equipment produced by DxOMark, renown websites, magazines or blogs.
---
---
---
---