Nikon 1 AW1 review: 1 system reborn
By Kevin Carter -
Wednesday December 18 2013
Sensor Review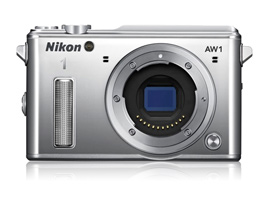 After the initial euphoria of the Nikon 1 V1 it's probably true to say subsequent models failed to capture the imagination in quite the same way. Now with the introduction of the waterproof AW1 Nikon has cleverly won back interest in the system. Read on to find out how this super-compact and submersible model performs.
Nikon were one of the last major camera maker's to introduce a mirrorless model and while the Nikon 1 V1 garnered praise initially later models from the firm failed to induce the same levels of curiosity. Fast-forward to the AW1 and Nikon has clearly given the system a new lease of life. The AW1 borrows on the internal components of the land-based Nikon 1 system with its 14.2-Mpix 1-inch type (13.2mm x 8.8mm) CMOS complete with fast focusing from its hybrid AF system and wraps it in a freeze-proof, shockproof and fully submersible shell.
Sealed and lockable covers care adopted for the various compartments while to the rear the AW1 has a 3-inch 921-k dot LCD. The camera has an innovative range of motion sensing functions, allowing certain features to be selected more easily when submersed or if using with mittens or gloves in the cold.
Full-time AF is possible at full resolution at up to 15fps, or 60fps without AF. Like it siblings, the AW1 also has Full HD video recording at 60/30fps in MOV (H.264/MPEG-4) with stereo and even has a pop-up waterproof flash, though that's only for stills.
Naturally enough you can't have a submersible camera without suitably equipped lenses, and Nikon has introduced two dedicated lenses, a 10mm and an 11-27.5mm zoom. When fitted, the AW1 is waterproof down to 15m, a lot less than the firm's no longer-made Nikonos system but useful nonetheless. While the AW1 and 1 Nikkor AW lenses adopt a new waterproof mount with heavy-duty O-ring sealing, the firm's existing 1 Nikkor lenses may also be used, but, naturally, only on land.
The Nikon AW1 is available now in black, white or silver at $799 complete with the new 1 Nikkor AW 11-27.5 f3.5-5.6 zoom.
Key specifications:
14.2-Mpix CX-format CMOS sensor
ISO 160-6400
Water, shock, dust & Freeze-proof design
15 fps burst mode with continuous AF, 60 fps with single AF
3.0-inch 921k-Dot LCD
Full HD 1080i/p video capture at 60/30 fps
Action control with motion sensing functions
Advanced Hybrid AF System
Built-In GPS with compass, altimeter, and depth meter
Pop-up waterproof flash
Further readings for the Nikon 1 AW1 review: 1 system reborn
To provide photographers with a broader perspective about mobiles, lenses and cameras, here are links to articles, reviews, and analyses of photographic equipment produced by DxOMark, renown websites, magazines or blogs.
---
---
---
---