Nikon 1 J2 review: All Quiet on the Eastern Front
Monday October 29 2012
Sensor Review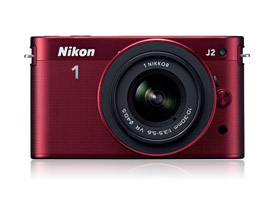 The Nikon 1 J2 retains many of the same characteristics of its older brother, the J1, including its 1", 10-Mpix CMOS sensor. Other than its new 3", 921,000-point screen, the new version of Nikon's compact hybrid puts particular emphasis on creative modes. How does the Nikon 1 J2's sensor perform with respect to its predecessor, to its direct competitors, and to expert-level hybrids and compacts? Some answers from DxOMark.
Launched in September 2011, the Nikon 1 system is based on a CX sensor (harkening back to the Nikon DX and FX DSLR sensors). Its 13.2 x 8.8mm size is smaller than micro 4:3 and APS-C sensors, however, the J1's DxOMark scores were surprisingly honorable for a sensor of this size. With a DxOMark overall score of 56, the Nikon compact managed to compete with larger sensors, including 4:3 formats. Its good performance in terms of color depth and dynamic range at its lowest ISO was likewise surprising. Nevertheless, it was penalized in terms of low-light sensitivity because of its small sensor size.
Unsurprisingly, the Nikon 1 J2 doesn't show significant progress over the Nikon 1 J1, given that they share the same sensor — one that doesn't seem to have changed at all between the two generations.
Strengths of the Nikon 1 J2:
Color depth.
Good dynamic range at its lowest ISO.
Weaknesses of the Nikon 1 J2:
No improvement in image quality compared to its predecessor.
Low-light performance is penalized by the sensor size.
Further readings for the Nikon 1 J2 review: All Quiet on the Eastern Front
To provide photographers with a broader perspective about mobiles, lenses and cameras, here are links to articles, reviews, and analyses of photographic equipment produced by DxOMark, renown websites, magazines or blogs.
---
Sensor
|
October 29, 2012
| | |
| --- | --- |
| | The Nikon 1 J2 retains many of the same characteristics of its older brother, the J1, including its 1", 10-Mpix CMOS sensor. Other than its new 3", 921,000-point screen, the new version of Nikon's compact hybrid puts particular emphasis on creative modes. How does the Nikon 1 J2's sensor perform with respect to its predecessor, to its direct competitors, and to expert-level hybrids and compacts? Some answers from DxOMark. |
---
---
Comments
Re: What a stupid camera

So you don't care about how cameras compare but you care about Amazon sales rankings? OK. Justin Bieber outsells most artists. Does that make his music the best? Not even close.

You said the Nikon 1 was a dead-end concept. But the very fact that it compares favorably to other cameras, even some with larger sensors means that not only is a NOT a dead end concept, but is a great choice for people wanting great IQ in a fast shooting camera. And I don't know if you've used both cameras (I've owned both a J1 and RX100) but the J1 and RX100 bodies are exactly the same size. Look up the specs. Identical size.

The only reason the RX100 is popular is because it's one of the first P&S with a large sensor. That;s it. BUT it has muçh slower AF and performance than a J2. And the slow f4.9 lens at 100mm, is equivalent to f13.4 on FF. Not exactly desirable for portraits where you want subject/background separation. RX100 also has terrible macro performance, no macro mode. I don't know about you, but I like P&S for macro because they have deep DOF and focus extremely close. The RX100 doesn't, so why buy it? For 1/2 EV better high ISO vs other P&S? Not enough reason for me.

The Nikon 1 cameras have blazing fast AF, super accurate predictive tracking that an RX100 can't even do. For sports/action photography an RX100 wouldn't even be anywhere in the running. The RX100 is a snapshot camera, no more. It's main selling point is size but the J2 without the lens is the same exact size, but is a much more versatile camera. Period.

I'm not sure why you feel so threatened by the Nikon 1 camera, but if you don't like it, find a different camera. Nobody cares if YOU think it's a stupid camera.



Reply | Read all replies for this comment
First replies for this comment
---
DXO Analyzer software

Another site that use DXO Analyzer software, the results look different.
http://www.techradar.com/us/reviews/cameras-and-camcorders/cameras/digital-slrs-hybrids/nikon-1-j2-1095202/review/page:5#articleContent

The process must be different. I guess this review is good information for cameras that work best with DxO software and DxO Optics Pro.


Reply
---
Added by

AaronMC

| October 30 , 2012

What a stupid camera

Really. The 1 is the very definition of a dead-end concept.

I don't have complete info, and lord knows Nikon is being cagey about the sales for this camera, but is the 1 still actually selling?

All of my contacts and friends in the business say that the 1 isn't selling at all, but most of them work in camera shops. Are these selling at Best Buys and Targets?


Reply | Read all replies for this comment
First replies for this comment
---