Nikon 1 J5 sensor review: Performance breakthrough
By Paul Carroll -
Tuesday July 07 2015
Sensor Review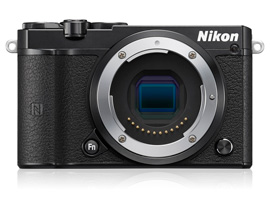 The Nikon 1 J5 is the latest iteration of the 1-series mirrorless J-range models aimed at what the maker calls "everyday" users. Read on to find out how well the sensor in this new model performs.
Specification and features 
As the latest iteration of Nikon's J-series mirrorless cameras using a one-inch type BSI CMOS sensor, the Nikon 1 J5 has a much more traditional design than its predecessor. As well as the addition of Program, Manual, Aperture-Priority and Shutter-Priority modes to the main mode dial, the J5 features a secondary command dial on the top plate in addition to the control ring on the back.
The 20.8-Mpix sensor is new to this series (the J4 adopted a 18.38-Mpix model), and it has on-chip phase detection AF with 148 sensor points. In combination with the new image processor (Expeed 5A), the J5 can shoot bursts of up to 20 fps with continuous AF, and 60 fps without.
The processor is also needed for the 4K (UHD) movie clip option, though unfortunately it's offered at just 15fps — a little slow for most uses. However, HD movies are a strong point, with clips recorded at up to 1080/60p or 120fps at 720p (both useful for slow-motion on a slower timeline). The J5 has a three-inch tilting touch-screen LCD and has a useful Wi-Fi with NFC option.
Like its predecessor, the J5 remains one of the smaller models, measuring just 3.9 x 2.4 x 1.2" (98.3 x 59.7 x 31.5 mm), and weighs 9.35 oz (265 g) with card and battery. It's available now with the 1 Nikkor 10-30mm VR zoom at around $499.
Key specifications 
20.8-Mpix CX-format BSI CMOS sensor
Expeed 5A image processor
Three-inch, 1,037k-dot tilting touchscreen LCD
UHD 2160/15p movies and Full HD 1080/60p
Built-in Wi-Fi connectivity with NFC
Hybrid AF with 105 phase-detection points
Bursts up to 60 fps, 20 fps with AF-C
Sensitivity to ISO 12800
Time lapse
Measurements: Nikon 1 J5 ranks alongside Sony RX100 models
Comparison 1: Nikon 1 J5 vs Nikon 1 J4 vs Nikon 1 V3: Considerable improvement
Comparison 2: Nikon 1 J5 vs Panasonic Lumix DMC-LX100 vs Sony Cyber-shot DSC RX100 III: Competitive performance
Further readings for the Nikon 1 J5 sensor review: Performance breakthrough
To provide photographers with a broader perspective about mobiles, lenses and cameras, here are links to articles, reviews, and analyses of photographic equipment produced by DxOMark, renown websites, magazines or blogs.
---
---
---
Comments
First replies for this comment
---
Re: not a 1 inch sensor...

In case anybody is reading this, no sensor's rectangular dimensions are anything like the quoted size. The 1", 1/2.3" etc refer to the imaging circle which is a theoretical concept, and is always bigger than the actual sensor.


Reply
---
Nikon 1 J5 and Nikon 1 lenses

Hi DxoMark, any chance you could test the key Nikon 1 lenses with the J5? i.e. 70-300; 32 1.2; 18.5 1.8; 10-100 4-5.6; 6.7-13 3.5-5.6.

Ok that's quite a lot of lenses! The first three on the list would be a great start!

In due course it would be interesting to see how the kit lenses do too - 10-30 PD, 30-110.



Reply
---