Nikon 1 Nikkor 6.7-13mm f/3.5-5.6 VR & 18.5mm f/1.8 lens reviews: best performing lenses in the range
By Kevin Carter -
Wednesday June 26 2013
Lens Review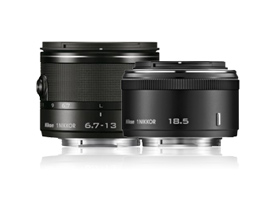 Nikon was one of the last big camera makers to offer a mirrorless model but when they finally announced the Nikon 1 system back in September, 2011, they attracted some controversy for adopting a new smaller sensor than rivals. Since then, they've done well to increase popularity of the system by expanding the range of lenses in a relatively short time frame. The 1 Nikkor 6.7-13mm f/3.5-5.6 and the 18.5mm f/1.8 are two of the newest models from the firm. Read on to see how well they perform when mounted on the Nikon 1 V1 body.
Nikon's 1 series cameras adopts a smaller 1-inch type sensor which allows the firm to offer lenses that are substantially more compact than most rivals with mirrorless offerings. In fact with the exception of the new 32mm f/1.2, the lenses are so small they actually lack focus rings. Manual focus is still possible, however, it's just that control is made via the camera body. The small sensor also accounts for the shorter than usual focal lengths on offer. The new $500 image stabilized 1 Nikkor 6.7-13mm f/3.5-5.6 VR and $187 18.5mm f/1.8 have the equivalent angle of view in full-frame 35mm terms to a very useful 18-35mm and 50mm, respectively.
Further readings for the Nikon 1 Nikkor 6.7-13mm f/3.5-5.6 VR & 18.5mm f/1.8 lens reviews: best performing lenses in the range
To provide photographers with a broader perspective about mobiles, lenses and cameras, here are links to articles, reviews, and analyses of photographic equipment produced by DxOMark, renown websites, magazines or blogs.
---
---
---
---
Comments
I fail to understand the scores...

As far as sharpness is concerned, the 18.5mm achieves 6 out of 10MP, the Sigma 12 out of 24. How could it achieve an higher point when it resolving only 50% of the sensor pixels?
Furthermore the Canon 300 and 400mm f/2.8 score extremely low in transmission. Of course they are no f/1.4 lenses, but they are no 50mm either...What about weighting the values? A 400mm with T=3.1 should score much more than a 50mm with T=1.7, in my opinion.


Reply
---