Nikon 1 S1 review: A new product line for the Nikon Hybrid system
By Paul Carroll -
Wednesday February 20 2013
Sensor Review

Nikon 1 S1: No significant improvement over previous 10-megapixel Nikon 1 Hybrids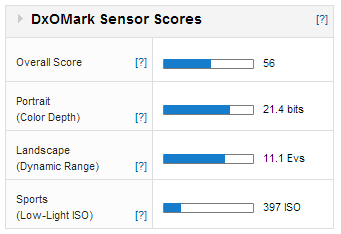 Although ranking in 1st place in the DxOMark Sensor Scores for Nikon 1 Series cameras the S1 is still off the pace compared with much of the Hybrid competition.
With an Overall DxOMark Sensor Score of 56 the Nikon 1 S1 ranks 129th for all camera sensors on the DxOMark Database and finishes 1st for Nikon 1 Series Hybrids. With the same Overall Score as the Nikon 1 J1 (56) and only 2 points better in comparison to the 54 achieved by the Nikon 1 V1 and J2 however, we measured no significant improvement in overall image quality compared with previous 10-megapixel Nikon 1 Series Hybrids.
What's more ranking just 20th overall for all Hybrids results from the smaller 1-inch CX sensor don't fare that well against its competitors. Scoring 11.1Evs for Dynamic Range the Nikon 1 S1 ranks 124th for all sensors and 18th for Hybrids. Contrast that with the 13.4Evs achieved by the top-ranking Hybrid the Sony NEX-7 that has a 2.3Evs better Dynamic Range than the S1.
21.4 bits for Color Depth places the Nikon 1 S1 in 130th Overall and in 2nd place for Nikon Hybrid cameras behind the J1 with 21.5. For Low-Light ISO the S1 score of 397 places it 158th overall and 3rd for the Nikon 1 Series, but with all of Nikon's Hybrid offerings hovering around the 400 ISO mark their performance here is also weak compared to Hybrids with larger APS-C sensors such as the Pentax K 01 with 1135 ISO or Sony NEX-C3 with 1083 ISO.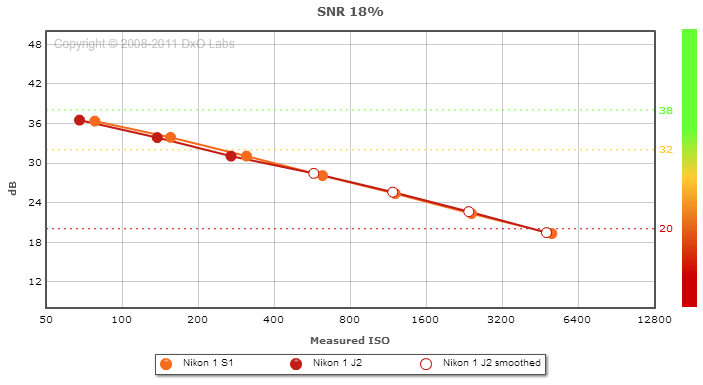 Whereas earlier Nikon 1 models such as the J2 smoothed RAW file Noise between 800 – 6400 ISO the new Nikon 1 S1 doesn't but achieves very similar SNR 18% results.
Further readings for the Nikon 1 S1 review: A new product line for the Nikon Hybrid system
To provide photographers with a broader perspective about mobiles, lenses and cameras, here are links to articles, reviews, and analyses of photographic equipment produced by DxOMark, renown websites, magazines or blogs.
---
---
---
---
---