Nikon 1 V2 review: Evolution, stasis or regression?
By David Newton -
Thursday December 20 2012
Sensor Review
Sensor Performance
The previous version of this camera, the Nikon 1 V1 is ranked 137th in our sensor rating database, with a DxOMark score of 54. Interestingly, in straight overall scores, the Nikon 1 V2 actually loses ground to its predecessor, only scoring 50 for a ranking of 150th. To put this into perspective and show how technology has progressed over the last few years, a score of 50 places this hybrid camera level with the Nikon D70s, a previously popular DSLR from Nikon, launched in 2005.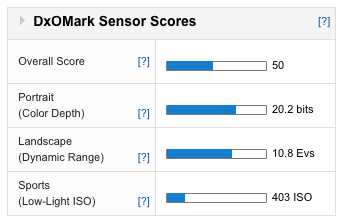 The Sensor scores for the Nikon 1 V2 show it does not excel in any one area, with the results for all three metrics being at the low end of the scale.
It seems strange for a newer camera to perform worse in overall score than its predecessor, as we usually assume that new products bring advancements, not regression. However, if we look in detail at the results and the specifications of the camera, the reasons become a little clearer. The V2 scores 20.2bits for colour depth, 10.8Evs for Dynamic Range and 403 ISO for low-light performance. Compared to the V1, both the Colour Depth and the Dynamic Range scores are lower, while the low-light ISO score shows a slight improvement. Given that the overall DxOMark score is made up of all three of these scores combined, the relatively lower scores in both Colour Depth and Dynamic Range have had a detrimental impact despite the acceptable low-light score and the extra 4megapixel resolution.
If we look at the scores from the V2 in isolation, the scores for all three metrics are at the low end of the scale. Even the improved ISO score sees the camera lose ground to competitor cameras from a range of manufacturers including the some Sony NEX models, the Canon EOS M and cameras featuring micro 4/3rds sensors – all of which perform as much as 1-stop better. Partly this could be due to the size of the sensor – the Nikon CX format being smaller than micro 4/3rds, which is, in turn, smaller than APS-C.
Further readings for the Nikon 1 V2 review: Evolution, stasis or regression?
To provide photographers with a broader perspective about mobiles, lenses and cameras, here are links to articles, reviews, and analyses of photographic equipment produced by DxOMark, renown websites, magazines or blogs.
---
Sensor Preview
|
October 25, 2012
| | |
| --- | --- |
| | In the Nikon 1 line of digital compacts with interchangeable lenses, the V2 brings some nice new features: shooting at 60 i/s, Full HD video recording in 60p, different modes for slow motion, and … a new 1-inch, 14.2-megapixel, 6400 ISO CMOS sensor that we can hardly wait to test! But while we wait for its appearance on the market, here's all the skinny on the Nikon 1 V2. |
---
---
---
---
Comments
Added by

noirist

| August 21 , 2013

Does the 1 have a market?

The V2 with FT1 mount adapter and high burst rate seems like an attractive proposition for Nikon owners until you look into the details. The FT1 is limited to center point single servo AF, which makes it nearly useless for moving subjects. So you'll have to use native Nikon 1 glass for any kind of action photography, and those lenses are large, heavy, and low in optical quality versus their M43rd competitors. And the DxO tests show that anyone shooting a D800 or even a D5200 will be painfully disappointed by the image quality coming out of their V2. The only photographers that would benefit from Nikon 1 are those upgrading from a camera phone. And then they would be better served by other cameras, including the M43rds system or even the Sony RX100.


Reply
---
Added by

mike162

| January 30 , 2013

Nikon 1 V2: Evolution, stasis or regression?

The review misses the whole point of this camera. The V2 has a huge attraction, by using the FT-1 Mount Adapter it is possible to mount pretty much any Nikon DSLR lens. Taking into account the dslr like autofocus and the X2.7 crop factor the excellent Nikon AF-S VR 70-300 f/4.5-5.6G IF-ED (around £330) becomes a 190-810mm lens, just great for birds and wildlife.

The lens, FT-1 and camera would weigh around 1100gr and cost $1300ish (but will come down). An APS-C camera with similar spec would weigh close to 5000gr & cost $9000ish. Sure, its a fact that the resolution of the APC-S camera would be superior, but would it be 3900gr & $7700 superior?


Reply
---
Added by

AaronMC

| October 25 , 2012

Gotta' give them credit

You gotta' give Nikon credit; it's a dead-end product, but they are doubling down, which is commendable service to those who bought into the system.


Reply | Read all replies for this comment
First replies for this comment
---
Re: Gotta' give them credit

I usually don't feed the trolls, but how a camera with solid IQ, and blazing fast AF, and a huge buffer (capable of 12 fps with the J1 and 16 fps with the V1) a dead-end?

So Nikon with it's first try made a camera with a smaller sensor that is competitive with many larger sensor cameras like the EP3, and absolutely demolishes the competition when it comes to processing data, fps, PDAF on the sensor, etc.

The Nikon 1 sounds alive and well to me. Few will lose sleep over it over your dislike of the Nikon 1 and tons of people will continue to buy it. Nice try though.


Reply
---
Added by

AaronMC

| November 04 , 2012

Re: Gotta' give them credit

I replied to your previous post.

Thank you again for condescending to me. It really helps your case.


Reply
---
Added by

pwgrmi

| November 16 , 2013

Re: Gotta' give them credit

Aaron, your post is clearly a troll. Have you ever used a 1? I shot the Pikes Peak Hill Climb this year with a V1 and a D700. In some ways the V1 is faster, and the results fabulous.
Really, a dead-end product. Not for those willing to look past the idiots trashing a camera they have not used.


Reply
---