Nikon AF-D lens reviews
Thursday February 02 2012
Lens Review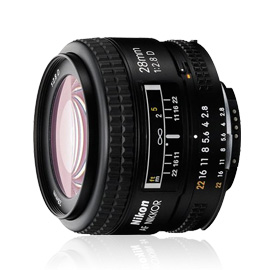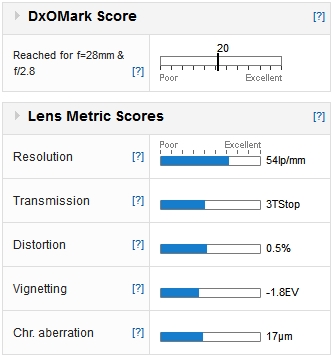 With a DxOMark overall score of 20, the Nikkor AF Nikkor 28mm f/2.8D is still a good, solid lens. (Just as a reminder, the 20mm f/2.8D achieved a DxOMark overall score of 21.)
Strong points
Weak points

Satisfactory sharpness in the center, but we measured a fairly noticeable loss across the field at all apertures. Sharpness is optimal between f/4 and f/8.
Reasonably good transmission.
No distortion.
Very light-weight (205g).
Affordable (280 USD).

Still susceptible to significant vignetting, but quite a bit less than the 20mm f/2.8D.
Beware of chromatic aberrations, especially at wide apertures.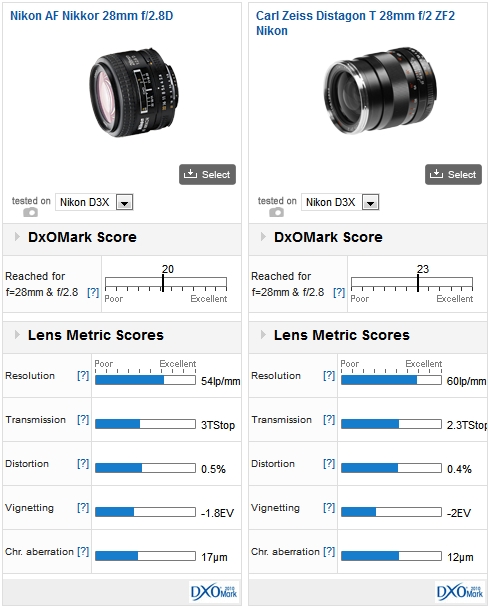 With a DxO Mark Score of 23, the Carl Zeiss 28mm f/2.0 is the winner of this competition. But at only 3 points behind, the Nikon 28mm f/2.8 should not be dismissed out of hand… especially given that it is five times less expensive (!) than the Zeiss.
The advantages of the Nikon:
Half the weight of the Zeiss.
1000 USD less expensive.
Negligeable distortion.
Autofocus (if the camera is equipped with a motor).
The advantages of the Carl Zeiss :
Better sharpness.
Brighter: a gain of 0.77EV at full aperture (which explains the difference in DxOMark scores).
Negligeable distortion.
Mechanical precision.
Some other available comparisons
The Nikon 28mm AF-D vs the latest in the G prime lens series: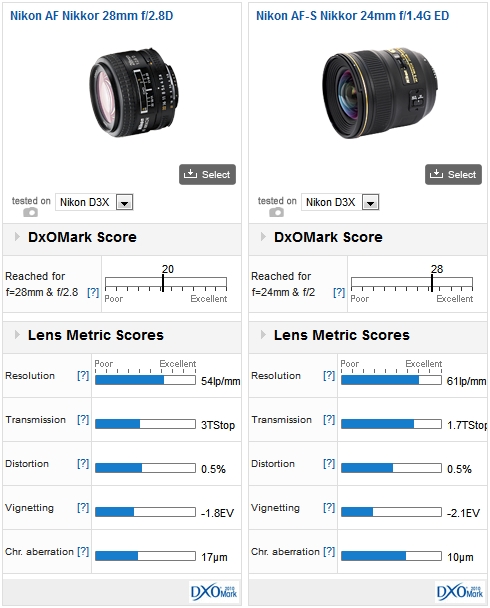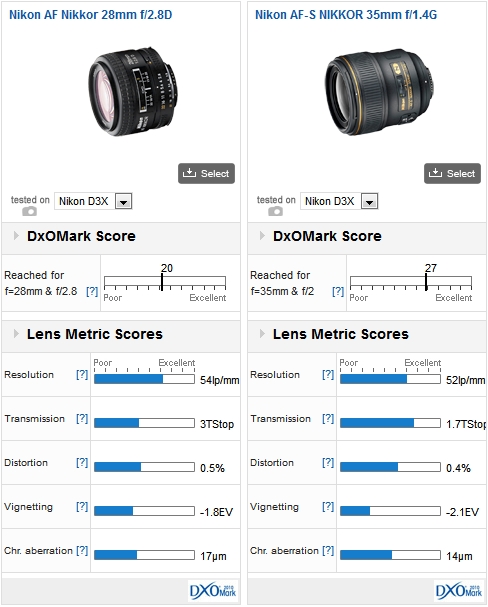 (Yet another opportunity to take note of the amazing progress that has taken place in just a decade!)
Of note:
As ever when considering Zeiss lenses, it's important to keep in mind that they do not have autofocus.
Nikon AF-D lenses do not have self-contained motors and thus are dependent on the camera motor for autofocus.
Here we have analyzed its full-field performance when mounted on a Nikon D3x, but as per usual, performance results are available for this lens when mounted on other cameras — for example, the Nikon D5000 or the even older Nikon D200.
Further readings for the Nikon AF-D lens reviews
To provide photographers with a broader perspective about mobiles, lenses and cameras, here are links to articles, reviews, and analyses of photographic equipment produced by DxOMark, renown websites, magazines or blogs.
---
Lens Review
|
March 13, 2012
| | |
| --- | --- |
| | Here is a new series featuring the results of Pentax prime lenses mounted on the compatible camera with the best resolution thus far, the Pentax K5.  (But as usual, you can consult DxOMark to see the results for these lenses when mounted on other compatible camera bodies, such as the Pentax K7 or Km.) |
---