Nikon AF-D lens reviews
Thursday February 02 2012
Lens Review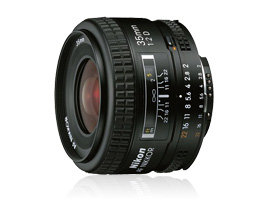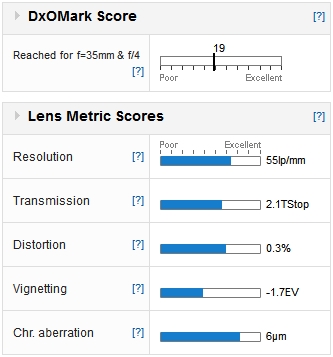 With a DxOMark overall score of 19, the Nikon AF Nikkor 35mm f/2D is still a good lens, just like both the 20mm and 28mm lenses in the AF-D line that we previously analyzed in parts 1 & 2 of our "Oldies" review.
| | |
| --- | --- |
| Strong points | Weak points |
| Satisfactory sharpness | Susceptible to vignetting (a classic problem for this kind of lens) |
| A very bright lens | |
| Very little distortion | |
| Negligeable chromatic aberrations | |
| Very light (205g, just like the 28mm f/2.8D) | |
| Affordable (365 USD) | |
Now let's look at how our older AF-D lens compares with a real youngster (2010)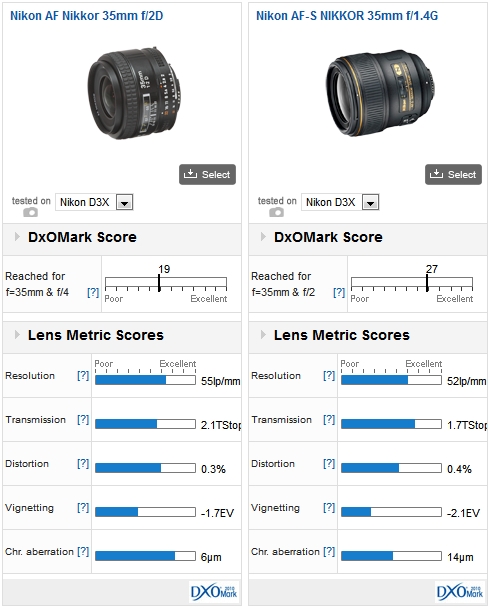 With a DxO Mark score of 27, the 35mm f/1.4G comes out significantly ahead of its predecessor.
The advantages of Nikon 35mm f/1.4G:
Far superior resolution over the field at wide apertures (notably at f/2.0, f/2.8, and f/4) — which explains the difference in DxOMark scores.
Brighter, with a gain of 0.61EV in the center at full aperture.
Negligeable distortion.
Integrated autofocus motor (SWM, or "silent wave motor").
At f/2.0, there is a total absence of vignetting over 2/3 of the field, which is truly remarkable for this kind of fixed lens.
The advantages of the Nikon 35mm f/2.0D:
Three times lighter!
About 1400 USD less expensive.
Negligeable distortion.
Better treatment of chromatic aberrations.
Aperture control ring.
Strictly in terms of image quality, the youthful 35mm 1.4G unquestionably takes the lead. But again, it's important to keep the 35mm f/2.0D's many charms in mind— i.e., it gets pretty darned good results for an older lens that is both very light-weight and low in price.
While we're at it, here are a few other 35mm comparisons
Sony still needs to make more progress before it can justify the price difference between its lens and the Nikon 35mm f/2.0.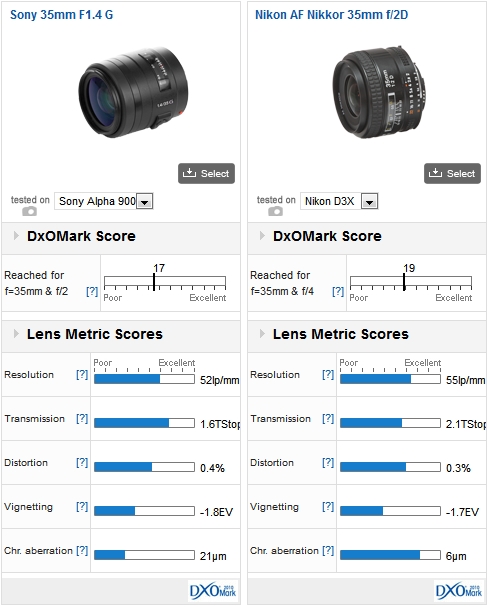 For those who aren't put off by manual focusing, the Samyang remains competitive in this lens category.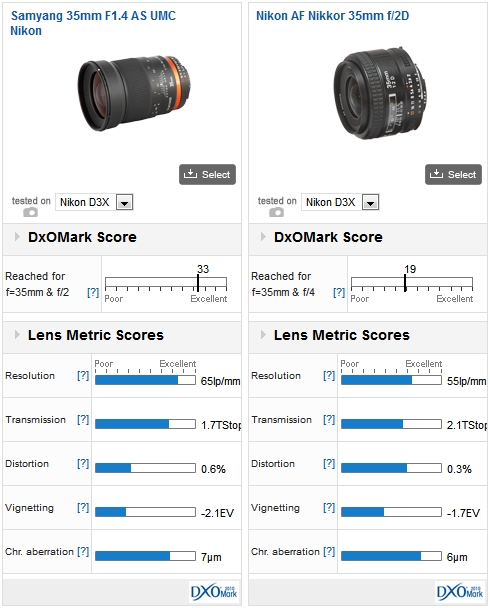 Finally, here's how the DX 35mm f/1.8G and our vintage Nikkor 35mm compare when mounted on a Nikon D90.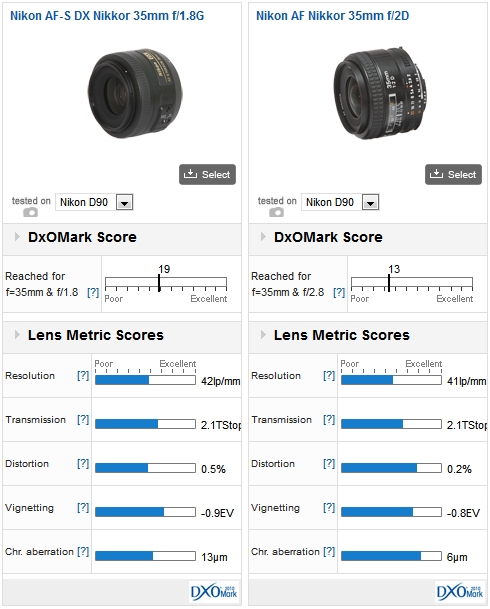 Further readings for the Nikon AF-D lens reviews
To provide photographers with a broader perspective about mobiles, lenses and cameras, here are links to articles, reviews, and analyses of photographic equipment produced by DxOMark, renown websites, magazines or blogs.
---
Lens Review
|
March 13, 2012
| | |
| --- | --- |
| | Here is a new series featuring the results of Pentax prime lenses mounted on the compatible camera with the best resolution thus far, the Pentax K5.  (But as usual, you can consult DxOMark to see the results for these lenses when mounted on other compatible camera bodies, such as the Pentax K7 or Km.) |
---