Nikon AF-D lens reviews
Thursday February 02 2012
Lens Review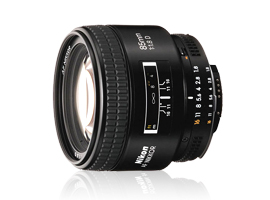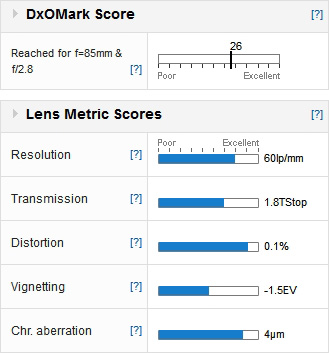 With a DxOMark score of 26, the Nikkor AF Nikkor 85mm f/1.8D lens is perfectly able to compete with even the most recent lenses.
| | |
| --- | --- |
| Strong points | Weak points |
| Good sharpness | Susceptible to vignetting |
| A bright lens (conforming to Nikon's announced values) | |
| Zero distortion | |
| Chromatic aberrations essentially absent | |
| Light-weight | |
| Affordable (380 USD) | |
With a DxOMark score of 30, the new generation (2010) Nikkor 85mm f/1.4G offers even better performance.
The advantages of the Nikon 85mm f/1.4G:
Slightly superior resolution over the field at wide apertures, which explains the difference in DxOMark scores.
Very slightly brighter (a gain of only 0.16EV in the center at full aperture).
Negligeable distortion.
Integrated autofocus motor (SWM).
At f/2.0, a complete absence of vignetting over approximately 3/4 of the field — a remarkable difference.
The advantages of the Nikon 85mm f/1.8D:
Half the weight of the f/1.4G.
Less expensive by about 1740 USD.
Negligeable distortion.
Aperture control ring.
Just like its cousins (the 20mm, 28mm and 35mm), the 85 mm is a lens for adventurers — light-weight, inexpensive, and very satisfactory optical qualities.
We're looking forward to the test results for the new Nikon AF-S NIKKOR 85mm f/1.8G that should arrive in our lab in mid-March!
Further readings for the Nikon AF-D lens reviews
To provide photographers with a broader perspective about mobiles, lenses and cameras, here are links to articles, reviews, and analyses of photographic equipment produced by DxOMark, renown websites, magazines or blogs.
---
Lens Review
|
March 13, 2012
| | |
| --- | --- |
| | Here is a new series featuring the results of Pentax prime lenses mounted on the compatible camera with the best resolution thus far, the Pentax K5.  (But as usual, you can consult DxOMark to see the results for these lenses when mounted on other compatible camera bodies, such as the Pentax K7 or Km.) |
---