Nikon AF-S 85mm f/1.8G review: An awesome prime that doesn't cost the earth
By Paul Carroll -
Monday January 21 2013
Lens Review
Nikon AF-S 85mm f/1.8G: Maybe the best 85mm for Nikon and great value for money
With an Overall DxOMark Lens Metric Score of 35 the Nikon AF-S 85mm f/1.8G is the best 85mm lens in the DxOMark database and well exceeds the average DxOMark Overall Score of 28 for this type of lens.
Costing $500, a whooping $1149 cheaper than the Nikon f/1.4 version at $1649, it also represents excellent value for money if you can live without the f/1.4 maximum aperture. In terms of sharpness the Nikon AF-S 85mm f/1.8G finishes 3rd on the podium out of all 14 85mm primes lenses we've tested and again surpasses the average score for this category of 15 P-Mpix. Its best characteristic is homogenous sharpness with no edge softness even with the aperture wide open at f/1.8. It holds its own in our other Lens Metric Scores too with the notable exception of vignetting, which is where the Nikon 85mm f/1.8G falls down. Heavy corner shading that requires correction in post-production is evident at f/1.8 and the problem isn't totally eradicated until the aperture is stopped down to f/4.
If you can live with this one downside however the Nikon AF-S 85mm f/1.8G is a cracking piece of glass for portraits and low-light photography. Nikon shooters into portraiture get the Nikon AF-S 85mm f/1.8G towards the top of your camera gear 'wish-list'.

The table for DxOMark Overall Lens Metric Scores for 85mm prime lenses on a Nikon DSLR shows the AF-S 85mm f/1.8G to be the best performer.

Finishing 3rd for sharpness the Nikon AF-S 85mm f/1.8G is only a whisker behind the more expensive f/1.4 versions from both Nikon and Sigma.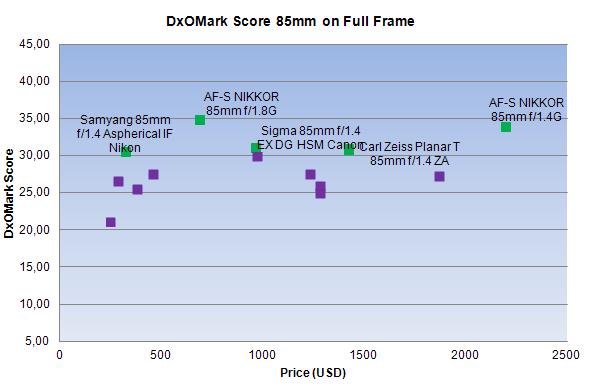 Plotting the DxOMark Overall Score for 85mm prime lenses against price it's clear to see the Nikon AF-S 85mm f/1.8G lens offers the best value for money compared to the competition.
Further readings for the Nikon AF-S 85mm f/1.8G review: An awesome prime that doesn't cost the earth
To provide photographers with a broader perspective about mobiles, lenses and cameras, here are links to articles, reviews, and analyses of photographic equipment produced by DxOMark, renown websites, magazines or blogs.
---
Lens Review
|
January 23, 2013
| | |
| --- | --- |
| | Announced in February 2012 the Olympus M.ZUIKO DIGITAL ED 75mm f/1.8 is a 'fast' telephoto prime for the Micro Four Thirds Lens mount. With an equivalent 150mm focal length it's a good option for portraiture or sports and the wide f/1.8 maximum aperture is great for low light, too. Costing $899 it's an expensive option for serious amateurs or professionals alike, so if it's a lens you're considering read on to make sure it delivers the results you desire. |
---
---
---
Comments
Added by

re17

| December 31 , 2016

Excellent performer on APS-C

Rented this lens for several days and it's a marvel - brilliantly sharp on a DX body, and capable of smooth bokeh. Chromatic aberration is minimal in normal use, although as at least one other reviewer (on another site) has noted, LoCA is often present in certain situations with fast primes like this. For this particular lens, it's only apparent in out-of-focus bright areas at around f2.8 or wider, when you get classic bokeh fringing, purple in front of the focal plane and green behind. Otherwise it's really not an issue when, for instance, using the lens as a short telephoto for architectural details, in which case the lens performs superbly.


Reply
---
Nikon 85mm f/1,8G halo / axial cromatic aberration

<div id="linkdxomark">This a comment for <a href="http://www.dxomark.com/index.php/Lenses/Camera-Lens-Database/Nikon/Nikon-AF-S-NIKKOR-85mm-F18G">this page on the website</a></div>

The Nikon 85mm f/1,8G is a good lens for portraits.
However, the halo (or axial croma) is really strong, creating magenta fringe in high contrast area. I get also the green fringe in artificial light in contrast bokeh-area, and this can't be corrected easily with CS6 or NX2. Therefor I don't like to use it outdoors. I don't see you mentioning anything about this feature in your review. Strange (unless there is something wrong with the particular lens that I have), since this is more difficult problem than vignetting.
AF is also rather slow, not for capturing fast-moving children.

I noticed this weaknes in the shop, therefor had no unpleasent surprises after unboxing it home.


Reply | Read all replies for this comment
First replies for this comment
---
Added by

ddcakir

| September 13 , 2015

Re: Nikon 85mm f/1,8G halo / axial cromatic aberration

I have similar problems with the lens, it has real issues in terms of abberation, and corrections in photoshop cannot resolve the problem completely.


Reply
---
Re: Nikon 85mm f/1,8G halo / axial cromatic aberration

I have bought the lens, together with the Nikon D5300 and the Sigma 18-35mm F1.8. I am dissapointed with both lens when compared to the Sigma 60mm F2.8 for my Sony a6000 which is stellar sharp and has really low CA.
Why is the Nikon 85mm F1.8 one of the best lenses in the world (according to Dxomark) - no idea.


Reply
---
Re: Nikon 85mm f/1,8G halo / axial cromatic aberration

A value of 4 µm Chromatic Aberrations for the lens I find to be too low, the amount of CA is huge.


Reply
---