Nikon AF-S 85mm f/1.8G review: An awesome prime that doesn't cost the earth
By Paul Carroll -
Monday January 21 2013
Lens Review
85mm portrait lenses for Nikon DSLRs battle it out: Nikon AF-S 85mm f/1.8G Vs Nikon AF-S 85mm f/1.4G Vs Sigma 85mm F1.4 EX DG HSM Nikon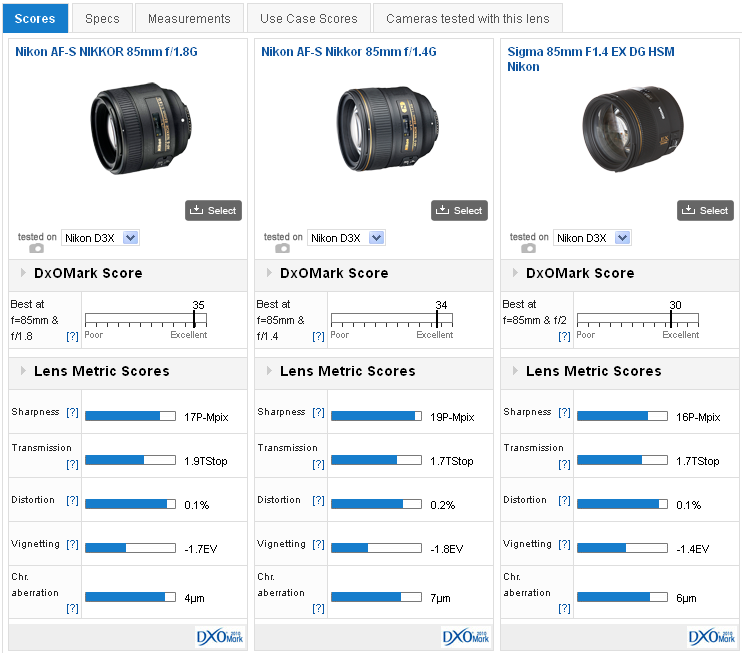 With all three lenses mounted and tested on a Nikon D3x DSLR the Overall DxOMark Scores demonstrate no significant difference between the Nikon AF-S 85mm f/1.4G, which scores 34, and the Nikon AF-S 85mm f/1.8G with 35. With a Lens Metric Score for Sharpness of 19P-Mpix, compared to 17P-Mpix and a Transmission Score of 1.7TStop compared to 1.9TStop the f/1.4 version of these two Nikon 85mm primes just edges out its f/1.8 rival. However, in terms of distortion and vignetting the cheaper f/1.8 version just has the edge, although the difference is so small it shouldn't be noticeable. Of course if you're working in very challenging low-light conditions or would like the stronger depth-of-field effects possible with the f/1.4 version then this is the better lens, but costing $1649 all that extra money only buys a minor improvement in overall sharpness.
The Sigma 85mm f/1.4 EX DG HSM also boasts some very good Lens Metric Scores but it doesn't perform quite as well as the two Nikon lenses and finishes 3rd in this comparison with an Overall Score of 30. In terms of Transmission, Distortion, Vignetting and Chromatic Aberration the results are similar and although the Sigma only just loses out to the Nikon f/1.8 version for Sharpness, 16P-Mpix to 17-P-Mix, results are not as homogeneous across the frame at the wider aperture settings, which has cost the Sigma f/1.4 EX DG HSM in the Overall DxOMark Score.

With the aperture wide open at f/1.4 the Nikon AF-S 85mm f/1.4G is sharper and delivers better edge sharpness compared to the Sigma 85mm f/1.4 EX DG HSM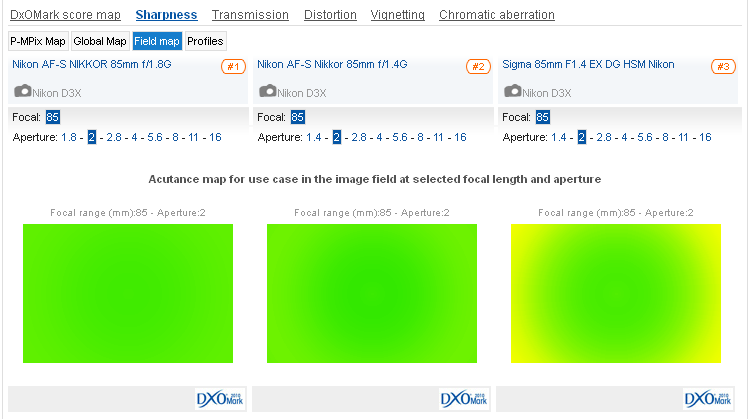 f/2 both Nikon 85mm lenses put in an excellent performance across the frame while the Sigma 85mm continues to drop off at the edges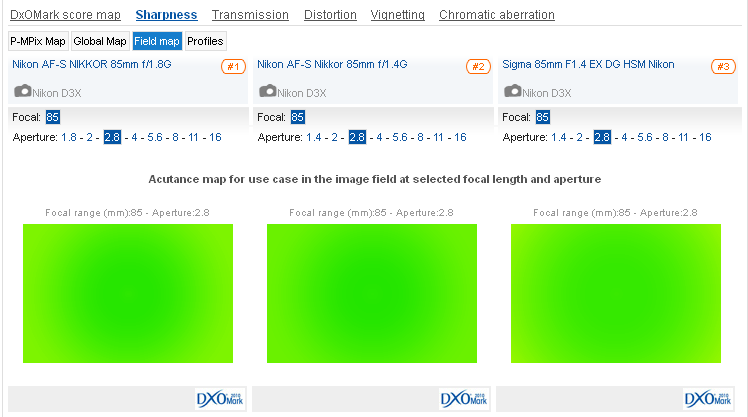 Using apertures of f/2.8 and smaller all three lenses deliver a similar performance in terms of sharpness across the entire frame.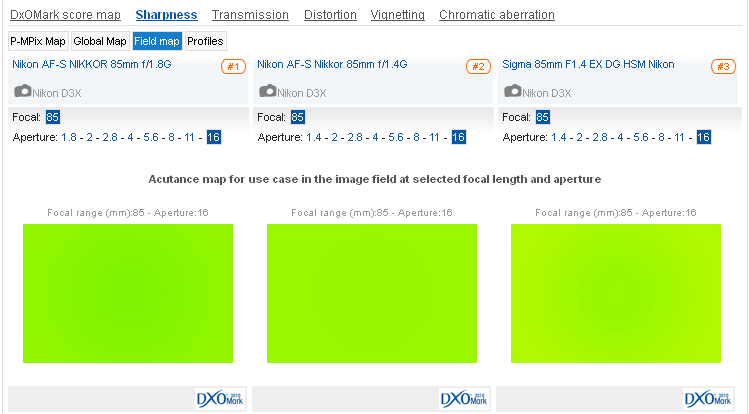 This homogenous performance is consistent at all aperture settings from f/2.8 through to f/16 with excellent sharpness for such a small aperture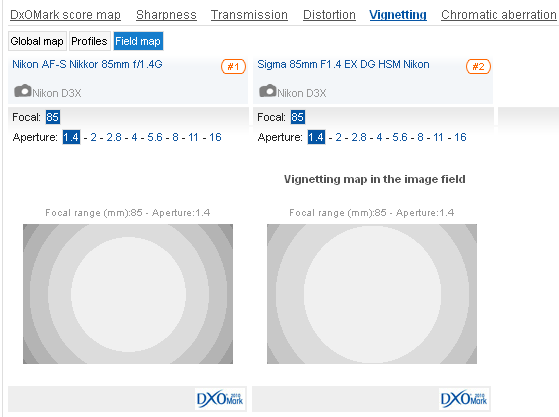 Although at f/1.4 vignetting is evident using both lenses the Sigma 85mm performs better compared to the heavy corner shading on the Nikon AF-S 85mm f/1.4G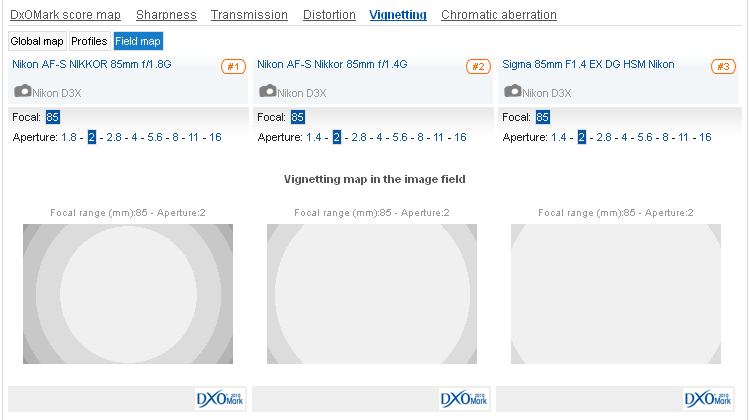 Shooting at f/2 the same problem occurs on the Nikon f/1.8 version losing 2/3 Stop compared to the Nikon f/1.4 and 1 Stop compared to the Sigma f/1.4 EX DG HSM, which has almost completely solved the problem at this setting.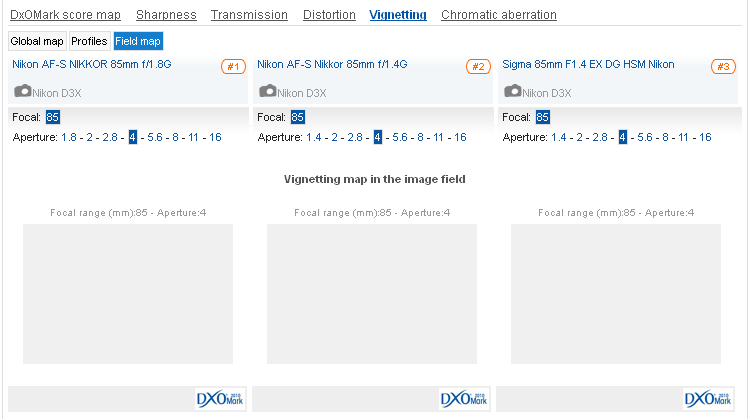 With some vignetting still visible from the 2 Nikon 85mm lens at f/2.8 you need to stop down to f/4 to remove the problem completely.
Further readings for the Nikon AF-S 85mm f/1.8G review: An awesome prime that doesn't cost the earth
To provide photographers with a broader perspective about mobiles, lenses and cameras, here are links to articles, reviews, and analyses of photographic equipment produced by DxOMark, renown websites, magazines or blogs.
---
Lens Review
|
January 23, 2013
| | |
| --- | --- |
| | Announced in February 2012 the Olympus M.ZUIKO DIGITAL ED 75mm f/1.8 is a 'fast' telephoto prime for the Micro Four Thirds Lens mount. With an equivalent 150mm focal length it's a good option for portraiture or sports and the wide f/1.8 maximum aperture is great for low light, too. Costing $899 it's an expensive option for serious amateurs or professionals alike, so if it's a lens you're considering read on to make sure it delivers the results you desire. |
---
---
---