Nikon AF-S Nikkor 28mm f/1.8G review - A stellar performer
By David Newton -
Friday January 04 2013
Lens Review
In the overall DxOMark lens ratings, the AF-S Nikkor 28mm f/1.8G scores 29. This puts it into seventh place on the list, just one point behind the Samyang 35mm f/1.4 AS UMC Nikon lens. For a wide-angle lens, this is a remarkable result.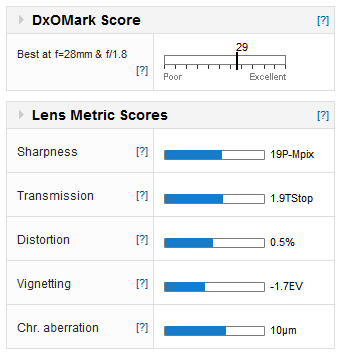 Mounted on a Nikon D3x, the Nikkor AF-S 28mm f/1.8G scores a remarkable 29 in DxOMark and shows a P-Mpix resolution of 19, with distortion and vignetting scores that are well controlled for a wide-angle lens.
Compared to other wide-angle prime lenses, as you'd expect, its score of 29 takes it to the top of the list as the best performing wide-angle lens we've tested, near behind the Carl Zeiss Distagon T 35mm f/1.4 ZF2 Nikon into fourth place by 4 points. Overall it offers the best price to performance ratio available for any prime wide-angle lens on the Nikon FX mount.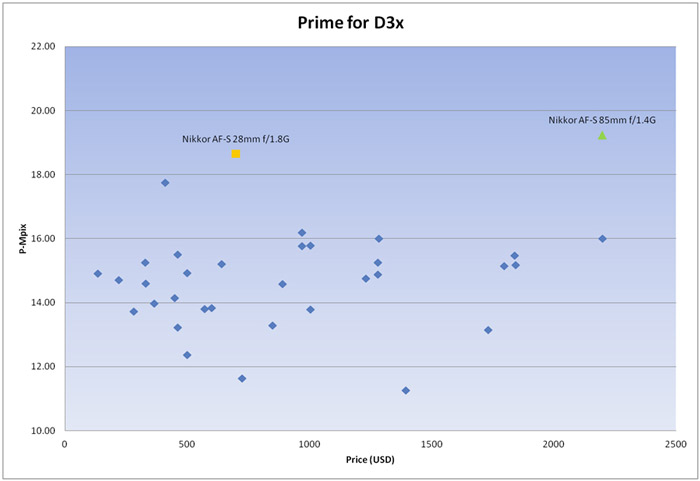 Looking at sharpness for all prime lenses tested on the Nikon D3x in relation to the lens' selling price shows just how well the Nikkor AF-S 28mm f/1.8G performs. Its mid-range price, but high end performance marks it out as a lens offering very good value for money.
If we look at the DxOMark scores, normalized by testing on a Nikon D3x, we find the AF-S 28mm f/1.8G lens puts in a strong performance, coming 4th on the overall list of lenses and second out of all the wide-angles tested on that camera. In fact, of all the Nikon FX mount lenses tested on any Nikon camera, the Nikkor AF-S 28mm f/1.8G occupies the top on the list - mounted on D3X. It's equal Nikon AF-S Nikkor 24mm f/1.4G ED and Nikon AF-S NIKKOR 35mm f/1.4G on this same body.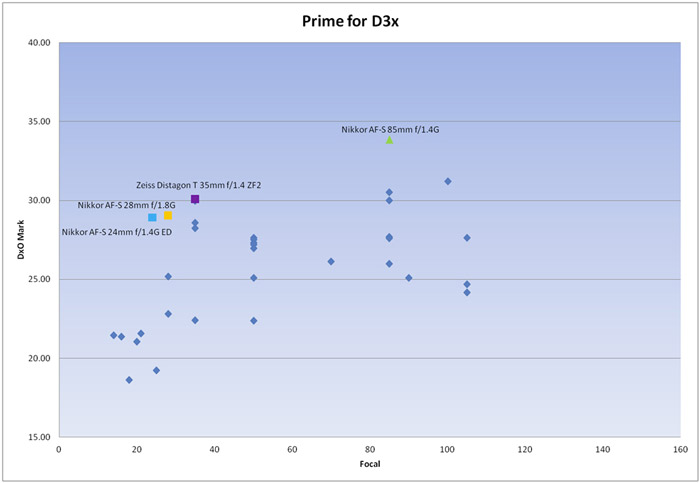 Looking at all lenses tested on the Nikon D3x, the score of 29 shows that only two wide-angle lenses have scored similarly or better, Nikon's own Nikkor 24mm f/1.4G with a price of $2200 USD and the Zeiss 35mm f/1.4 priced at $1843 USD.
So where is this lens strongest? Clearly, the resolution score of 19P-Mpix makes it one of the best prime wide-angle lens tested on the site. Traditionally wide-angle lenses will score lower than telephoto lenses because of the requirements of the optical design. For this lens to score so well shows that the lens engineers have one their homework, producing a stellar lens that outperforms so many other high quality optics - even their own Nikkor AF-S 35mm f/1.4G that scored 15P-Mpix.
Wide-angle lenses also suffer from distortion, but again it is very well controlled here, showing only 0.5% distortion (0.2% corresponds to noticeable distortion). It makes the lens very well suited to architecture where minimal distortion is a benefit in avoiding curved lines out towards the edge of the frame.
The negative points of the lens are few and far between. In fact, the biggest fault is the lens shading present when shooting at full aperture (f/1.8) where the corners can lose up to -1.7EV compared to the centre. This corner shading is also present up to around f/2.8 but from there on, it has mostly disappeared. However, to put this into context, it is a wide-angle lens and lens shading is to be expected. -1.7EV may sound a lot, but for a wide-angle it is perfectly acceptable and even ranking wide-angle lenses based on their lens shading scores, this lens stays at the top of the list.
The inclusion of the Nikon Silent Wave Motor Autofocus is another plus for the lens. It will ensure fast, quiet autofocus to match the optical performance of the lens.
Further readings for the Nikon AF-S Nikkor 28mm f/1.8G review - A stellar performer
To provide photographers with a broader perspective about mobiles, lenses and cameras, here are links to articles, reviews, and analyses of photographic equipment produced by DxOMark, renown websites, magazines or blogs.
---
Comments
Added by

Raticus

| August 30 , 2015

Nikon 28mm 1.8G vs 35mm 1.8G DX on D7100

I'm confused why the 28mm receives a score of 21 while the 35mm 1.8G DX receives a score of 26. When I compare the lenses side by side on the DxO web site, the 28mm has superior scores.

Thank you for clarifying the scores. I've assumed there is an error with the score on the 28mm. But if not, could you please explain why the 35mm is a superior lens on the D7100.

Thanks so much.


Reply | Read all replies for this comment
First replies for this comment
---
First replies for this comment
---
Fine body choice

The D3x is certainly not discontinued, it is still the flagship for low iso = Landscapes and portraits for pro photographers, who need a solid body, much more solid than D800


Reply | Read all replies for this comment
First replies for this comment
---
Added by

Toshik

| January 08 , 2013

Body choice

Why did you attach new lenses to already discontinued D3X instead of testing them with D800[E]?

The same is with canon. 5D Mark III may be used instead of rather old Mark II.


Reply | Read all replies for this comment
First replies for this comment
---