Nikon AF-S Nikkor 28mm f/1.8G review - A stellar performer
By David Newton -
Friday January 04 2013
Lens Review
Nikon AF-S Nikkor 28mm f/1.8G vs Nikon AF Nikkor 28mm f/2.8D vs Carl Zeiss Distagon T 28mm f/2 ZF2 Nikon all mounted on a Nikon D3x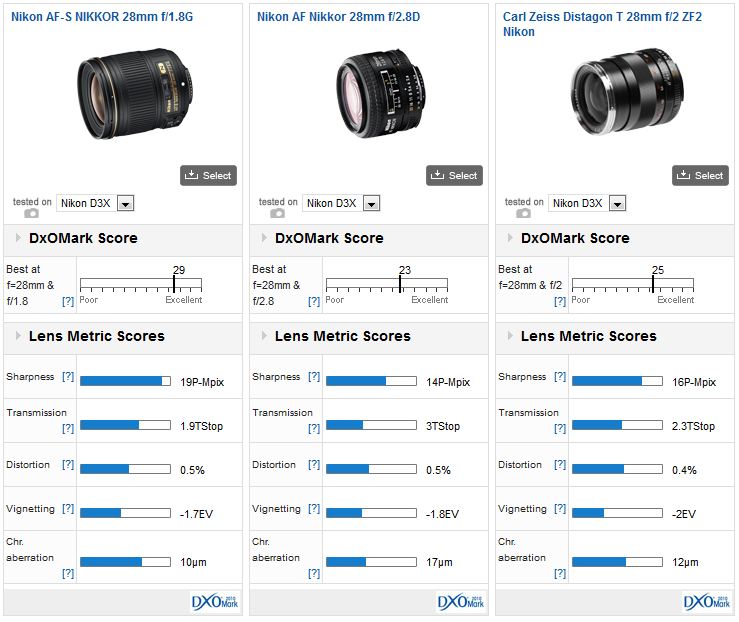 Comparing these three lenses shows the range of results when attached to a Nikon D3x.
In the Nikon lens line-up, the two Nikkor lenses compared here offer very similar specifications with the exception of the maximum aperture. Comparing them side-by-side shows where the extra expense is justified in going for the Nikkor 28mm f/1.8G. Looking at the overall DxOMark scores on the D3x, the Nikkor 28mm f/1.8G is at the top with 29 while the Nikkor 28mm f/2.8D only manages 23. The Zeiss lens fits in the middle, scoring 25.
In terms of sharpness the 28mm f/1.8G manage 19P-Mpix and is at the top end of the table for wide-angle primes. The 28mm f/2.8D, with a score of 14P-Mpix is down at the lower range of the table (-however given the lower price point and simpler optical construction this is to be expected). The Zeiss with 16P-Mpix fits in the middle.
The distortion scores between the three lenses are very similar - sufficiently so that there would be no obvious difference in final image prints. In the lens shading, or vignetting, results however, there is an interesting switch between the Nikkor 28mm f/2.8D and the Zeiss, with the lower priced Nikkor scoring -1.8EV to the Zeiss' -2EV. Both though are beaten by the Nikkor AF-S 28mm f/1.8G scoring -1.7EV and hence offering the most even light transmission across the image frame.
Looking at the Chromatic Aberration scores, again the familiar order is restored, with the 28mm f/1.8G scoring 10µm to the Zeiss' 12µm and the 28mm f/2.8D's 17µm. With these scores, all three will show some level of Chromatic Aberration, but it will be least intrusive on the Nikkor 28mm f/1.8G images. For CA measurements, a score of 5 is determined to be noticeable and corresponds to around 1pixel of CA around high contrast edges on most cameras, so with the 28mm f/1.8G you can expect up to 2pixels of CA around high contrast edges.
Overall, the Nikkor 28mm f/1.8G provides the best results of these three in all lens performance tests.
Further readings for the Nikon AF-S Nikkor 28mm f/1.8G review - A stellar performer
To provide photographers with a broader perspective about mobiles, lenses and cameras, here are links to articles, reviews, and analyses of photographic equipment produced by DxOMark, renown websites, magazines or blogs.
---
Comments
Added by

Raticus

| August 30 , 2015

Nikon 28mm 1.8G vs 35mm 1.8G DX on D7100

I'm confused why the 28mm receives a score of 21 while the 35mm 1.8G DX receives a score of 26. When I compare the lenses side by side on the DxO web site, the 28mm has superior scores.

Thank you for clarifying the scores. I've assumed there is an error with the score on the 28mm. But if not, could you please explain why the 35mm is a superior lens on the D7100.

Thanks so much.


Reply | Read all replies for this comment
First replies for this comment
---
First replies for this comment
---
Fine body choice

The D3x is certainly not discontinued, it is still the flagship for low iso = Landscapes and portraits for pro photographers, who need a solid body, much more solid than D800


Reply | Read all replies for this comment
First replies for this comment
---
Added by

Toshik

| January 08 , 2013

Body choice

Why did you attach new lenses to already discontinued D3X instead of testing them with D800[E]?

The same is with canon. 5D Mark III may be used instead of rather old Mark II.


Reply | Read all replies for this comment
First replies for this comment
---