Nikon AF-S Nikkor 35mm F1.8G ED: Awesome Performer
By Kevin Carter -
Friday June 13 2014
Lens Review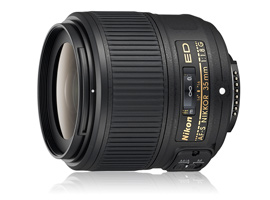 Nikon has revamped its popular full-frame AF Nikkor 35mm f2D model replacing it with this completely redesigned 11-element G-series ED version. Read on to find out how well this promising new model performs.
Before the rise of the 28mm and then the 24mm the 35mm was the most popular wide-angle model in a maker's range, and is still a firm favorite today for street photography. Nikon's completely redesigned full frame 11-element 35mm f1.8 replaces the lightweight and compact film-era 6-element AF Nikkor 35mm f2D version. Increasingly common now with modern lenses designs, even with modestly priced models like this is the adoption of low-dispersion glass. It has one ED glass element as well as one asphere to reduce fringing and distortion.
Like all new models in Nikon's line-up it's built to the current G-series spec – meaning no aperture ring but the inclusion of a built-in, near silent sonic type AF motor with full-time manual focus override. With a minimum focus distance of 9.4-inches the adoption of a rear focus mechanism negates an extending barrel with user benefits including fast auto-focus and potentially a more durable design - limiting damage to the focus mechanism from inadvertent knocks or when using heavy filters.
Despite the more complex optical construction and inclusion of an AF motor the new model remains relatively lightweight at 10.8oz (305g). It's also not quite so compact as the original, measuring 2.81-in (71.5mm) from front to back and adopting a 58mm filter thread (up from 52mm of its predecessor). The new model is available now, complete with plastic hood and soft case and 1-year warranty, at $599.95.
The new $600 AF-S Nikkor 35mm f1.8G ED is one of the best performing models on the Nikon D800E
Further readings for the Nikon AF-S Nikkor 35mm F1.8G ED: Awesome Performer
To provide photographers with a broader perspective about mobiles, lenses and cameras, here are links to articles, reviews, and analyses of photographic equipment produced by DxOMark, renown websites, magazines or blogs.
---
---
Comments
DxO score

Looks like Chr aberr has very big influence on the total score.

Mounted on D5300
AF-S NIKKOR 35mm f/1.8G ED (17 P-Mpix, 2.1 TS, Dist 0.3%, Vig -0.7 EV, Chr 18) DxO Total : 23

AF-S DX NIKKOR 35mm f/1.8G (13 P-Mpix, 2.1 TS, Dist 0.5%, Vig -0.9 EV, Chr 13) DxO Total : 27

Could you please provide page with weights of each parameter and return "Best At" with score or show as tool tip for "Best At" on Scores tab.

And yes, lenses designed for crop sensors usually has better performance than FF lenses on a crop.


Reply
---
I love shooting with a 35mm

On a full frame this is a total fave FL for me. This lens is very sharp, but really saturates greens in high contrast scenes. It's easy to correct a raw image, but jpg's don't recover so well. CA is high but easy to fix. Overall it's wonderful. This and my 85 1.8G and I'm happy 90% of the time.

The comment from Nikonover; I was a DX shooter for sometime, last one was D7100. The 1.4 and 1.8 lenses don't do well at all with DX sensors. Wide open they take on a life of their own, and it's ugly. I shot all the 1.4's and 1.8's. I bought the 1.8's when I upgraded to a D610 and they are spectacular. Don't know why, just know that big apertures and small sensors don't work well together.



Reply
---
Chromatic abhorration

I recently purchased this lens after reading all about how good it was.
It is coupled to a Nikon D3200,and the purple fringing is evident in most pictures.I am very disappointed with this lens from Nikon.


Reply
---
First replies for this comment
---
Re: Review?

Hi,

Thank you for contacting us. We are still waiting for a sample, and should get it this week, and the review should be available early June. Make sure you stay tuned ;)

Best regards


Reply
---