Nikon AF-S Nikkor 70-200mm f/4G ED VR review: An enlightened 70-200mm lens choice
By David Newton -
Monday January 07 2013
Lens Review
The Nikon AF-S 70-200mm f/4G ED VR shows itself to be a remarkably good performer. If you are a Nikon user and are in the market for a 70-200mm focal range lens, it makes a great case for serious consideration with high scores in all lens test metrics and a price that is much lower than expected for the performance on offer. It does seem hard to suggest a lens costing over $1000USD can show value for money, but in the case of this lens, it really does. In the battle of 70-200mm lenses, it is only out-scored by the Canon EF70-200mm f/2.8L IS II USM that is almost double the price.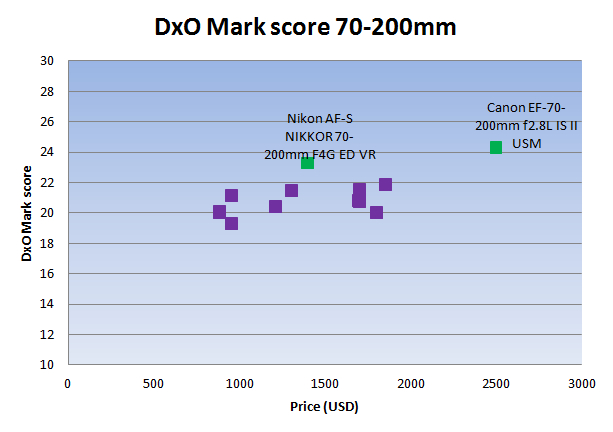 Further readings for the Nikon AF-S Nikkor 70-200mm f/4G ED VR review: An enlightened 70-200mm lens choice
To provide photographers with a broader perspective about mobiles, lenses and cameras, here are links to articles, reviews, and analyses of photographic equipment produced by DxOMark, renown websites, magazines or blogs.
---
Comments
Comparison with Nikon 70-200 f/2.8G VR II

Hello,

Do you have any news on the Nikon 70-200 f/2.8G VR II dxo mark test?




Reply
---
Added by

HNEPLEX

| January 11 , 2013

Fair resource on gear in the Internet

@bargello:

Check this out. Consistent and reliable measurements:

http://www.slrgear.com/reviews/index.php



Reply
---
Quite useless without comparison with Nikon 70-200 f/2.8G VR II

It's quite useless without comparison with Nikon 70-200 f/2.8G VR II which, surprisingly, has yet to be reviewed/rated by DxO. What's with the long wait, or worse, DxO do not intend to rate it at all? The Nikon 70-200 f/2.8G VR II is one of the most important lens used by professionals and others, so why no rating? Very, very strange.


Reply | Read all replies for this comment
First replies for this comment
---
Added by

fayard

| January 08 , 2013

Sharpness as a function of camera

If you look at the sharpness of this lens for various cameras, you get:

D600: 18P-Mpix
D3X: 19P-Mpix
D800: 20P-MPix
D800E: 30P-MPix

I think that these results prove that there is something seriously wrong with the way you define sharpness. There is no way that D600/D3X and D800 are so close and D800E is so above.

For the D800/D800E comparison, I know that you compare the sharpness of the image without any sharpness applied to the picture. It is obvious that a camera with anti-aliasing filter needs (and can handle) more sharpening than a camera without one. Therefore, the comparison is not fair.

I stil don't understand why the D600 and D800 results are so close. It just does not match what you get when you compare a crop of a D800 and a crop of a D600 picture upscaled to 36MP.



Reply | Read all replies for this comment
First replies for this comment
---
First replies for this comment
---
Nikon 1,2,3 stop !!!

Hi I have the 70-200 2.8 VRII course! assumptions and four steps is unmatched by other nikon lens, but does magic on their four steps must add good arm and photographic technique. is that I read the comments in various forums and it seems we buy a wand, if the same thing again, is not better photographer with better equipment, remember that the picture comes in our head and then goes to the sensor.


Reply
---
70-200 f/4 - incorrect detail

"Like its big brother, the 70-200mm f/4 is equipped with the latest generation of optical image stabilization for which Nikon announces a huge gain of 5 stops."

No, the f/4 does not have the same VR as the f/2.8. It has 'VR III' which Nikon claims gives 5 stops. The f/2.8 has VR II, claimed to give 4 stops (in other words, previous generation)


Reply
---