Nikon Coolpix P7700 review: Best Nikon compact camera
By Ben Boswell -
Tuesday February 05 2013
Sensor Review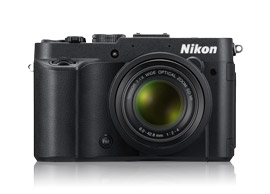 Often in technology new models of existing products are disappointing, being motivated by the possibility of integrating new features which may not be overly useful. So when a manufacturer updates a good piece of kit and comes out with something even better there is much cause for celebration. Nikon's Coolpix P7700 is just such a piece of equipment, updating its Coolpix P7100 model in some style.
The Nikon Coolpix P7700 was launched in August 2012, it is a well featured, high-end compact camera designed for the discerning amateur and for professionals looking for a camera to have with them all the time. The zoom lens has a range of 6mm through to 42.8mm (which is equivalent to 28mm-200mm in 'full frame' format), it has a bright maximum aperture of f/2 at the wide end and f/4 in telephoto. The screen is fully articulated, 7.5cm (3") across and has 921k dots. In terms of performance the camera will capture stills at a rate of up to 8 frames per second (for up to 6 frames), ISO from 80 up to a maximum of 6400. Video capture is full HD, 1080p at 30fps. None of these features is particularly extreme, there are other cameras that match or better each specification. However taken as a whole the package is comprehensive and offers the serious photographer exactly what they need in a camera of this type.
Further readings for the Nikon Coolpix P7700 review: Best Nikon compact camera
To provide photographers with a broader perspective about mobiles, lenses and cameras, here are links to articles, reviews, and analyses of photographic equipment produced by DxOMark, renown websites, magazines or blogs.
---
---