Nikon Coolpix P7700 review: Best Nikon compact camera
By Ben Boswell -
Tuesday February 05 2013
Sensor Review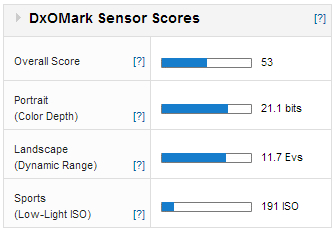 In DxO Mark's testing the Nikon Coolpix P7700 does very well. It does not beat all comers but what it does do, very convincingly, is to beat everything that might reasonably be compared to it. With an overall score of 53 the Coolpix is beaten by only 5 other cameras, all of which are significantly more expensive. Of the other 5 cameras two have a fixed focal length lenses, one has interchangeable lenses and the other two have lenses with much less zoom range. A wide zoom range does not make a camera good but if you want a camera to carry around all the time then it is very useful.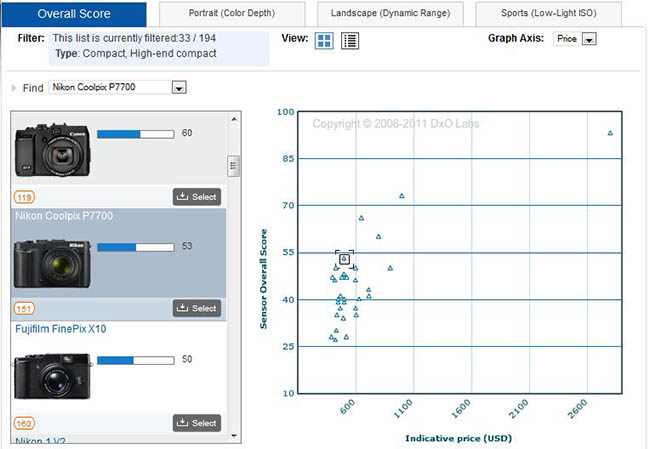 The Nikon Coolpix P7700, at the top of the bunch on the left. A Very good result in such a reasonably priced camera
The individual scores are, for Portrait: 21.1 bits of colour depth, for Landscape: 11.1 Evs of dynamic range and for Sport: 191ISO. These are really impressive scores and place the Coolpix 7700 right at the very top of the remaining cameras in the high end compact class. For Dynamic range it is actually 4th over all.
Further readings for the Nikon Coolpix P7700 review: Best Nikon compact camera
To provide photographers with a broader perspective about mobiles, lenses and cameras, here are links to articles, reviews, and analyses of photographic equipment produced by DxOMark, renown websites, magazines or blogs.
---
---