Nikon D4 review
Thursday March 15 2012
Sensor Review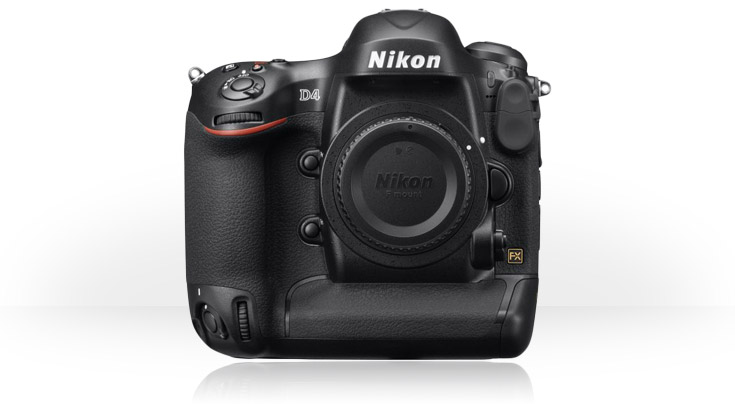 Nikon's newest professional digital SLR, the D4, arrived on the world stage just in time for the 2012 Summer Olympics in London. Sports and news photographers traveling to the XXX Olympiad using Nikon's flagship camera will find it's a workhorse, and even worthy of a few gold medals.
For starters, the D4 is capable of snapping 10 frames per second (depending on mode), with the ability of sustaining this rapid succession for up to 20 seconds. This means the camera won't skip a beat during Jamaican sprinter Usain Bolt's quest for more Olympic glory in the 100 and 200 meter sprint contests.
Its 16.2-megapixel sensor also produces high quality images to back up its $6,000 (USD) price tag. This is what we discovered back in the spring when we put the D4 through DxOMark's sensor quality drill.
DxOMark has assembled lens recommendations for those who own, or are thinking of purchasing the D4. These lenses, when combined with the D4, will provide photographers with the strong image quality that they so universally demand. These recommendations are compared with different lenses, so consumers can better understand the differences in lens quality, but are also supplied with alternatives.
Lenses for sports and wildlife photographers
Telephoto lenses are one of the most important pieces of glass in a sports and wildlife photographer's bag of lenses. They provide shooters with a much needed magnified zoom that aid in creating sharp and in-focus pictures of subjects that are often hundreds of meters away.
Midrange telephoto lenses – glass that is between 70 to 300mm in focal length – are not as exhausting on a photographer's body, or their budget, compared to fixed focal-length lenses that are 300mm and above – the latter sometimes cost more than the D4 itself.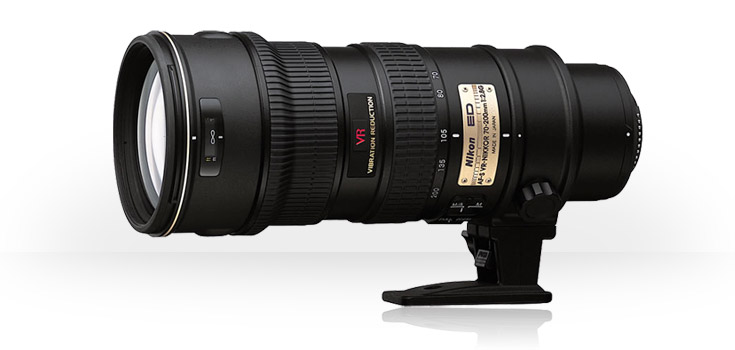 Nikon's AF-S VR Zoom-Nikkor 70-200mm f/2.8G IF-ED received top marks against its competitors for overall image quality.
For D4 photographers looking for a flexible midrange telephoto lens, DxOMark recommends Nikon's AF-S VR Zoom-Nikkor 70-200mm f/2.8G IF-ED. During DxOMark testing, the lens reached a high score of 30 and notched better overall image quality score compared to similar lenses made by competitor Sigma.
The Nikon's AF-S VR Zoom-Nikkor 70-200mm f/2.8G IF-ED received high marks for its resolution, especially at the shallow focal length of 70mm. However, the lens' resolution began to dull at longer focal lengths and even began to lag some of its Sigma rivals. The Nikon 70-200mm's follow-up, the 2009 released Nikon 70-200mm f/2.8G ED VR II, may have remedied these resolution weaknesses (and we'll be sure to check as soon as we get our hands on this newer lens).
But Sigma's 70-200mm f/2.8 EX DG APO HSM wasn't that far behind Nikon's 70-200mm in resolution quality and even bested the Nikon's 70-200mm at the longest focal length of 200mm. It would make a good alternative lens for sports photographers who most frequently rely on the longer focal lengths.
From left to right, resolution performances in the Nikon AF-S VR Zoom-Nikkor 70-200mm f/2.8G IF-ED, the Sigma 70-200mm f/2.8 EX DG APO OS HSM, and the Sigma 70-200mm f/2.8 EX DG APO HSM.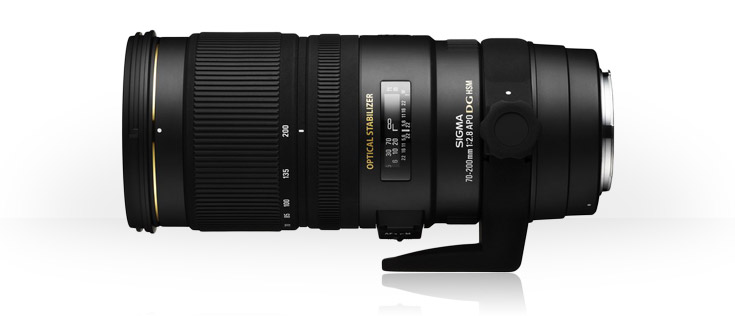 While not as strong in picture resolution as Nikon's 70-200mm, the Sigma 70-200mm f/2.8 EX DG APO OS HSM would make a great lens for sports photographers looking to get the best performance in dark conditions - like at an evening sports game.
If you're looking for a bright midrange telephoto lens that performs well during a nighttime soccer game, you should consider the Sigma 70-200mm f/2.8 EX DG APO OS HSM. It had brighter transmission, besting its own 70-200mm f/2.8 EX DG APO HSM and blinding Nikon's 70-200mm f/2.8G IF-ED. Its transmission score of 3 T-stop topped its sibling's 3.2 T-stop and Nikon's 3.4 T-stop. The lens also notched the top prize in controlling chromatic aberration.
Show Nikon vs. Sigma chart here.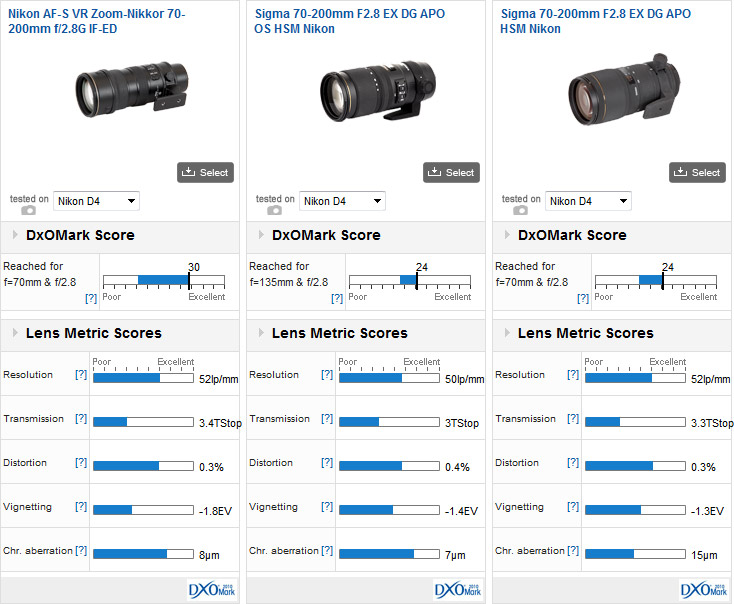 The Sigma 70-200mm f/2.8 EX DG APO OS HSM and Nikon AF-S VR Zoom-Nikkor 70-200mm f/2.8G IF-ED produced very good image quality, but their high price might be out of reach for some photographers. Sigma's nearly 15-year-old 70-200mm f/2.8 EX DG APO HSM for Nikon might be an affordable alternative; costing $880 (USD), it is nearly a thousand dollars less than the Nikon 70-200mm, and nearly $800 cheaper than its younger sibling. However, note the lens is susceptible to strong chromatic aberration, that pesky effect that creates color fringing typically found at edges where dark and bright contrast meet.
Lens suggestions for portrait photographers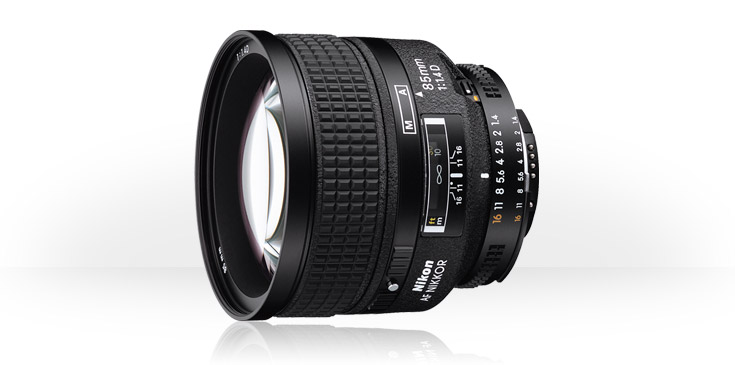 Nikon's AF Nikkor 85mm f/1.4D IF may be nearly 2 decades old, but it keeps up with even its most youthful direct competitors.
Portrait photographers are often drawn to medium-focal-length lenses that are between 85 to 135mm – at least that's the common wisdom. That's because these lenses do a great job of limiting distortion that is so prevalent with wide-angles. They are also preferred over telephoto lenses because they help close the gap between photographer and subject, helping to create a better connection and sense of intimacy between the model and the consumers of the picture.
DxOMark recommends portrait photographers consider Nikon's two-decade-old Nikon AF Nikkor 85mm f/1.4D IF for their next portraiture lens purchase. The lens produced high quality images during testing that came close to equalizing its 2010 sibling, the Nikon's AF-S Nikkor 85mm f/1.4G, and Sigma's 85mm f/1.4 EX DG HSM for Nikon.
The lens was in the middle, tied, or on top of every image DxOMark quality category. It even bested Nikon's 2010 85mm f/1.4 G and Sigma's 85mm f/1.4 EX DG in the all-important category of image sharpness and resolution.
As an added bonus, its $1,230 price tag makes it nearly a $1,000 cheaper than the Nikon AF-S Nikkor 85mm f/1.4G! For those looking to save even more green, consider Sigma's 85mm f/1.4 EX DG HSM. It costs about $970 and also has helps create quality images.
Show three way comparison here.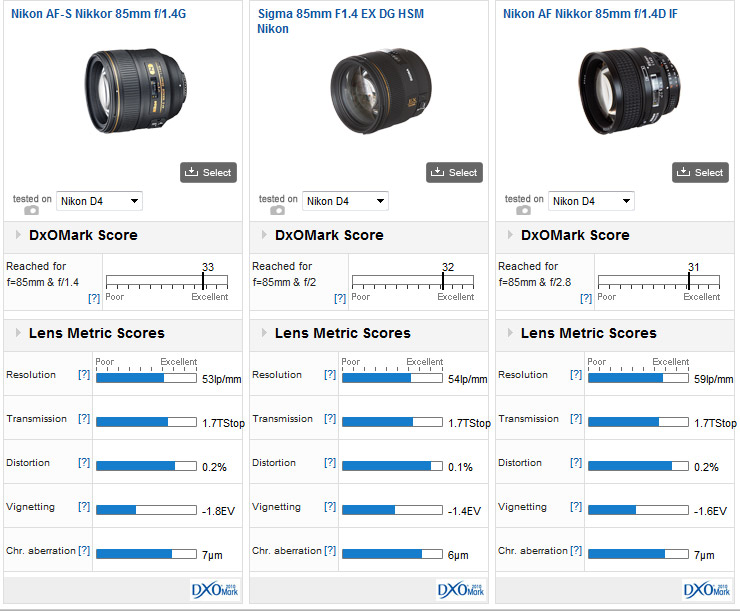 Fixed Prime Lens Recommendation
Prime lenses, like the 50mm, offer stunningly crisp images thanks to their optical quality and extra-wide apertures. These combined features allow the 50mm to produce photos with unique bokeh, or the esthetic quality of a lens' blur. The low apertures available on most 50mm lenses, which are often f/2 and lower, also give photographers extra wiggle room in lowlight environments.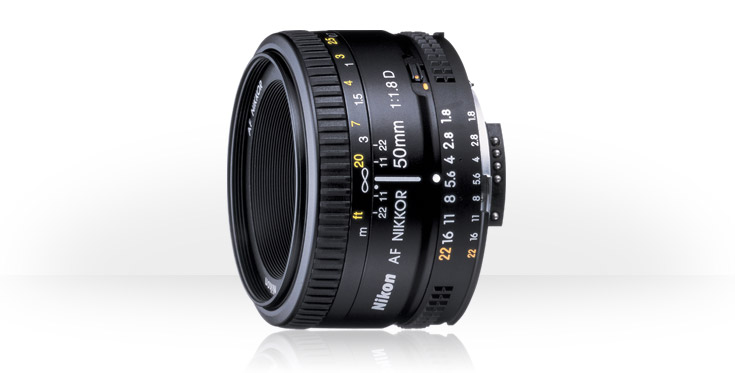 The Nikon AF Nikkor 50mm f/1.8D provides an excellent bang for your buck.
Fifty-millimeter prime lenses are typically much more compact, lighter, and cheaper than their peers. For example, the Nikon AF Nikkor 50mm f/1.8 D – DxOMark's top pick for pairing with the D4 – costs about $135 (USD) and is an unobtrusive everyday (or night) companion for a photographer looking to pack light and run wild.
The Nikon AF Nikkor 50mm f/1.8D received an overall score of 27 on DxOMark's optics review. This was 3-points below its relative, the Nikon's AF-S Nikkor 50mm f/1.4G and its rival, the Sigma 50mm f/1.4 EX DG HSM for Nikon.
But the Nikon 50mm f/1.8 D could not be beaten in its value. Buying two of these lenses would still be cheaper than just one Nikon 50mm f/1.4G or Sigma's 50mm f/1.4.
In its dual with its more expensive competitors, the Nikon 50mm f/1.8D managed to produce images with sharper image quality, and better controlled distortion, vignetting, and chromatic aberration. Its only weakness was that it had slightly dimmer brightness.
Show three-way comparison chart here.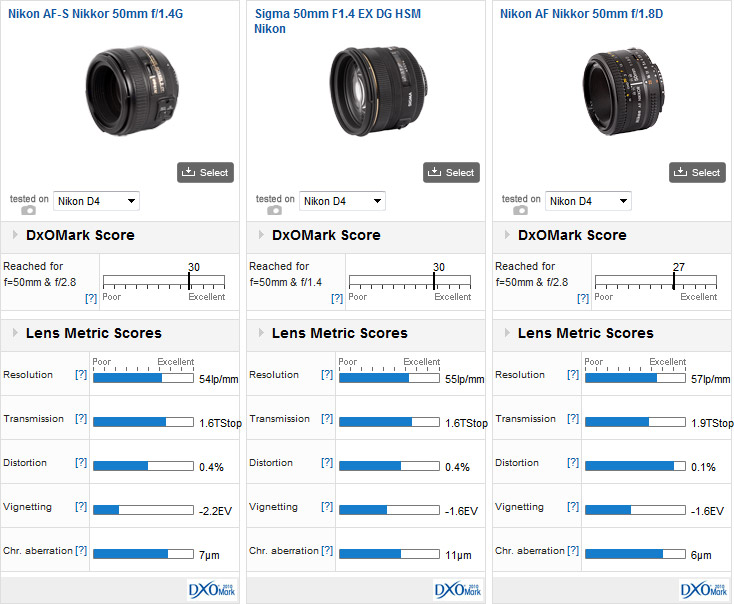 If you're shopping for the brightest standard lens, both Sigma's 50mm and Nikon's 50mm f/1.4G are equally bright, and have transmission scores measured at 1.6 T-stops. The Sigma wins the tiebreaker between the two with just a tad better resolution and much stronger control of vignetting.
The ultimate wide-angle lens for landscape photographers
Wide-angle zoom lenses allow photographers the ability to take sweeping images of nature's beauty; and they can help illustrate the human imagination through photographs of our architecture and skylines. Wide-angle lenses also allow shooters to perform acrobatics by getting low, high, against the wall, in the corner, in a tree, and everywhere in between. Simply put, the possibilities seem endless in what a photographer can explore and document using these lenses.
IMG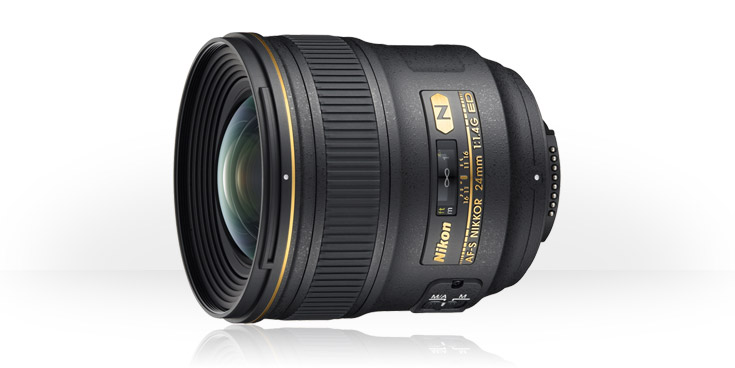 The Nikon AF-S Nikkor 24mm f/1.4G ED is one of the brightest wide-angle lenses on the market. It's also one of the most expensive.
DxOMark recommends the Nikon AF-S Nikkor 24mm f/1.4G ED for D4 users looking to make a new wide-angle purchase. The lens complimented the Nikon D4 nicely in our optics tests, and swept its nearly 2-decade old relative, the Nikon AF Nikkor 20mm f/2.8D, and competitor Samyang 14mm f/2.8 IF ED UMC Aspherical, in four out of five DxOMark categories.
The lens' really wide aperture helped it gain a transmission score of 1.7 T-stops, making it one of the brightest wide-angle lenses in the field and an ideal accessory for photographers who love to take landscape pictures in dark conditions like underneath a starry sky.
The Nikon 24mm also led the pack in controlling vignetting, chromatic aberration, and distortion. The latter is a common problem with wide-angles, especially in Samyang's super-wide fisheye-like 14mm, as noted in the distortion grids below.

From left to right, distortion samples for the Nikon 24mm, Nikon 20mm, and Samyang 14mm.
There's a high price to pay for the quality optics and extra wide aperture of the Nikon AF-S Nikkor 24mm f/1.4G ED. Brace yourself. The lens' retail value is $2,200, making it about $1,500 dollars more expensive than the Nikon AF Nikkor 20mm f/2.8D or Samyang's 14mm f/2.8 IF ED UMC Aspherical.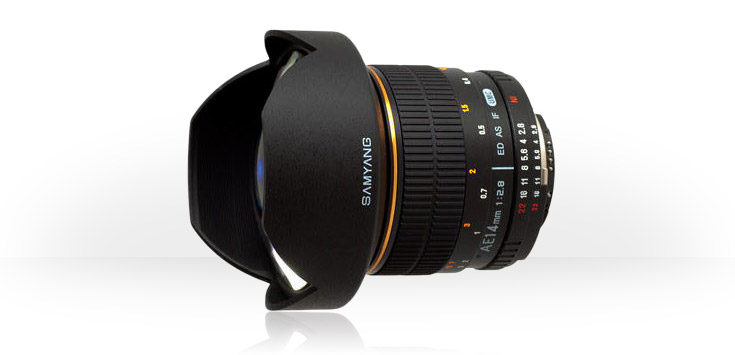 The Samyang 14mm f/2.8 IF ED UMC Aspherical is an affordable alternative to other high-end wide-angle lenses.
This makes the Samyang 14mm f/2.8 IF ED UMC Aspherical an interesting alternative. The lenses affordable price of about $400, which can largely be attributed to its manual-only focus, makes it a steal. The lens' extra wide photographic perspective of the world also makes it a compelling and close second place to Nikon's pricey Nikon AF-S Nikkor 24mm f/1.4G ED, especially if you note that its optics scored highest in image resolution among the three lenses in this comparison. But again, as noted in the graphs above, the lens produces images with strong distortion.
Insert three-way comparison found here.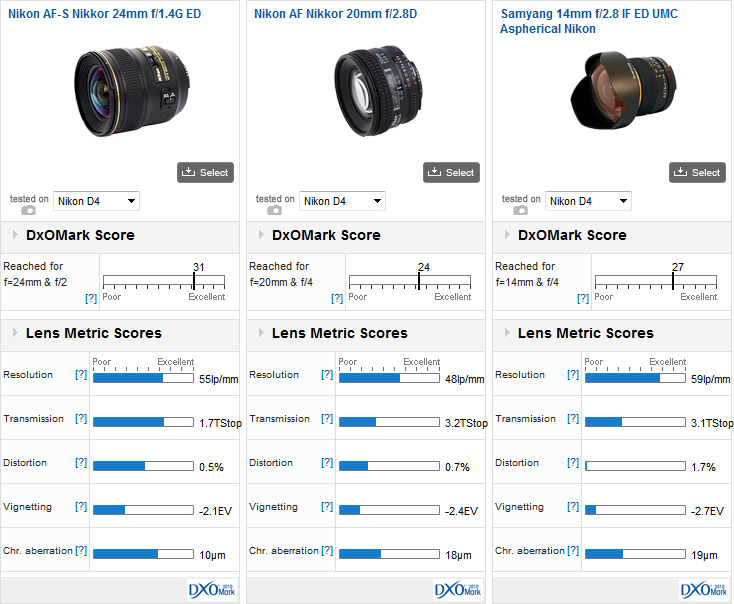 Micro lens recommendation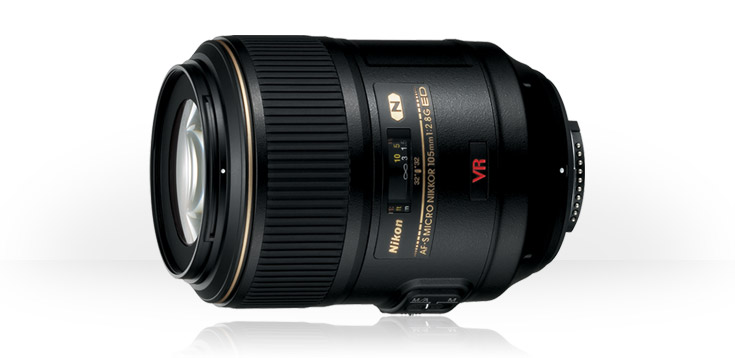 Micro Lens Pick: Nikon AF-S VR Micro-Nikkor 105mm f/2.8G IF-ED
The micro, or macro lens, is the biggest weapon in an insect or plant photographers' arsenal of lenses. These types of lenses allow for the unseen to be seen; a micro can capture the fine hair of a tarantula spider with amazing detail, making the arthropod look more like a mammal than an arachnid.
DxOMark recommends the Nikon AF-S VR Micro-Nikkor 105mm f/2.8G IF-ED for photographers looking to stalk alien-like insects using a micro lens. It is a solid piece of glass that during testing produced images with extremely sharp resolution – a must for insect and plant photographers who demand lenses retain even the smallest of details. This ability to preserve details elevated Nikon's 105mm above comparable lenses made by Sigma and Tamron. The Sigma 105mm f/2.8 EX DG Macro for Nikon lens and the Tamron SP AF 90mm f/2.8 Di Macro for Nikon lens had notably weaker resolution at the widest aperture of f/2.8.

From left to right, resolution performances in the Nikon 105mm, the Tamron 90 mm, and Sigma 105mm.
All three lenses remained close in score when measuring distortion. The trio also had similar brightness with transmission scores of around 3.1 T-stop.
Photographers looking to save a little dough, but retain lens quality should consider Sigma's 105mm. At $640 (USD), it shaves off about $250 from the cost of Nikon's 105mm, and still manages to keep close with the lens quality of Nikon's micro.
At $460, Tamron 90mm is the cheapest and most lightweight micro (a dainty 405 grams) of the bunch.
Show comparison chart between three lenses here.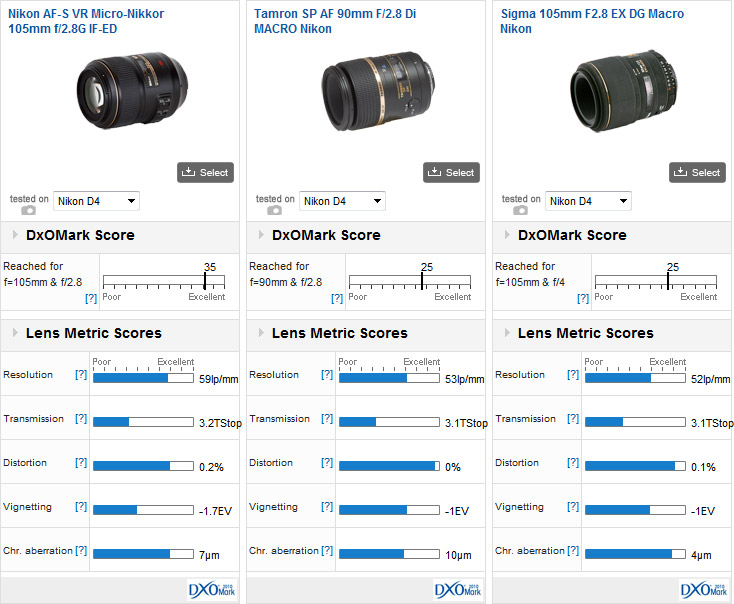 Great value. Great Price.
Photography is an expensive profession. Combined costs – the purchase of a high-end camera like the Nikon D4, acquiring a complete kit of lenses, plus lighting gear – can easily approach the value of a new car.
But there are affordable lenses on the market that can help bring this daunting investment down in price without sacrificing any of the quality.
Here are a few lenses that caught our attention for their low prices and their high marks on the D4.
Tokina AT-X 16-28mm f/2.8 PRO FX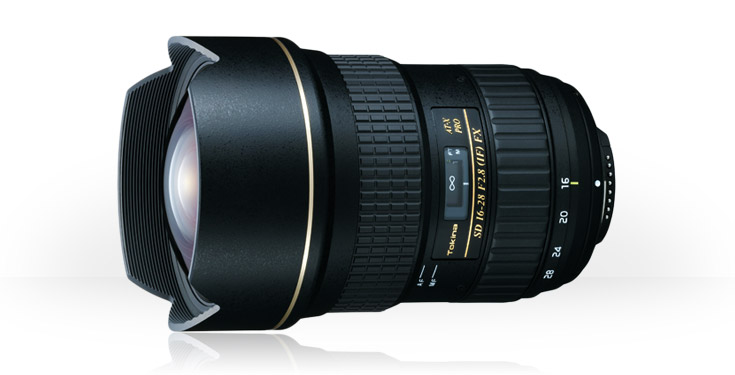 The Tokina AT-X 16-28mm f/2.8 PRO FX would make a quality wide-angle zoom lens for shopping photographers. It complimented the Nikon D4 nicely in our optics tests, aided by its bright optics and excellent image resolution. It even outperformed many pricier and more popular Nikon lenses in the same wide-angle zoom lens category. An additional bonus of the lens is its affordability. It's priced around $850 (USD), nearly $1,000 cheaper than similar Nikon wide-angle zoom lenses.
Samyang 85mm f/1.4 Aspherical IF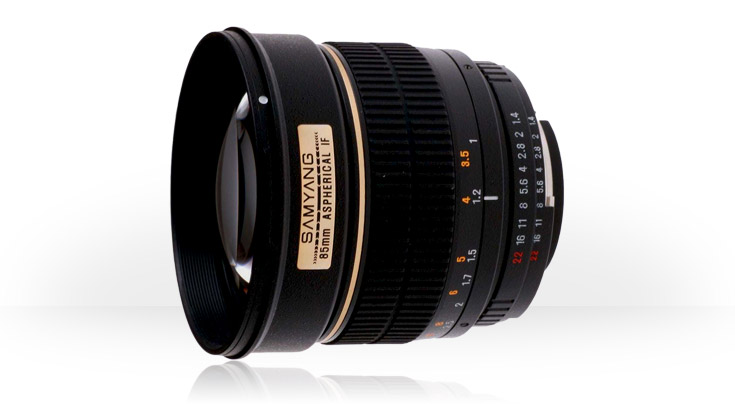 Samyang's 85mm f/1.4 Aspherical IF for Nikon produces high quality images that are just as good, if not better than many similar Nikon and Sigma lenses. It has bright optics that produce images with high resolution and low distortion and vignetting. Priced at just $330, it's also a steal compared to similar Nikon lenses that can cost nearly $2,000 more!
However, the Samyang 85mm f/1.4 Aspherical IF for Nikon does have a drawback. It only shoots in manual mode, there is no autofocus, so photographers who don't trust their eyes may want an alternative lens.
Conclusion
DxOMark's lens recommendations are intended to help Nikon D4 photographers achieve the best image quality using a diverse pool of lenses. Undoubtedly there are many more lens choices. In the coming months, DxOMark will add more lens data for consumers to compare and contrast lenses for the D4. We'll also be providing similar information for other popular brands, including Canon and Sony cameras.
Further readings for the Nikon D4 review
To provide photographers with a broader perspective about mobiles, lenses and cameras, here are links to articles, reviews, and analyses of photographic equipment produced by DxOMark, renown websites, magazines or blogs.
---
Comments
Added by

affclga

| January 10 , 2013

Nikon AF-S VR Micro-Nikkor 105mm f/2.8G IF-ED on D4

<div id="linkdxomark">This a comment for <a href="http://www.dxomark.com/index.php/Cameras/Camera-Sensor-Database/Nikon/D4">this page on the website</a></div>Am I reading wrong, or does DxOMark list two different scores for the Nikon AF-S VR 105mm f/2.8G IE-ED on the D4? One one page the score appears to be 35 and on another 27. See:

http://www.dxomark.com/index.php/Publications/DxOMark-Reviews/Nikon-D4-review/Lens-Recommendations

http://www.dxomark.com/index.php/Lenses/Compare-Camera-Lenses/Compare-lenses/(lens1)/261/(lens2)/489/(lens3)/560/(brand1)/Nikkor/(camera1)/767/(brand2)/Tamron/(camera2)/767/(brand3)/Sigma/(camera3)/767




Reply | Read all replies for this comment
First replies for this comment
---
Added by

Nicolas

| January 10 , 2013

Re: Nikon AF-S VR Micro-Nikkor 105mm f/2.8G IF-ED on D4

Hello,

You are not reading wrong! Here is the explanation: we changed the dxomark and sharpness scoring system last December (for further information you can have a look at DxOMark's Perceptual Megapixel on this page: www.dxomark.com/index.php/Publications/DxOMark-Reviews/Looking-for-new-photo-gear-DxOMark-s-Perceptual-Megapixel-can-help-you).


For this reason, previous reviews using the old scoring system are now indicated with a banner. This one was actually missing but that should be fixed soon.

Sorry for that!

Regards,


Reply
---
ISO performance

but this is a conspiracy against DxO ....... still denied its results ....

http://www.digitalcamerainfo.com/content/Canon-EOS-1D-X-Digital-Camera-Review/Noise-Reduction.htm


Reply
---
another denial

Opss...... another site that belies the DxO dynamic range:

http://www.digitalcamerainfo.com/content/Canon-EOS-1D-X-Digital-Camera-Review/Dynamic-Range.htm


Reply
---
When you are not sincere

if you click here, and understand Italian, you can see that your assessment of the noise and dynamic range is too sbilanciat in favor of NIKON.
In Reala is better the Canon ......

http://www.reflex.it/wp-content/uploads/2012/10/Camera-TEST_Eos1Dx.pdf

http://www.reflex.it/wp-content/uploads/2012/03/Camera-TEST_Nikon-D4.pdf


Reply
---
What a joke!

I agree with avicenna. The 70-200 II came out in 2009 and you haven't had a chance to get your hands on one?? Stop comparing lenses that cost orders of magnitude more or less than others, and please check other sites before you recommend a 20 year old lens over a brand new one that all other sites consider improved (50 f/1.8s). You probably have a bad copy if your tests are against all other recommendations!


Reply
---
Missing newer lenses for comparison

<div id="linkdxomark">This a comment for <a href="http://www.dxomark.com/index.php/Cameras/Camera-Sensor-Database/Nikon/D4">this page on the website</a></div>

You guys need to catch up on lens reviews before you post lens recommendation articles...

Some of the lenses you recommend are so old you can't even BUY them anymore. Many sections completely ignore newer lenses that are far superior to the old versions (Nikon 50mm f/1.8 AF-S for example), just because you haven't reviewed them.

You are doing a disservice to your readers.

...

Lenses for sports and wildlife photographers
> where is the Nikon 70-200 VR II f/2.8 and the Tamron 70-200 f/2.8

Lens suggestions for portrait photographers
> where is the Nikon 85mm f/1.8 AF-D and Nikon 85mm f/1.8 AF-S

Fixed Prime Lens Recommendation
> where is the Nikon 50mm f/1.8 AF-S - it should outperform the older AF-D version

The ultimate wide-angle lens for landscape photographers
> THIS is the worst. How can you compare a 24mm f/1.4, a 20mm f/2.8 that costs 1/4 of the price, and a manual-focus 14mm!!! Especially the 14mm, which is 40% wider of an angle than the 24mm!
> You should have compared the Nikon 24mm f/1.4 versus the newer Nikon 28mm f/1.8 and the older Nikon 28mm f/1.4 AF-D.
> Or how about the Nikon 28mm f/2.8, 24mm f/2.8 and 20mm f/2.8 for a budget prime shootout?

Micro lens recommendation
> Where's the new version - the Sigma 105mm f/2.8 OS. You can't even BUY the old version anymore!
> What about the Tokina 100mm macro? Should have been a 4-way comparison of Nikon, Sigma, Tamron, and Tokina lenses.

Missing section: Ultra wide angle
> Here's where you put the Samyang 14mm - compare it against the Nikon 14mm f/2.8 and the Nikon 14-24mm f/2.8.
> Or compare the Nikon 14-24mm f/2.8 against the Tokina 16-28 f/2.8 and Sigma 12-24 f/4.5-5.6.
> Or compare the Nikon 17-35 f/2.8 and the Nikon 16-35 f/4 against the Tokina 16-28.

Missing Section: NORMAL ZOOM
> This is the lens type that most people buy anyway, and yet, it's not here.
> Where is the Nikon 24-70 f/2.8, the Sigma 24-70 f/2.8, the new Tamron 24-70 f/2.8 VC, the new Nikon 24-85 f/3.5-4.5 VR, or even some of the old Nikon f/2.8 zooms (since we're doing ancient lenses anyway).




Reply
---
D4 vs D800

Hi to all,

Just thought I would share my opinion on the D4 and D800. It might help some of you guys out.

I owned a D3s and D300 and now use the D4 and D800 for weddings, model shoots and urban photography.

First I would like to state that the D4 is just the best camera I ever owned. It is really superb. I also shot with Canon (5D mkII) but the Nikon models just feel better when holding them. When it comes to overall image quality I would just as easily use a Canon camera. Just to point out I am not one of those guys who loves to bash the other brand :) Nikon or Canon are both great camera manufactures but I just prefer Nikon.

On all camera's I use a 14-24 2.8, 24-70 2.8 and 70-200 2.8. So there was no difference regarding lenses.
The picture quality of the D800 and D4 are in my opinion pretty much the same. The higher resolution of the D800 makes reducing noise somewhat easier and brings out a little more detail.
The D4 however is much better build. I find the D800 more plastic and it feels somewhat cheap.
But when it comes to model shoots the higher resolution is just great to have.

During a wedding I use the D4 for the make-up shots, ceremony, diner and party. But for the bridal shoot I use the D800 for 90% off the time. When I need higher ISO's I drop the D800 and go back to my D4.

The D4 is fast while focussing and has a better ISO performance than the D3s. Most say that the ISO performance of the D3s and D4 are the same but that is not true. I can go up to ISO 10000 on my D4 and get the same quality as when I shot at ISO 6400 on my D3s. For my D800 and Canon 5D MKII I won't go higher than ISO 3200. And on my D300 I really didn't go any higher than ISO 1200. Just to point out that I am really picky when it comes to noise.

The battery life of the D4 is also better than some say. I shoot around 1700 images during a wedding (starting at 8:00 AM till 1:00 AM) and still have 3 bars left.

I don't do video so I can't say if Canon does a better job on this part.

In my opinion the D4 is the best camera to have.
If you can afford it, go for it. I sold my D3s and paid a lot extra for the D4 and find the better focus (in the dark), higher resolution (for cropping) and better ISO performance are worth the money. For all types of photography in which you need a fast focussing monster camera this would be the one.
When doing solely model shoots or urban photography the D800 would be the best choice because of the higher resolution.
For nature photography go for the D800E.

If you don't need the higher resolution and don't have the cash for a D4, then buy a second hand D3s. You can buy one for around 3000 euro's which is the same price as a D800. But the D3s is much better build. And the ISO performance of a D3s is so much better than on a D800.

Hope this will help some of you decide.
You can find my work on pixed.nl






Reply | Read all replies for this comment
First replies for this comment
---
Re: D4 vs D800

Very nice summary analysis by someone who has experience in using both cameras. This information is very helpful and thanks for taking the time to inform us.


Reply
---
D4 lens tests

No, no 'Tamron and Sigma lenses all tested on a Nikon D4'. Not one.


Reply
---
Added by

oxxl

| May 14 , 2012

Why use old lenses?

Hi Just have a question: Why do you use old lenses for the tests? There is a BIG difference between the Nikon AF-S VR Zoom-Nikkor 70-200mm f/2.8G IF-ED and the newer version 70-200mm II.
Regards
oxxl



Reply
---
Sony pro relfex?

Probably not, its more mirrorless even tho mirror is still there, but its EVF based camera. Sony wont make dSLR in future. Cause of that I doubt they will match D800, there will be loss of SNR due half-silvered mirror if I dont count that one which will be caused by different CFA and Sony usuall approach "colors over everything" (which is why I like them :). Plus D3x didnt performed like A900 either (cause Nikon is pretty good in squeezing Sony chips). Tho as main supplier for Nikon, they actually profit either if Nikon wins.

Im quite interested in what should be "lower" Sony model with 24 mpix FF (revised or new chip supposedly). Imagine 36 mpix A99 priced around D800, then decent 24 mpix FF priced quite a bit lower.. :D


Reply
---