Nikon D4s sensor review: Master of Darkness?
By Kevin Carter -
Monday March 10 2014
Sensor Review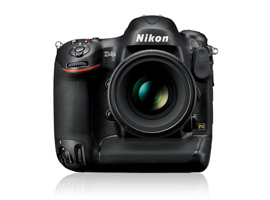 Nikon's mid-term revision to their flagship full-frame D4 series camera includes an updated 16-Mpix CMOS sensor and the new Expeed 4 processor amongst a raft of other, mostly subtle refinements. Read on to find out how the new top-of-the-range model performs.
Nikon's refresh of its top-flight professional camera follows a predictable cycle, and two years on from the announcement of the D4, the revamped model is now finally with us in the form of the Nikon D4s. Like earlier refreshes, externally the new model looks much the same as its predecessor but although there have been some slight modifications to the rear of the camera most of the changes take place inside the alloy shell.
Although the sensor is the same 16.2-Mpix type CMOS device as the D4s perhaps the most significant change is the upgrading of the imaging-processing engine from Expeed 3 to Expeed 4. Not only does this expand the camera's capabilities with regard to ISO range (now including a new maximum ISO 409,600 extended setting) but it also allows for slightly faster continuous-shooting (now 11fps, up from 10fps) for up to 200 frames (JPEG fine L) and a new 1080 50/60p video capture option.
The improvements in the processor also mean the D4s can muster more from its battery pack, the modified EN-EL18a. Nikon claim 3,020 shots per charge as opposed to 2,600 from the EN-EL18 in the D4. In addition to the previously mentioned video frame rates, the D4s adds ISO Auto control to video capture in manual exposure (with exposure compensation), and simultaneous recording to an external recorder as well as the memory card. Live view output can also viewed while recording uncompressed video via HDMI. Sound recording now features the option to select the frequency range and level.
Nikon has also reduced the viewfinder blackout time, improved AF 'lock-on and enhanced the 51-point AF system with a new group area AF option that monitors 5 groups of sensors offering more control over the size of AF area. The camera is available for pre-order at $6,499.
Key specifications:
16.2-Mpix full frame CMOS sensor
Expeed 4 processor
ISO 100-25,600 (ISO 409,600 extended)
51-point Multi-CAM 3500FX System
New 12-bit uncompressed 'small' Raw
11 fps burst mode with continuous AF/AE
3.2-inch 921k-Dot LCD, fixed
Additional HD 1080 video capture at 50/60p
1000 Base-T Gigabit Wired LAN Support
Further readings for the Nikon D4s sensor review: Master of Darkness?
To provide photographers with a broader perspective about mobiles, lenses and cameras, here are links to articles, reviews, and analyses of photographic equipment produced by DxOMark, renown websites, magazines or blogs.
---
---
Comments
dont belive

the first time I dont belive DXO testing. I have Nikon D4s and Df. D4s images are 2 times clearer in hight iso compared to Df, but this test shows that Df images are clearer ?!?!? WHF ???

please see JPG direct from cameras and NR OFF
Nikon Df (D4 sensor) 12800iso NR OFF http://www.upload.ee/image/3936535/DF0_7636.JPG
Nikon D4s 12800iso NR OFF http://www.upload.ee/image/3936534/D4S_0042.JPG


Reply | Read all replies for this comment
First replies for this comment
---
Re: dont belive

Hi Andrea,
Thanks for your feedback. These test results show that Nikon made a lot of improvements with their in body raw converter. No difference was noticed on the sensor.
Best regards.


Reply
---
ISO ratings

(I do love these reviews.)
I'd like to point out that the difference between the D4s ISO rating and the Df's rating (3074 vs 3279) is less than a tenth of a stop, even my D800's ISO rating, per DxOMark(2853)only differs from the Df's ISO rating by 1/5th of a stop :)


Reply
---