Nikon D5100 DxOMark Review
Thursday April 28 2011
Sensor Review
As we expected, in all measures the D5100 is better than the D5000. The Overall score jumps from 72 to 80. Portrait, Landscape and Sports scores are all increased. The dynamic range is improved by more than one stop, and the Sports score is improved by 1/3 stop, jumping from 868 ISO for the D5000 to 1183 for the D5100.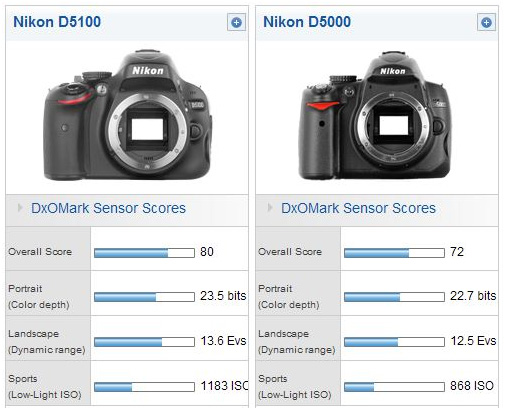 The SNR measured for the D5100 sensor is better than that of the D5000, and the difference increases with the ISO sensitivity.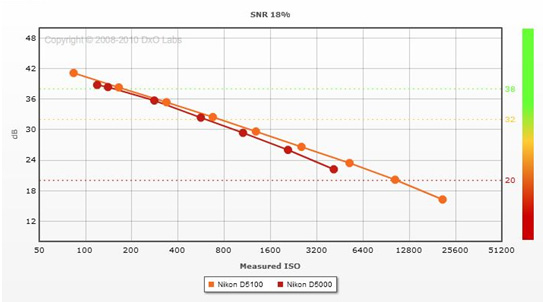 As expected the Dynamic range graph shows really high values for the D5100, especially at low ISO settings. Note that between ISO 400 and ISO 3200 there is almost no difference between both generations.
Tonal Range and Color Sensitivity show some improvements too, but not as remarkable as the previous ones. And here again, the difference grows as the ISO speed increases.
Further readings for the Nikon D5100 DxOMark Review
To provide photographers with a broader perspective about mobiles, lenses and cameras, here are links to articles, reviews, and analyses of photographic equipment produced by DxOMark, renown websites, magazines or blogs.
---
The Nikon D5100 replaces the D5000 in Nikon's lineup; it finds its place right below the Nikon D7000, according to Nikon's marketing the D90 is still positioned between the D5100 and the D7000, however the spec sheet and the performances of the D5100 make this hard to believe.
This is because the D5100 shares the same Sony 16 megapixels sensor as the D7000. The major difference between the two bodies being the AF: 11 points with 3D tracking for the D5100 (presumably the "old" MultiCam 1000 already used on the D90) versus the 39 points with 3D tracking now used on the D7000. Find out Nikon D5100's review results...
---
---
---
---
---
---
---
---
---