Nikon D5100 DxOMark Review
Thursday April 28 2011
Sensor Review
Since the two bodies use the same sensor, their metrics should normally be very close, if not identical. The Sensor Use Case scores confirm this: they are almost identical.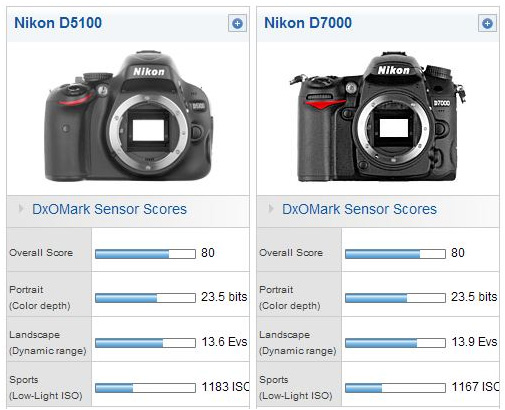 A quick look at the other metrics only confirms their similitude. The SNR comparison shows a single line, which is to be expected as the values are the same.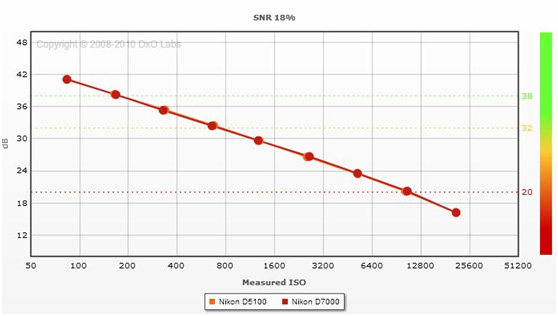 These metrics show that D7000 and D5100 have the same sensor performance. The differences will be found elsewhere on the spec sheet: AF, body construction, memory cards slots, etc.
Further readings for the Nikon D5100 DxOMark Review
To provide photographers with a broader perspective about mobiles, lenses and cameras, here are links to articles, reviews, and analyses of photographic equipment produced by DxOMark, renown websites, magazines or blogs.
---
The Nikon D5100 replaces the D5000 in Nikon's lineup; it finds its place right below the Nikon D7000, according to Nikon's marketing the D90 is still positioned between the D5100 and the D7000, however the spec sheet and the performances of the D5100 make this hard to believe.
This is because the D5100 shares the same Sony 16 megapixels sensor as the D7000. The major difference between the two bodies being the AF: 11 points with 3D tracking for the D5100 (presumably the "old" MultiCam 1000 already used on the D90) versus the 39 points with 3D tracking now used on the D7000. Find out Nikon D5100's review results...
---
---
---
---
---
---
---
---
---