Nikon D5200 review: New sensor and new leader
By Kevin Carter -
Friday January 18 2013
Sensor Review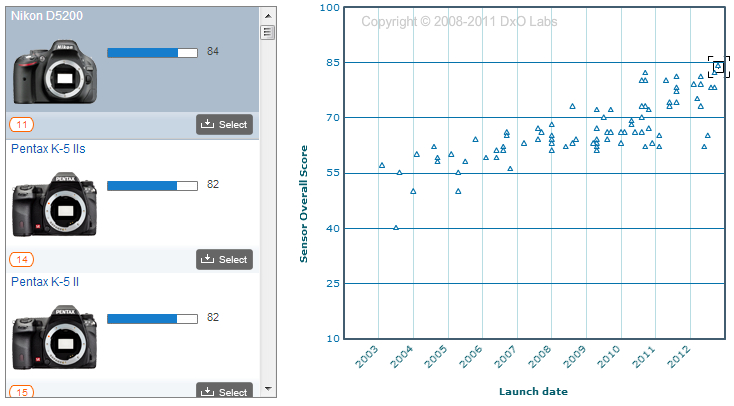 With an overall sensor score of 84, the new Toshiba sourced CMOS imaging chip in the Nikon D5200 achieves the no.1 spot for APS-C sized sensors
In the overall sensor ratings, the Nikon D5200 is ranked 11th regardless of sensor size. This is an excellent score for the new Nikon D5200 that can be credited wholly to the new sensor design with its improved circuitry.

An overall sensor score of 84 places the Nikon D5200 in first place in the DxOMark rankings for a camera with an APS-C size sensor, just two points ahead of semi-pro (and considerably pricier) Pentax K-5 II and the K-5 IIs derivative. Both these models employ a Sony sensor, but a 16-Mpix model with theoretically larger light gathering pixels.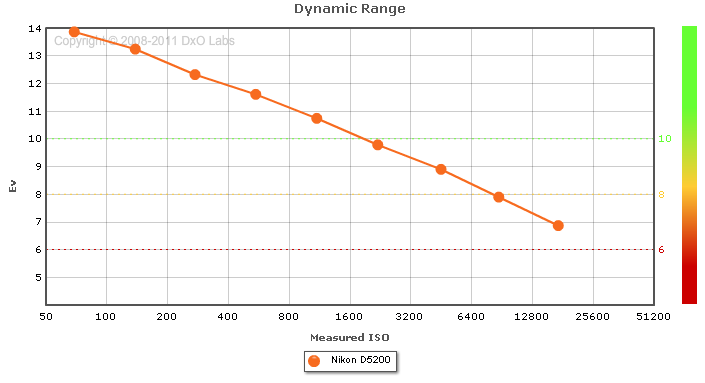 Nikon's cutting edge sensor design means the APS-C format D5200 has one of the better Dynamic Range results, regardless of sensor type
Colour depth, indicated by our Portrait score is excellent at 24.2bits and with a Landscape score of 13.9 Evs the wide Dynamic Range surpasses that of many (albeit older) full-frame and medium format cameras. In fact, it's one of the better results we've seen in the Labs. It's ranked 9th jointly with the APS-C Nikon D7000 and bettered by only three APS-C rivals the 16Mpix Pentax K-5 and K5II models.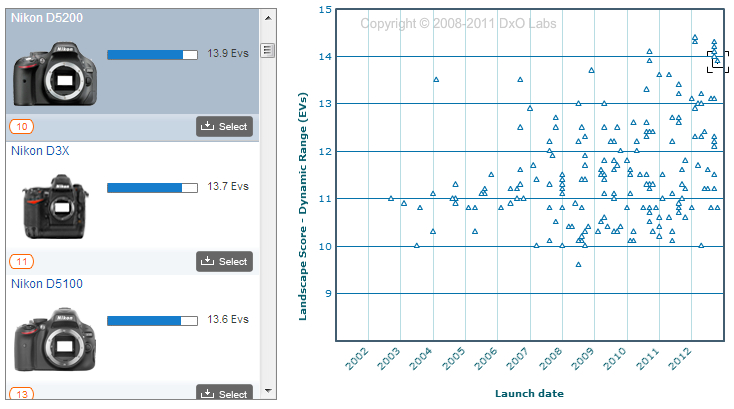 Although not aimed specifically at the sports shooter, the Low-Light figure/measurement of 1284 ISO (for the Sports category) continues upwards with each new sensor design. The score for the Nikon D5200 stands currently as the highest for any camera with an APS-C size sensor, passing the previous leader, the Pentax K5 IIs at 1235ISO. Although that's good to see, it's only a slight improvement and wouldn't be noticeable in real-life use. If you're curious, the best low-light sensor score belongs to the now discontinued full-frame professional-level Nikon D3s at 3253 ISO, followed by the new full-frame D600 at 2980 ISO. In fact, the top five low-light cameras are all full-frame Nikon models, currently (though that will likely not remain for long), with the Sony RX1 and Canon EOS 6D full frame cameras following in sixth and seventh place, respectively.
For an APS-C format camera, either DSLR or hybrid camera (aka mirrorless type), the results show that Toshiba's successful entry to this market is likely to be unsettling for competitors, not just Sony but Canon. Despite that, the Nikon D3200 sporting the rival 24Mpix sensor from Sony scores a very respectable 81 overall, not a bad performance at all considering the price.
Further readings for the Nikon D5200 review: New sensor and new leader
To provide photographers with a broader perspective about mobiles, lenses and cameras, here are links to articles, reviews, and analyses of photographic equipment produced by DxOMark, renown websites, magazines or blogs.
---
---
---
---
---
---
Comments
Added by

Papai

| August 26 , 2013

Please Test Lenses

Please test lenses on this excelent APS-C DSLR, It's hard to decide which lens to choose, by observing the results on older aps-c or full frames(Like on d5000 lens rating is very low on the other side on d800 or d3x the lens rating is very high). Since the pixel pitch is different it may bring a lot of difference in score.
-thank u.


Reply
---
Sensor Size

I believe you when you say that the D5200 has a better sensor overall compared to the D7100 (Although it is hard to believe), however, on this site it is listed that the sensor on the D5200 is 15.7x23.6 and on Nikon's official site it shows that both the D7100 and the D5200 have the same 15.6x23.5 sensor. Having the same sensor seems like they would have the same low light performance, but since this is not the case based on your tests, do you think it could possibly have something to do with the lack of the filter?


Reply
---
In actual shooting, the new 24Mp D5200 produces superb results

I had an opportunity to shoot with a D5200 for about an hour and found that the results were similar in overall IQ as my D800. My initial impression: I would have no problem marrying the D5200 (or better yet, the D7100) as a backup camera for my D800 -- particularly if mated to the 70-300 as a lightweight super-long companion to the D800 with 24-120mm f/4.


Reply
---
Ohh, too bad even at base iso under bright light!!

http://www.flickr.com/photos/nikonfrance/8160816485/sizes/o/in/photostream/

take a look at this full size sample published from NikonFrance,,, even at iso200 under daylight, IQ is terrible, very much like a photo from basic P&S camera,,, charts and numbers here are very meaningless,, real life still are too bad for this sensor...shocked!


Reply | Read all replies for this comment
First replies for this comment
---
Banding Issues

There have been several samples floating about now that people in the USA are receiving their orders. The raw samples, unlike the raw NEFs from the D7000/D5100, behave poorly when the shadows are brought up. There is a distinct banding pattern that appears to be an issue with the DAC/readout-process that creates evenly spaced horizontal lines (in landscape orientation) on recoveries of 2EV and up. This is not unlike the banding visible in the early 5D mk2 samples. I see this as a major strike against a camera replacing the excellent sensor of the D5100/D7000. I definitely would not trade "up" in this case.


Reply
---
Chroma noise at ISO200

At FLICKR there is a sample of the D5200: http://www.flickr.com/photos/nikonfrance/8160816485/sizes/o/in/photostream/
How could this camera earn such a high score, when pronounced chroma noise starts appearing even at ISO200 (check EXIF for the picture above). Please check out this sample in the region of the girl's hair, it's full of blueish chroma noise. It is also evident that the camera loses detail (masks it and sharpens it)even at the lowest setting, giving a "cartoonish" feel to it.


Reply
---
Added by

kar guy

| January 21 , 2013

Nikon D5200

Sorry, this isn't particular to the sensor. I hope Nikon/Toshiba is really able to control noise while upping the mexapixels.

I bought a D5100 in early 2012. I tried it at the camera store and liked what I felt there. It wasn't till I got it outside and went to use it "for real" that I noticed what would have been a deal-breaker: No Depth of Field Preview! I have used a bunch of Nilons over the yars -- they all had a DOF preview button to the right of the lens mount. A (D)SLR without a DOF preview? Why would Nikon leave off this most useful feature? They don't seem to have added it to the D5200.


Reply | Read all replies for this comment
First replies for this comment
---
Added by

bobn2

| January 20 , 2013

Source of D3200 Sensor

The D3200 sensor is a Nikon, not a Sony as you suggest above. It seems that Nikon is not using the 24MP APS-C sensor at all.


Reply
---
D5200 Sensor Toshiba not Sony

Different sensor than D3200. So will have to wait for the tests. It is supposed to be better than the D3200 sensor.

Ya'll should think about changing your opening statement here on the D5200


Reply | Read all replies for this comment
First replies for this comment
---
Added by

timon

| November 18 , 2012

you needed to know more about these 3.8μm or 4.8μm sensors

you needed to know more about these 3.8μm or 4.8μm sensors in a camera

Please read here,
forum.dxomark.com/index.php/topic,940.0.html

Most of the camera review in the mercantile websites would not say what the problems about the 3.8μm or 4.8μm sensor.



Reply
---