Nikon D5300 review: Filter-less DSLR with promise
By Kevin Carter -
Wednesday November 13 2013
Sensor Review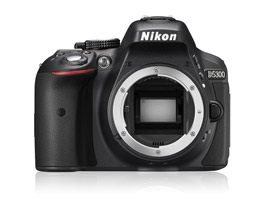 The Nikon D5300 is the successor to the year old D5200 featuring a similar 24-Mpix CMOS sensor of it predecessor but lacking an optical low pass filter for improved clarity. Read on to find out how well the new camera performs.
At $799 body only or $1,399 complete with the AF-S Nikkor 18-140mm f3.5-5.6G ED VR, the mid-to-high-end DX format Nikon D5300 is an upgrade of last year's D5200.
The new model features the same 24-Mpix CMOS sensor minus the optical low pass filter (OLPF) for improved fine-detail rendering and image sharpness. It also has sensitivity settings running from 100 to 12,800 ISO plus expansion to 25600, and a slightly larger 3.2-inch articulated rear TFT display.
This new model also has the 39-point AF module and metering system from D7000 and is the first DSLR from the firm to include built-in WiFi capture and image transfer options as well as GPS tagging.
Additionally, the Nikon D5300 has improved video capabilities with full HD 1920 x 1080p capture up to 60 fps complete with full-time AF and subject tracking.
Further readings for the Nikon D5300 review: Filter-less DSLR with promise
To provide photographers with a broader perspective about mobiles, lenses and cameras, here are links to articles, reviews, and analyses of photographic equipment produced by DxOMark, renown websites, magazines or blogs.
---
---
---
---
Comments
d3200 vs d5200

I want to buy a nikon camera.
Can you help me to decide between d3200 with 18-105 len and d5200 with 18-55?
Both of them are in the same price range.




Reply
---
Added by

RRRoger

| December 10 , 2013

D5300

I am surprised that the D5300 did not test much higher on the DXO score.
Is the sensor tested by itself or in the camera?
Does the Expeed 4 processor factor into the results at all?

I've had a D5100, a D7000, and a D7l00.
The images I am getting with my D5300 are much better at ISO 12,800 than any of those were at ISO 6400 and even somewhat better than they were at ISO 3200.

As for movies, the D5300 is so much better that there is no comparison.


Reply | Read all replies for this comment
First replies for this comment
---
First replies for this comment
---
Good update

Very nice to see that 5300 has better design of body (not piece of soap like 5200). That is best choice for those who joined dslr not so long time ago and don`t need AF motor from 7100, as a result better price and weight. Probably you again postpone (or you don`t plan to publish it at all) lens results for d3200, but for 5300 it is much more interesting.


Reply
---
Added by

Toshik

| November 13 , 2013

Nikon D5300 review

<div id="linkdxomark">This a comment for <a href="http://www.dxomark.com/Cameras/Camera-Sensor-Database/Nikon/D5300">this page on the website</a></div>The performance of the sensors (D5300-D5200-D7100) seems to be within margin of error.

But i wonder why only +0.2 bits of Color Depth and worse low-light score still gives D5200 better overall score but higher score of Low-Light ISO prevents D5300 from taking the same overall score. Seems that Color Depth influences overall score higher than Low-Light ISO score.

Also i noticed that D5300 scores are a bit lower because it's measured ISO is a higher (which leads to more noise under high-iso settings and lower DR&color depth under low iso settings) that of D5200-D7100. If we normalize it, i think D5300 score will be equal to them.

D5200/D7100 used Toshiba made sensors but what about D5300?

P.S: I think it's useless to make lens recommendations for D5200 for now, because it is now superseded by D5300, which with absense of OLPF achieves greater resolution/sharpness, though it can show similar results as D7100.


Reply | Read all replies for this comment
First replies for this comment
---
Added by

ntnyc

| November 13 , 2013

AF system

"the 39-point AF module and metering system from D7100"

"D7100" should be changed to "D7000"; the D7100 has a 51-point AF module.


Reply
---