Nikon D600 sets high bar for sensor image quality
Wednesday September 19 2012
Sensor Review
Nikon D600: Full-frame sensor for the budget minded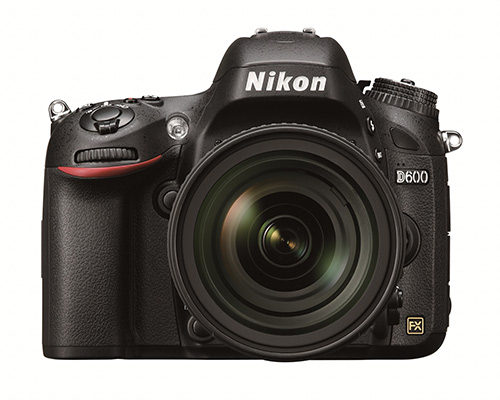 A growing chorus of amateur and enthusiast photographers have been wondering aloud if a full-frame sensor would ever find its way into a more compact, intuitive, and consumer-oriented camera body – and equally important, a price range that won't induce heartburn.
Nikon and Canon both seem to have their fingers on the pulse of consumer preferences. On Sept. 13, Nikon announced the arrival of the D600, a consumer-targeted DSLR that includes a 24.3-megapixel full-frame CMOS sensor. And on Sept. 17, Canon rebuffed Nikon's D600 announcement with an equally impressive consumer-minded full-frame DSLR, the EOS 6D.
Further examining the D600, its sensor is embedded into a camera body that most resembles – in design and weight – the company's more veteran high-end consumer DSLR, the D7000. However, its dimensions and its image production are more closely aligned to Nikon's 36-megapixel full-frame sensor DSLR, the D800.
For starters, perspective D600 users will enjoy the full-frame sensor's 35mm film-like appeal. The camera allows amateur photographers to break free from the cropping-factor that is typical of smaller sensors found in consumer DSLRs like the D7000, hybrid cameras, and DSCs.
And the price tag? The D600 costs just shy of $2,100 – enough to still give some photographers stomach churning anxiety – and places it in price range and direct competition with Sony's $2,000 full-frame high-end DSLR, the a850, and is just a few pennies more than Canon's new EOD 6D. Still, the D600 is priced well below the most affordable Nikon or Canon full-frame sensor DSLRs, including the roughly $3,000 Nikon D800, or the $3,450 Canon 5D Mark III.
Nikon justifies the D600 retail price for its obvious 24.3-mpx full-frame sensor, but also because the camera can photograph at a snappy and nimble 5.5-frames-per-second, and it includes a 39-point autofocus system, has a D800 sized 3.2-inch 921k-dot LCD screen, and is capable of filming 1080p30 full HD video with accompanying stereo sound recording.
Other perks of the D600 include:
ISO range of 100-6400, but expandable to 50-25600 equivalents.
Built-in flash.
In-camera image and video editing.
MOV video file format, plus H.264/MPEG-4 compression formats.
Audio headphone jack to compliment and monitor video recording.
Nikon D600 blurs line between pro, consumer DSLRs
The D600 likely will appeal to two very different types of photographers. Enthusiast photographers will be drawn to its intuitive functionality, creative features and filters, and its full-frame sensor. Professional photographers will be attracted to the latter, and could consider the D600 as a lightweight and affordable compliment to their broader and heavier pool of camera gear.
This blurring of camera genres situates the D600 in a unique place among the broader Nikon family. The D600 could potentially replace the 12.3-mpx "DX" sensor format of the Nikon D300S – the latter has been billed as the company's top "DX" camera and the entry-level pro-DSLR model. Yet, the D600's full-format "FX" CMOS sensor easily trumps the D300S, and is more closely related to the semi-pro Nikon D700 and its 12.1-mpx "FX" sensor. Even still, the megapixel count of the D600 is more than double that of the D700. This leaves many to wonder, even us at DxOMark, if this consumer-marketed DSLR will eclipse the image quality of the D300S and D700, and potentially approach the image quality of the 36-mpx D800.
Further readings for the Nikon D600 sets high bar for sensor image quality
To provide photographers with a broader perspective about mobiles, lenses and cameras, here are links to articles, reviews, and analyses of photographic equipment produced by DxOMark, renown websites, magazines or blogs.
---
Sensor
|
September 19, 2012
| | |
| --- | --- |
| | Nikon's recently released consumer-oriented full-frame sensor DSLR, the D600, has just gone through DxOMark's image quality evaluation tests. And the verdict is in: the D600 is an affordable camera that places a high premium on image quality, as it ranks just behind the top performing Nikon D800 and Nikon D800E. It is also a significant improvement over the high-end professional flagship DSLRs, the Nikon D3X and the Nikon D4. Here are the DxOMark test results for the D600. |
---
Comments
Zeiss 21mm on D600 even usable?

Since so no one makes a focusing screen to enable easier manual focus with this body, should it even be on the best lens list? Or can it work as it is on D600
???


Reply
---
Nikon 70-210mm f/4 for D600

A different version of this lens is available but....I can't find where to go on website to suggest adding this one (f/4 throughout range) to database. Can someone give me a step-by-step?
Dxo support doesn't understand the question.


Reply
---
Added by

AWoon

| June 28 , 2013

Best Lens for Nikon D7100 or D5200?

Hello,

Thanks for the objective and scientific review. I really think this is best review I've seen.

Just wondering if you will be doing any review on Best Lens for Nikon 7100 or D5200.

Best regards
alec


Reply | Read all replies for this comment
First replies for this comment
---
D600 Wrap Up Reviews

A real tour de force; well done. With your analytical reports and the practical input of experts like Thom Hogan it really is hard for amateur photographers to make any regrettable errors when buying Nikon lenses or bodies.

It's always possible to do more, but this really provides definitive world-class benchmarks for higher end equipment.

Thank you very much.

jo


Reply | Read all replies for this comment
First replies for this comment
---
First replies for this comment
---
Added by

Tord

| March 15 , 2013

Nikon 600 back from the cleaners :-)!

Got my D600 back from Nikon a few days ago, with a note telling me it isn't dust-proof! Water-resistant, yes, but not dust-proof?! Guarding their backs, I guess ...

I love it anyway! I'm sure it will have some more dust problems in the future, who cares?! A fantastic camera for me, a poor enthusiast, who sold my beloved Pentax gear to buy this lovely baby! Today I have a nice setup for it: the 28/1.8, the 50/1.4G and the 85/1.8G, plus the Sigma 70 macro, and two classics: 400/5.6 and 80-200/4. If I need a 35 I'll use the DX lens, works quite well (needs some cropping, but not that much)! And I have the AF-S VR 70-300, too, but is more or less is glued to the V1. So no zooms on my D600 (sold the 18-70 & 55-200 today), except that supersharp old 80-200 manual lens!

This oil/dust issue isn't nearly as bad as that happened to a lot of K-5 owners, including me (mine was minor, didn't need to send it off)!

Just tried the 28/1.8G I bought today on it - smooth!


Reply
---
Worst Nikon Camera

I was very happy and excited as it was my first full frame camera, but the sensor dust ruined my camera and my hopes of producing better images, even after cleaning i still see sensor spots on my images when i use it for landscape photography. I am not talking of one or two spots but around 25 to 30 dust spots even after cleaning. Please do not buy this camera, Thanks Nikon for ruining my hopes and ambition.



Reply | Read all replies for this comment
First replies for this comment
---
Nikon's not getting my money on this one!

24MP looked so good, I was ready to jump. But the dirt/grease issue hasn't gone away and now some people are not even having major issues until after 2700 clicks?
After reading Tom Hogan's latest threads http://www.bythom.com/, I'm staying with my
D700, D5100 & D300, none of which have ever caused me a second of worry.
NIKON...fix it or forget it!



Reply
---
D600 video bad compression

Hi, we are making tests with low light ISO 100 and have found very bad compression errors in this camera. Will soon upload a lot more images. http://www.youtube.com/watch?v=W68p6PAiR9A ¿does anyone have information about this?


Reply
---
Added by

funniq

| October 13 , 2012

D600 overexposes just like the D7000

I saw some real life test on the www about the fact that the D600 overexposes. That was the reason why I sold my D7000 and use my 'old' D90.

Can anyone explain me why this D600 with such a bad exposure algorithm gets such a good score on DxOMark ...

I almost wonder if Nikon sponsors this site???? ;-)

Kind regards, André


Reply | Read all replies for this comment
First replies for this comment
---