Nikon D800 Review
Wednesday February 08 2012
An impressive 36 MPix senor and the rest is cast in the same mould
The sensor
The true novelty of this camera is not its exterior, but what's on the inside. So for our first photo, we aren't going to show you the camera, but rather its sensor (which we are dying to analyze). A 36-Mpix sensor with a pixel pitch of 4.8 µm — if this sensor lives up to the promise shown by its smaller relatives (i.e., the sensors for the Pentax K5 and the Nikon D7000), then the Nikon D800 will inevitably achieve the highest DxO Mark sensor scores ever measured. To do so, it needs to follow the same road as the Nikon D7000 vs D700 in terms of dynamic range for lower ISOs, but even more, it needs to achieve a good score for low-light ISO (ideally, equivalent to or better than its predecessors — see the results for the Nikon D700 and the Nikon D3s).
A 91K-photosite RGB sensor
This isn't really a new feature, but rather an improvement: 91,000 photosites and a more sensitive sensor should provide —
Better autofocus accuracy, notably in low light (making use of 51 collimators, of which 15 are in a cross-array, with the 11 in the center being the most sensitive)
Greater accuracy in scene estimation for all integrated image processing
The camera and its design
Nikon retains a design comparable to that of the D700, so "nikonists" will be happy to note that the grip remains the same. (Having to change one's habits in terms of ergonomics would not have been particularly appreciated, so what changes there are in this camera nearly all have to do with the technology involved.)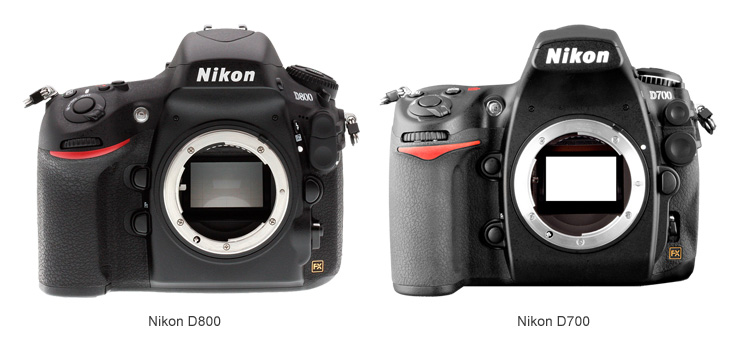 So the D800 keeps the same look and feel as other Nikon semi-pro cameras, along with a magnesium build and reinforced watertight seals. Additionally, the D800 includes:
A video control button that of course also allows for shooting full-resolution images during video capture
A switch that allows for much easier accessing of the LiveView mode than before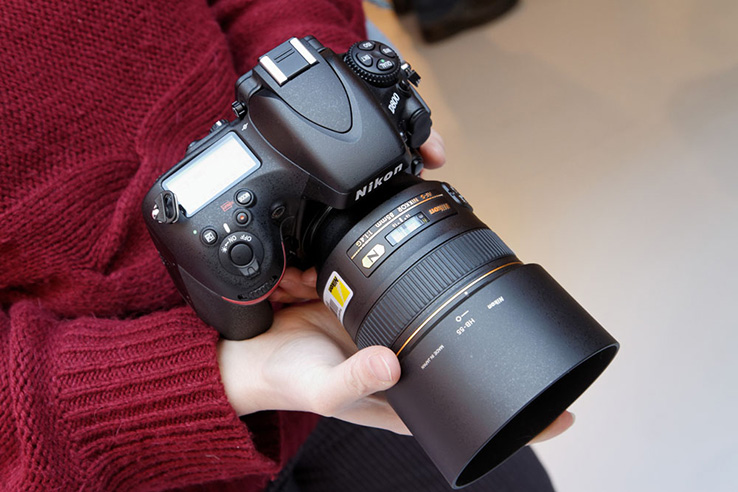 The red button controls video capture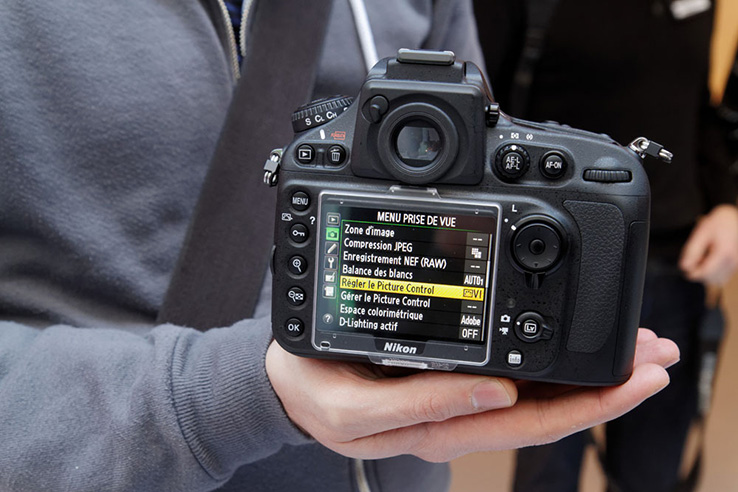 In the lower-right portion of the screen, the button for switching to Liveview
Video
The interface has been redesigned to allow the acquisition of high-quality video. The Nikon D800 can deliver full HD 1080p at 30 fps; further, it allows both full-frame and DX-format framing. Also of interest is that the D800's HDMI connectors can capture uncompressed full HD.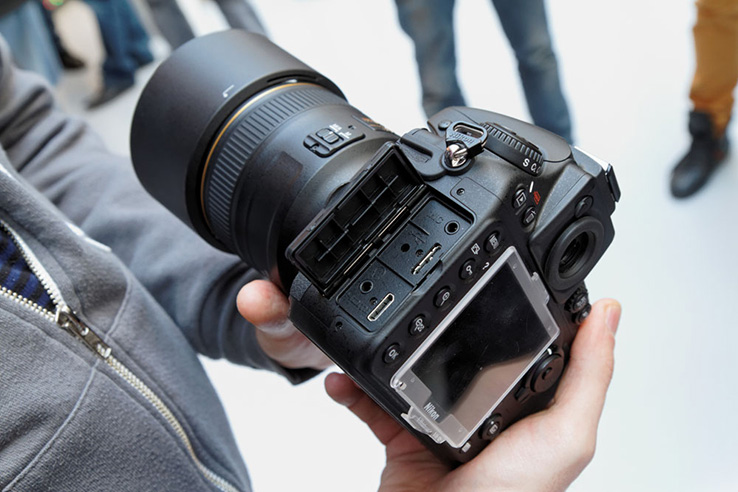 The HDMI connectors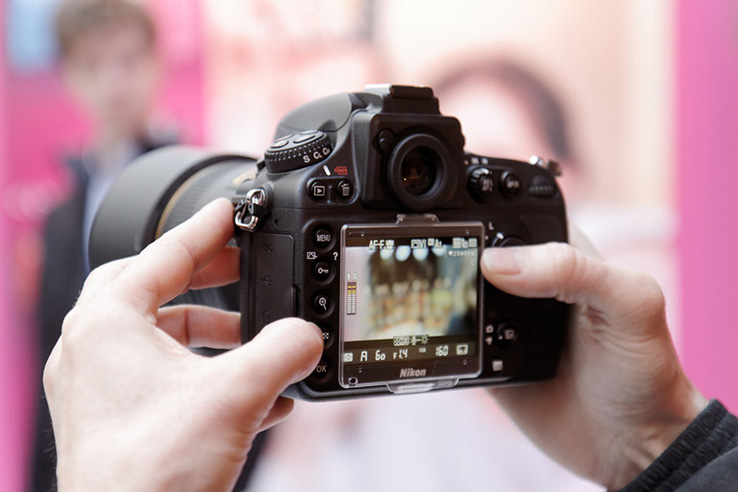 Nikon D800 video capture
Further readings for the Nikon D800 Review
To provide photographers with a broader perspective about mobiles, lenses and cameras, here are links to articles, reviews, and analyses of photographic equipment produced by DxOMark, renown websites, magazines or blogs.
---
| | |
| --- | --- |
| | After months of rumors and constant delays, the Nikon D800 has finally arrived on the market — and what a camera it is, too, with some technical specifications that are very impressive indeed. |
---
Comments
D800 as Super DX?

may have posted this in the wrong place... Just discovered DXO- WOW, whata great service you guys provide us camera geeks!

My thoughts, correct me if i'm wrong; The D800 in-camera crop leaves the remaining 16 mp at the same density as the 36 mp right?

Doesn't this actually make the camera also a High Density DX camera?

More to the point is that I've found my 17-55 f2.8 DX lens including the 18-300 Nikon f3.5 has AMAZING sharpness that you can see from the back of the camera. You're jaw will drop when you zoom in!

What do you say to a review of at least the Nikkor DX lens on the D800? The 2.8 Nikkor DX lens should be sharp anyway so, just to see if I'm Looney or not, test just one, the 18-300 and see what you see.

So far as I've seen, almost every lens scores higher on the D800 as oppose to other Nikon cameras. So, What do you say DXO? Up for even more work???


Reply | Read all replies for this comment
First replies for this comment
---
Added by

cwms

| February 01 , 2013

Hmmmm

I'm curious why DxOMark lists the D800 as "semi-pro" and the 5D Mark III as "Professional", they even called the 5d Canon's "Flagship" in their review(?) Am I mistaken, or are these two cameras in the same class?


Reply | Read all replies for this comment
First replies for this comment
---
Added by

Max Dof

| January 17 , 2013

Best camera sensor ever, but no lenses tested after almost a year?

Dxo rates the D800/D800E higher than any other camera sensor. You would think they would be interested to see how well various lenses perform with it. It's now been almost a year since the camera's been released and, to date, they have tested only one lens with it; and the lens they chose to test? A cheap Tamron.
Please, let's see some tests with the kinds of lenses a Nikon D800 user is likely to own. Maybe even a Nikon lens...
Start with a few decent primes, like the 16mm, 24mm, 60mm, 85mm f/1.4 105mm and/or 200mm. Then a few of the decent zooms, like the 12-24mm, 14-24mm, 24-70mm, 70-200mm, and/or 200-400mm.
Any D800 owner will have one or more of those lenses in their kits.
It would be nice to know how my new D800E stacks up against the camera I upgraded from. Just knowing how the sensor alone compares isn't all that useful, since I rarely shoot without a lens on my camera.
What do you say?
By the way, for those interested in whether the D800E produces moire in the real world: I've shot over 4,000 photos on the D800E, including lot of shots with textiles and architecture, and so far, there's been zero moire.


Reply
---
D4 vs D800

My main Reasons for the D4:

1)Speed of focus - I can't use my 85 f/1.4 or 24 f/1.4 on my D3 or on a D800 and have it focus fast enough to get in focus shots of toddlers or other erratically moving things.

2)Ethernet port ethernet tethering- I use a Netgear WNCE2001 and Mophie Powerstation Gen 2 which works quite well.

D4 Wireless Tethering


Reply | Read all replies for this comment
First replies for this comment
---
D800 vs D600

I am considering one of these cameras. I have read many reviews but none has given a definitive answer to image enlargement. I intend to print the files at 40X60 to 40X80, with interpolation, of course. It seems, from what I read, that a minimal camera shake, even from the mirror movement might not reveal the extra resolution of the sensor. Besides the array of lenses suited to work with the D800 in order to bring out all of its qualities seems to be rather limited and expensive. Ultimately will the 30% increase in pixel count make such a big difference for the print sizes I'm aiming at?


Reply | Read all replies for this comment
First replies for this comment
---
Where are the lens tests? !!!

Where are the lens tests?
Where are the lens tests?
Where are the lens tests?


Reply
---
Added by

My Self

| September 20 , 2012

Where are the lens tests?

In the article you said:
"Even though the D800's sensor results are exceptional, we are looking forward to measuring the best Nikon lenses on it"

Where are the tests?


Reply
---
Nikon D800

The D800/D800E render levels of texture, nuance and detail to your photography that, until now, have been the exclusive domain of the complicated medium-format system. Define every eyelash, every line in tree bark, and every shimmer of light. Savor the exceptional depth in your still images — with the combination of an astounding 36.3 effective megapixel, the world's highest*, and the outstanding performance of NIKKOR lenses, you can. Enlarge them as big as A1 poster-sized prints (59.4 x 84.1 cm/23.4 x 33.1 in.) at 200 dpi, or crop aggressively to reach the composition you desire, all without sacrificing the detail and tonal range of the original. In order to maintain clean, high-resolution images, 14-bit A/D conversion within the sensor and a high signal-to-noise ratio deliver phenomenal images in a diverse array of situations. The image sensor's incredible potential does not stop with photography, either. For cinematographers ready to put their exceptionally sharp NIKKOR lenses into action, the D800/D800E's 36.3 effective megapixel data is efficiently processed for exquisite 1080p broadcast quality video at 30p.


Reply
---
First replies for this comment
---
D800 price

Here in Singapore they offer the D800 for S$4488 which is 20% above the price in the USA, 2999US$ and lower than the hefty price Europeans have to pay....2900Euro
I think the camera should be sold everywhere at the same price. I am now thinking of asking an American friend to buy the camera for me there and bring it over. Maybe I even go for the D800E which is cheaper in the US than here the D800.
@impurenrg...I think you got things confused here. The D800 sensor was rated higher than the D700 sensor.


Reply | Read all replies for this comment
First replies for this comment
---