Nikon D800E nabs top ranking from D800
Thursday June 21 2012
Sensor Review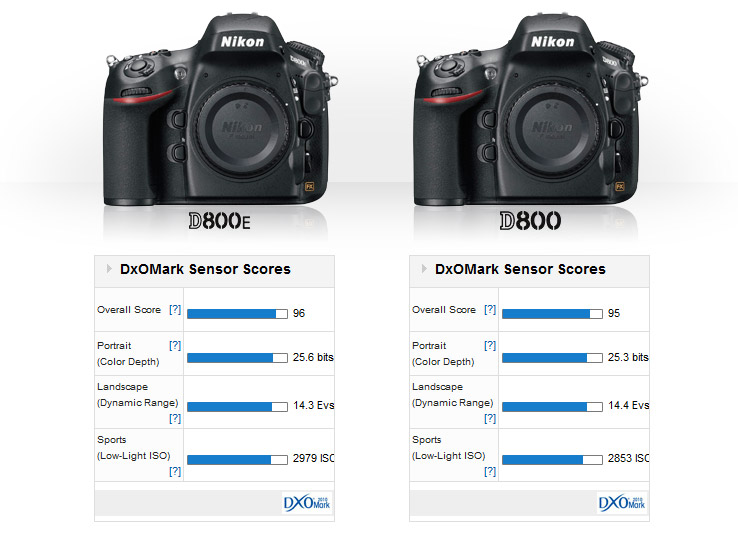 Color Depth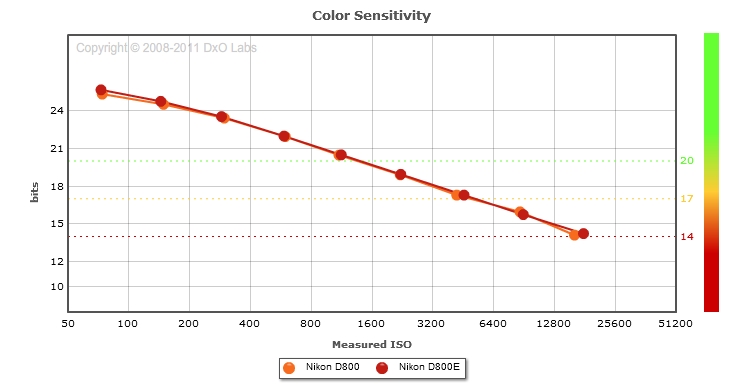 Color sensitivity is the best image quality metric to determine color depth. Above, you can see the D800E and D800 perform almost identically in DxOMark's color sensitivity tests.
The D800E's portrait score, which measures the sensor's color depth, was 25.6 bits. The score is just 0.3 bits better than the D800, and this small gap between the two models was noted at ISO 100 and lower. This difference is so slight that it is not distinguishable to the human eye. Both cameras are capable of capturing images with rich and diverse color quality, an important attribute for all photographers, especially those that specialize in portraitures.
Dynamic Range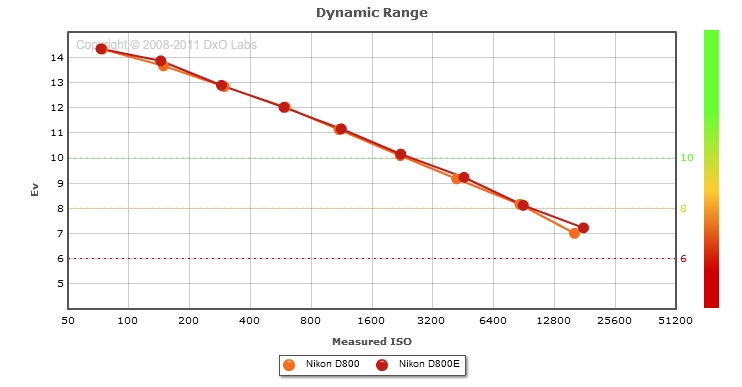 Dynamic range, which corresponds to the ratio between the maximum and minimum brightness a camera can capture, was best in the D800. But just barely. The D800E, scoring 14.3 EVs (exposure value), lagged the D800 by an insignificant 0.1 EV. Both cameras would do a great job for landscape photographers who so frequently rely on a camera to preserve details in high contrast images.
Low-Light ISO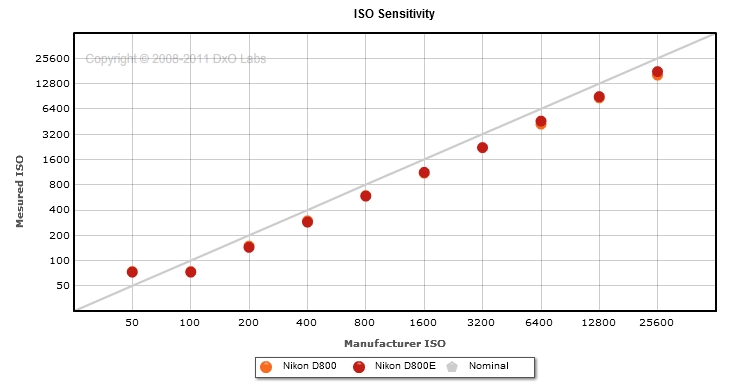 Like the D800, the D800E pushed the limits of good image quality when shooting at high ISO settings. The D800E reached its threshold at around 2979 ISO versus the D800's 2853 ISO. This ISO gain by the D800E is so small that it is within measurement tolerances. Both cameras would easily satisfy the most scrupulous sports or entertainment photographers who so frequently depend on high ISOs to freeze fast action in dark settings.
Further readings for the Nikon D800E nabs top ranking from D800
To provide photographers with a broader perspective about mobiles, lenses and cameras, here are links to articles, reviews, and analyses of photographic equipment produced by DxOMark, renown websites, magazines or blogs.
---
Comments
Added by

Skulls

| May 07 , 2014

Seriously?!

The number one camera in the sensor ratings list hasn't got a single Nikkor tested with?
I was just about considering to purchase Optics Pro, and then I saw this.
Guys, you're loosing money by delaying D800e lens tests!


Reply | Read all replies for this comment
First replies for this comment
---
Follow through.

How's that conclusion coming along?


Reply
---
Added by

tuk

| March 19 , 2014

Lens results should be available before summer for D800E

<div id="linkdxomark">This a comment for <a href="http://www.dxomark.com/Cameras/Nikon/D800E">this page on the website</a></div>I read a comment elsewhere on the site, stating the 800E is too old now to justify a lens test!

I would ask you to re-consider as the 800E is 'one of' or dare I say 'the best' full frame dslr currently available & might be attracting more interest than ever now due to the price dropping. In this context I think it's a little strange not to include the D800e lens test in your database & indeed it's poorer for not having it. To say this another way, the fact you guys were too busy to do the lens test at the [i]correct time[/i] is not a good reason for not doing it ever. Please don't read this as a criticism, it's more an appeal to logic.

btw Thanks for providing a fantastic resource.


Reply | Read all replies for this comment
First replies for this comment
---
First replies for this comment
---
First replies for this comment
---
Added by

calogy

| May 07 , 2013

some more lens test on D800e

are you planning to publish some more lens test for D800e soon?
And what about D7100?
We are waiting for them in order to understand how lack of AA filter it is improving image quality
Thank you providing us usefull equipment tests


Reply | Read all replies for this comment
First replies for this comment
---
difference D800 / D800e

Jesus , people get angry very quick here ! :-)
There is a difference in sharpness with these camera's , one can see it at 200´% magnification in PS . Is it worth the extra price ? I think it depends on your needs .I hope the difference will be more relevant in large printing.
The only thing witch I find very disliking/desgusting is Nikon charging 300 euro's more for it ! ( and the NX2 programme I am not interested in at all )
I nearly only do flower/roses photography . I started with a Canon 40D + 100mm and later I switched to Nikon D90 + 105mm . The things I tried to achieve suddenly appeared . At DxO I found out why !!!!
http://www.flickr.com/photos/24426799@N06/show/


Reply | Read all replies for this comment
First replies for this comment
---
Are You Blind?

D800 is a great camera but one must be absolutely blind not to see that noise level is ok up about ISO 1600- definitely is worst than what can do both D4 and 5DIII. DxOMark tests are completely irrelevant – do not take them seriously. Either the number 800 (and a few others) make a magic in there eyes or they get paid by Sony/Nikon dealers.

I'm really sorry for you DxoMark guys; I'm not going to visit your web anymore and going to turn all my friend of you.


Reply | Read all replies for this comment
First replies for this comment
---
Added by

tippi

| June 22 , 2012

Statistics

Being an old pharma guy I have to say this. There is a difference between numerical difference and statistical significance. I don't know enough about DXO marks methodology to make a definitive statement but a one point difference may represent a trend toward statistical significance without actually achieving it. Since the folks at DXO seem fairly quant driven it would be interesting to hear their thoughts on this.


Reply
---
Are you sane?

AaronMC, are you sane? The difference between lowlight score is 1/15 stops. Even if they test two different D800, they will get this (and probably more than this) sample variation/margin of error.

Basically, Dxomark scores confirm there is no difference. What are you seeing in these scores?


Reply
---