Nikon Df review: New low light champion?
By Kevin Carter -
Monday December 09 2013
Sensor Review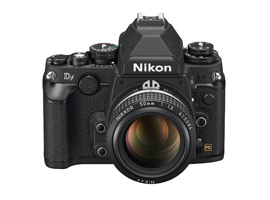 Nikon's retro styled Df harks back to the days film externally, but the metal shell with its plethora of dials and buttons conceals a state-of-the-art 16-Mpix CMOS sensor intended for the worst imaginable lighting conditions. Read on to find out how this new addition to the range performs.
Following a series of TV teaser spots filmed in the Scottish Highlands, the somewhat controversially styled 'retro' Nikon Df was finally launched in October. Although the Df is a fully-fledged digital AF camera on the inside, the exterior is reminiscent of the firm's earlier film-era models of the 70s and 80s.
Despite the retro-appearance with the top plate bristling with metal dials and levers, the Df has a 39-point AF system using the Multi-Cam 4800 AF module from the D610 and the 16-Mpix CMOS sensor and image pipeline from the flagship D4.
Like that model sensitivity runs from ISO 50 up to 204,800 (extended), but it lacks a pro-oriented high-speed shutter with a maximum speed of 1/4000th sec and 1/200th sec flash sync.
Unsurprisingly the Df can't match the D4's maximum burst rate either at 5.5 fps but it adopts the same glass pentaprism as that and D800 with a 100-percent coverage and large (0.7x magnification) viewfinder image. It also has a large 3.2-inch high-resolution LCD panel to the rear.
Although the Df is a autofocus camera and was launched with a special edition AF-S Nikkor 50mm f1.8 lens, it's first camera from the firm since the film era F4 to include a folding AI post allowing mounting of the majority of manual focus pre-AI Nikkor lenses from the 60s and 70s.
The Df is also the first DSLR in recent times to omit any video features, a bold move from the firm and one that seems at odds with the not inconsequential $2749 asking price for the body. Like those earlier film era cameras the Df is available in black and chrome finishes, and measuring 143.5 x 110 x 66.5 mm and weighing 710g (1.56 lb) it's the smallest and lightest full-frame model in the firm's line up.
Key specifications:
16-Mpix Full frame (36x24mm) CMOS sensor
100% viewfinder coverage, 0.7x magnification
39-point AF system (Multi-Cam 4800 AF sensor, from D610)
3.2-inch (921k dot) rear LCD
Still recording only (no video)
1/4,000th second max shutter speed, 1/200th sec maximum flash sync
5.5 fps maximum continuous shooting
ISO 100 up to 12,800 (ISO 50 – 204,800 extended)
Single SD memory slot
Further readings for the Nikon Df review: New low light champion?
To provide photographers with a broader perspective about mobiles, lenses and cameras, here are links to articles, reviews, and analyses of photographic equipment produced by DxOMark, renown websites, magazines or blogs.
---
---
---
---
---
Comments
---
---
D750 Kills it.

Considering the MP difference, the D750 kills the Df. The D750 has a lot less base sensor noise, it's nothing short of awesome. The Df would get the runner up award though. http://www.brendandaveyphotography.com/?page_id=726


Reply
---
typo

"One the one hand" it has the first-rate sensor of the D4


Reply
---