Nikon Nikkor 18-140mm f3.5-5.6 ED VR lens review: Accessible, portable and high performance
By Kevin Carter -
Wednesday October 16 2013
Lens Review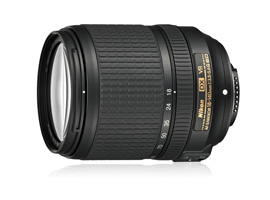 In our recent round up of lenses for the high-resolution 24PMix Nikon D7100 we revealed that the earlier Nikkor 18-135m f/3.5-5.6G IF-ED 'super-zoom' was the best of its type. We've now had the opportunity to analyze the optical performance of its successor, the new stabilized Nikkor 18-140mm f3.5-5.6 ED VR model. Read on to see how well the combination performs.
When we analyzed the optical performance of the earlier Nikkor 18-135mm f/3.5-5.6G IF-ED on the new Nikon D7100, we discovered that the modestly priced ($480) 'super-zoom' was the best in its class. Since then we've had the opportunity to put the latest version of that lens, the stabilized Nikkor 18-140mm f3.5-5.6 ED VR model through our usual tests in our labs.
At $600, the new model caries a price premium over the similar looking 2006 version. But, it does now feature built-in optical image stabilization, in addition to the usual ultrasonic type AF motor. It also has a more durable metal mount over the plastic type found on the older model.
The new version retains internal focusing (IF) and includes a fairly complex optical construction. It consists of 17 elements, arranged in 12 groups with one ED glass element and one element with an aspherical surface for chromatic aberration correction.
While the new model is larger (78x97mm vs. 73.5x86.5mm) and heavier at 490g (vs. 385g), in other respects 18-140mm and earlier model are similar. Both focus down to 0.45m regardless of focal length, and have seven aperture blades with a rounded opening and share the same 67mm filter diameter.
Further readings for the Nikon Nikkor 18-140mm f3.5-5.6 ED VR lens review: Accessible, portable and high performance
To provide photographers with a broader perspective about mobiles, lenses and cameras, here are links to articles, reviews, and analyses of photographic equipment produced by DxOMark, renown websites, magazines or blogs.
---
---
---
Comments
Added by

adam53

| November 07 , 2015

Nikon D5500

I'd like to check Nikon AF-S DX NIKKOR 18-140mm f/3.5-5.6G ED VR mounted on Nikon D5500 but it is not listed. why?


Reply
---
Looks a nice lens

Great review! Thanks a lot for the useful info!


Reply
---
Added by

rwp

| October 23 , 2013

Nikkor 18-140mm f3.5-5.6 ED VR lens review

Based on your favorable review of this lens, I purchased one for use with my Nikon D7000 only to find out that you do not have an Optics Module available for use with Optics Pro 8.

Why bother recommending lenses that you are not providing support for with your own software!

You could at least tell people up front. Very disappointing.


Reply | Read all replies for this comment
First replies for this comment
---
Re: Nikkor 18-140mm f3.5-5.6 ED VR lens review

Hello,

This lens is supported since yesterday :)

Best regards,

The DxOMark and DxO Labs teams


Reply
---