Olympus M.ZUIKO DIGITAL ED 12-40mm F2.8 PRO lens review: Pro worthy performer
By Kevin Carter -
Thursday November 14 2013
Lens Review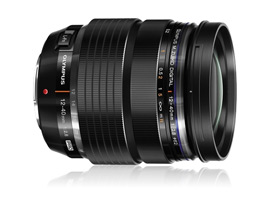 Introduced alongside the firm's new top-of-the-range OM-D E-M1 model, this new pro-grade standard zoom is the long awaited rival to Panasonic's constant aperture G X Vario 12-35mm f2.8 ASPH model. Read on to find out how well it performs.
Announced at the same time as the firm's new flagship OM-D E-M1 model, this new high-grade wide-angle to short-telephoto zoom is the equivalent to a 24-80mm and boasts a constant f2.8 maximum aperture that will appeal to stills photographers and movie-makers alike. As with other high-grade lenses from Olympus, it has a push/pull focus collar with a declutching mechanism to switch quickly between manual- and auto-focus.
Internally, the new lens has a high-speed linear AF motor for fast, near silent autofocusing, a new dust-, drip- and freeze-proof design and a complex optical construction consisting of 14 elements in 8 groups. The optical design sees liberal use of low dispersion and high-refractive index glass types and both single and double sided aspherical elements. Despite the ambitious spec, the lens remains reasonably compact with a 62mm filter thread, measures 84mm in length and weighs just 382g (13.47 oz) in total. The Olympus M. Zuiko Digital ED 12-40mm f/2.8 PRO is available for pre-order at $999.
Further readings for the Olympus M.ZUIKO DIGITAL ED 12-40mm F2.8 PRO lens review: Pro worthy performer
To provide photographers with a broader perspective about mobiles, lenses and cameras, here are links to articles, reviews, and analyses of photographic equipment produced by DxOMark, renown websites, magazines or blogs.
---
---
---
Comments
Tstop Variance

I noticed the T-stop changes with camera type. Panasonic 3.2 vs Olympus 3.4 and don't understand why that would be.



Reply
---
Micro Four Thirds lenses on larger megapixel count cameras

I noticed the lens performance in DXO Mark is directly related to the megapixel count of the camera tested.
Does DXO Mark have plans of doing MFT lenses test using the Olympus OM-D E-M5 Mark II 64 Megapixel RAW sensor shift technology?
I bet the best performer lenses from both Olympus and Panasonic would be very close or even overtake some of the best glass for full frame, large pixel count, cameras.


Reply
---
First replies for this comment
---
Re: Why Panasonic GX7

Hello,

Thanks for the comment. A lot of cameras are tested on the Olympus 12-40mm f/2.8. (We have measured 13 cameras for now)

The subject of this review was to provide all the good lenses for the Panasonic GX7, the 12-40mm is one of the best choice for a zoom.

If you are interested in Olympus OMD EM-1 results you can check our review here:

http://www.dxomark.com/Reviews/Olympus-M.ZUIKO-DIGITAL-ED-12-40mm-F2.8-PRO-lens-review-Pro-worthy-performer

Best regards,

The DxOMark team






Reply
---
Added by

kpevav

| December 14 , 2013

Olympus 12-40mm lens on different cameras

For almost all Olympus and Panasonic lenses, including this one, DXO consistently measures a significant difference between the sharpness of Olympus E-M1 and E-M5 cameras against the Panasonix GX7. Have these lenses really all been tested on all the cameras listed, or is some sort of algorithm being applied based on sensor measurements or other tests? I ask this because a few days ago there were no tests using the GX7, and now every lens I choose shows as being tested on the GX7, including older ones.


Reply | Read all replies for this comment
First replies for this comment
---
Re: Olympus 12-40mm lens on different cameras

Hello,

This is our policy : when we deliver lens measurements for one camera, we try to assess every lenses we tested in the past.
We prefer to wait to have all results before publishing any results.

Best regards,

The DxOMark team


Reply
---