Olympus M.ZUIKO DIGITAL ED 75-300mm F4.8-6.7 II lens review: Updated design and new lower price
By Kevin Carter -
Friday July 26 2013
Lens Review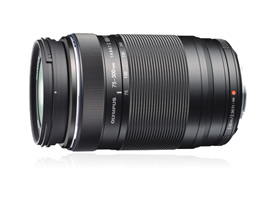 As the equivalent to a 150-600mm this lens perhaps more so than any other in the range demonstrates just how much smaller MFT mount lenses can be compared with APS-C format offerings. Read on to see how well this highly portable model performs.
This model is an update to the $899 M.ZUIKO DIGITAL ED 75-300mm F4.8-6.7, and although most of the differences are cosmetic, the new lens features the firm's ZERO (Zuiko Extra-low Reflection Optical) lens coating to reduce flare and ghosting while also resisting scratches.
As with its predecessor, this model also has one Super ED glass element and two ED elements out of a total of 18 arranged in 13 groups and it has the firm's MSC AF technology for fast quiet AF. Minimum focus is just 0.9m (35.43inces).
Like other Olympus MFT lenses this one isn't image stabilized, relying instead on the stabilized sensor found on the PEN and OMD bodies. While this is off-putting for Panasonic camera users, which rely on in-lens stabilization, it means the Olympus versions are often more affordable. While that wasn't the case with model before, Olympus has reduced the price of this iteration to a much more accessible and competitive $549.
Further readings for the Olympus M.ZUIKO DIGITAL ED 75-300mm F4.8-6.7 II lens review: Updated design and new lower price
To provide photographers with a broader perspective about mobiles, lenses and cameras, here are links to articles, reviews, and analyses of photographic equipment produced by DxOMark, renown websites, magazines or blogs.
---
---
Comments
First replies for this comment
---
Re: Panasonic 100-300mm

Did you actually read this review? There is an obvious link to the Panasonic lens as well as a comparison between the two lenses.


Reply
---