Olympus OM-D E-M10 sensor review: Mini marvel
By Kevin Carter -
Tuesday March 18 2014
Sensor Review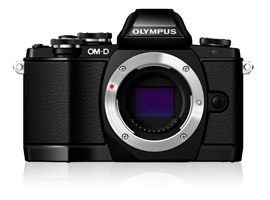 Following on from the firm's hugely popular E-M5 and E-M1 models Olympus has introduced a new 'entry-level' model, the E-M10, sharing most of the features of both siblings. Read on to find out how the new model performs.
After the success of the OM-D E-M5 and high-end E-M1 models, Olympus has created an entry-level model in the form of the new OM-D EM-10. It bears the familiar design and layout of the earlier mid-range E-M5 including a built-in EVF and folding rear LCD, although it's slightly smaller and lighter still. In terms of specification and capabilities the EM-10 shares a lot more with the E-M5 than one might expect. It has a similar 16-Mpix four-thirds CMOS sensor, same 1.44M dot resolution LCD panel in the viewfinder, and it has the related shutter with a 1/4000 sec minimum but with an improved 1/250 sec flash sync.
The new model can even boast of some improvements over the mid-tier model including the higher resolution rear touch panel and the latest TruePic VII level processor of the OMD- E-M1 to handle all the data. This more powerful processor allows 1080/30p MOV movie clips at higher bit rates (24Mbps) than the earlier models and, similarly, allows the E-M10 to achieve 8 fps using single-shot AF (though that drops to 3.5fps when continuous AF is enabled).
The E-M10 also features a small built-in flash and has the firm's in-body stabilization. However, it lacks the coveted 5-axis stabilization system of the E-M1 and E-M5 instead opting for a simpler 3-axis system and with a slightly reduced effectiveness of 3.5 stops (as opposed to 4-stops). Although the OM-D E-M10 ships with the new 'pancake' style 14-42 EZ power-zoom in some markets, in the US, the E-M10 is bundled with the standard 14-42mm kit lens at around $800.
Key specifications
16-Mpix Micro Four Thirds CMOS sensor
8 fps continuous shooting (3.5 fps with C-AF)
Tilting 1.04M dot LCD touchscreen
1.44M dot LCD viewfinder
Wi-Fi with remote control and file transfer to smartphones
Focus peaking
'3-axis' in-body stabilization
Twin control dials
Built-in flash
Further readings for the Olympus OM-D E-M10 sensor review: Mini marvel
To provide photographers with a broader perspective about mobiles, lenses and cameras, here are links to articles, reviews, and analyses of photographic equipment produced by DxOMark, renown websites, magazines or blogs.
---
---
---
Comments
A bit underwhelmed

The E-M10 seems to be the poor man's version of the E-M5 and E-M1. In that regard it's okay. But for the true 'poor man' I suggest the Olympus E-PL5, it has the same performance for much less money. It doesn't have the integrated finder but is much closer to a pocketable unit. I picked up a used VF-2 viewfinder that I secure with a hairband (that's another story) and it works pretty well. It's nice to be able to remove the viewfinder when it's not needed, again making it more pocketable.

Olympus may get me to take another bite once they improve the overall performance of this sensor. They provide no reason for me to upgrade. With full frame and APS Nikon DSLRs (D600 and D3200), an Olympus E-PL5 and an iPhone I am able to get whatever - whenever.


Reply
---