Olympus OM-D Review
Thursday February 09 2012
Sensor Review
The Olympus OM-D: the digital version of the OM line
This new camera fits right in to the OM line and will appeal to demanding and adventurous photographers. We had a chance to see this camera yesterday in Paris, and here are a few first impressions: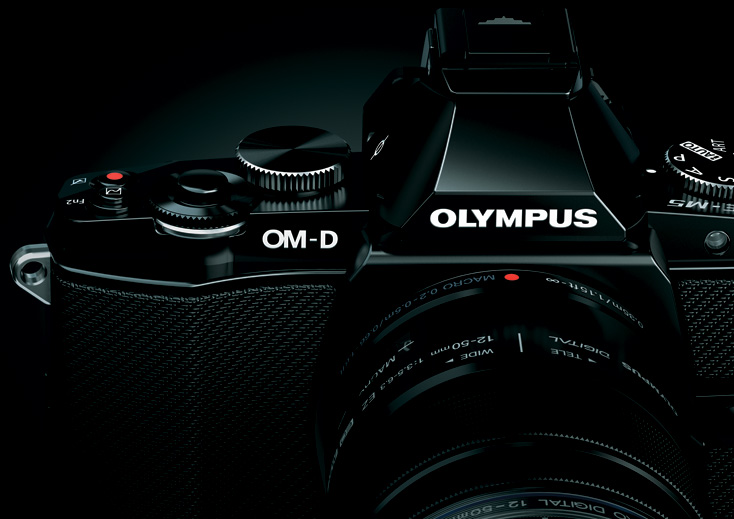 Compactness, tropicalized housing, and integrated viewfinder
The first thing we noticed was how compact this camera truly is, with Olympus taking full advantage of the 4/3 sensor format. And as soon as we handled it, we could tell that its size in no way compromised its ergonomics: this camera has a very nice feel to it, light-weight (425g), and with an optional grip available to provide even greater user comfort.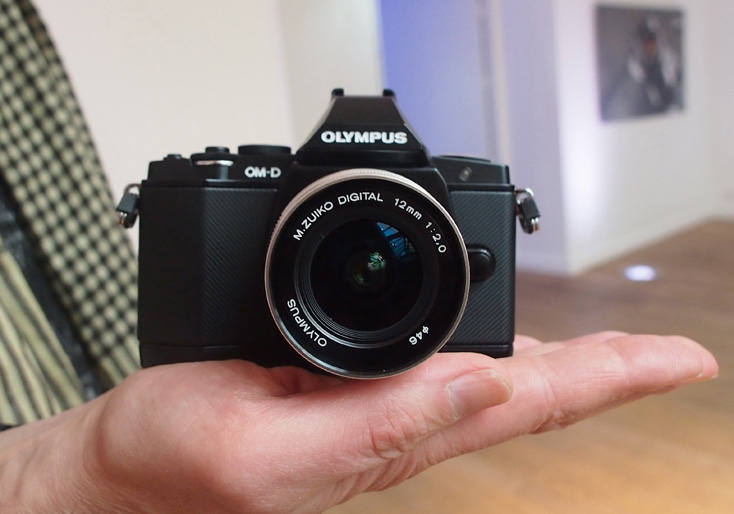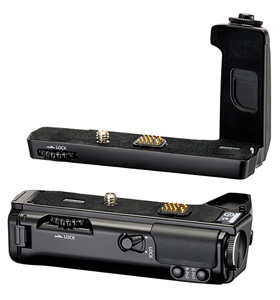 Olympus keeps its promises in terms of compactness. The OM-D E-M5 fits in your hand — the same size as or smaller than cameras such as the Panasonic GF2 and the Sony NEX 5N.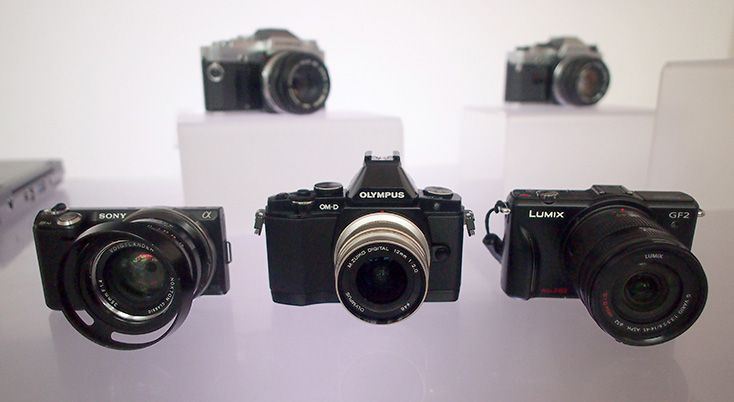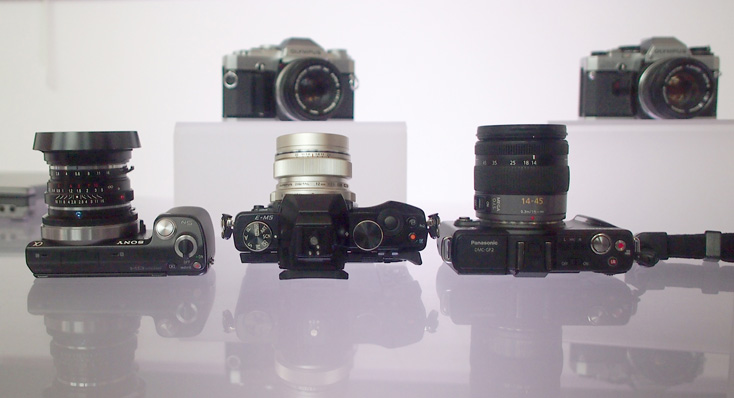 A 16-Mpix sensor
The technical specifications of the OM-D's sensor are very close to those for Panasonic's GX1, GH2, and GF3 cameras. While the Olympus marketing team has not formally confirmed that the OM-D uses the very same sensor, our upcoming DxOMark measurements will certainly make this clear one way or the other. In any case, although we expect to see pretty much the same sensor results for the OM-D as for the Panasonic models, it's always possible that there may be some surprises in store.
With respect to the old PEN line, the OM-D gains in resolution, going from 12M pix for the PEN to 16 Mpix. The OM-D's sensor can provide sensitivities up to ISO 25,600, although it remains to be seen just what kind of image quality a 4/3-format sensor can produce at such an extreme ISO.
The OM-D also comes with a new shutter that features two different burst modes :
With autofocus ("Continuous AF" mode), 4.2 frames per second
Without autofocus ("Single AF" mode), 9 frames per second
Autofocus
One of the weak points for the PEN line has been its autofocus (notoriously slower than certain Panasonic models). With the advent of the OM-D, Olympus announced a noticeable improvement thanks to its new, faster sensor. In fact, Olympus announced a measured gain of 20% between a PEN EP3 and the OM-D using a M.ZUIKO DIGITAL ED 12-50mm f3.5-6.3 EZ lens (lens data available soon on DxOMark).
Another slight modification to the autofocus is the new "semi-predictive" followup tracking mode. The autofocus is now equipped with 35 collimators.
Viewfinder
The integrated viewfinder is a real plus and something that the Olympus PEN series didn't have. While simply a detail for certain photographers, it can be a real show-stopper for others. Users of the OM-D will enjoy the 1.44-million-pixel electronic viewfinder that provides comfortable viewing at 100%. Those with vision problems can apply corrections from –4 to +2 diopters.
The OM-D also has a ring to allow photographers to adjust the framing ratio as well as the high- and low-light settings.
Stabilization
Stabilization has been a somewhat delicate topic for Olympus, bringing to mind the comparison between the Nikon 1 and the Olympus PEN EP-3 — a painful experience for Olympus, in fact (see Nikon Rumors' Nikon 1 v1 vs Olympus PEN EP3). Determined to learn from its past, Olympus has announced a completely redesigned system that features a sensor stabilized along 5 axes and rolling shutter compensation. We will be sure to test this!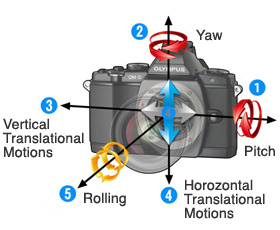 A few other things worth noting
A touch screen on a single-tilt axis (we frankly expected something better…)
Better maintenance support
Available in silver or black
Price: around $1000 for just the body. So far no kits have been announced, but we anticipate that Olympus will offer one with a M.ZUIKO DIGITAL ED 12-50mm f3.5-6.3 EZ tropicalized lens (price to be determined).
Further readings for the Olympus OM-D Review
To provide photographers with a broader perspective about mobiles, lenses and cameras, here are links to articles, reviews, and analyses of photographic equipment produced by DxOMark, renown websites, magazines or blogs.
---
Lens Review
|
March 28, 2012
| | |
| --- | --- |
| | Designed with compactness in mind, micro 4/3 lenses go for the smallest size possible most of the time. But to achieve these dimensions, they sometimes have to compromise on image quality. In this review, we cover a wide range of standard lenses, both prime and zoom, and show that not all lenses are equal in terms of the trade-off between compactness and image quality. |
---
| | |
| --- | --- |
| | Yesterday, Olympus stepped into the retro design game with a brand new line of micro 4/3 cameras, the OM-D. |
---
Comments
MAJOR PROBLEMS with OM-D-E-M5!!

<div id="linkdxomark">This a comment for <a href="http://www.dxomark.com/index.php/Cameras/Camera-Sensor-Database/Olympus/OM-D-E-M5">this page on the website</a></div>I experienced several major problems with my new OM-D-E-M5 yesterday, and I need some explanation and help.

#1 Issue--horrible chromatic aberration/fringing--green, blue, and purple fringing along the edge of some mountain peaks at Pinnacles National Monument. Used the Lumix 20mm/1.7 aspherical lens. Unacceptable fringing -- I could never submit my shots to a contest, sell them to a client, or even blow them up to hang in my living room!

#2 Issue--strange black images! On the first shot of the day, the image turned out completely black (looked blue in the LCD). The second image was 90% black, but you could see the subject in the top-left of the image. The third image was fine. The exposure setting was exactly the same for all three shots (ISO 200, 1/4000 sec., f 4.0). This black image, then OK image pattern repeated itself 2-3 more times during the day. Oh, yeah. The lens used was the Zuiko 12mm/f2.0.

#3 Issue--exposure mistakes? I took at shot of the mountains just after the sun set. There was no exposure compensation and the resulting histogram was dead center. However, the image looked very light on my computer. I also took several other shots with positive and negative exposure compensation, and I found that the shot that looked best, most like how it really appeared to my eyes at the time I took the shot, was 1/3-2/3 stop underexposed. So, does the camera have an exposure problem?

Does anyone have an explanation for the above? If Olympus can't or won't fix the fringing, I'll have to return all the gear I bought and look for a new system. Aaargh!!

Thanks to anyone who replies--I will appreciate it very much.

TeacherGuy


Reply
---
Why iso isn't iso

And maybe this tells you something about olympus omd iso settings decisions:
http://theonlinephotographer.typepad.com/the_online_photographer/2012/09/why-iso-isnt-iso.html


Reply
---
Raw is not Raw

Maybe this sheds some light on image quality of omd
http://theonlinephotographer.typepad.com/the_online_photographer/2012/10/raw-is-not-raw.html


Reply
---
Added by

Tord

| October 06 , 2012

A nice camera

My wife has a nice little OM-D, while I myself just got myself a Nikon D600. Both blissfully sharp, under the right circumstances!




Reply | Read all replies for this comment
First replies for this comment
---
Well, well, well...

DXO has procrastinated for so long, that I wrote them off and decided to buy my own OM-D without waiting for their analysis.

I'm glad I did, because I find it an extraordinary camera. The usability and the image quality is extraordinary. I am not surprised to learn it is the best m43 around. It has an extraordinary dynamic range, almost no-existent noise at ISOs lower than 3200 and a magnificent range of colors (I shoot exclusively in RAW mode).

So I am somewhat dissapointed at the overall results shown by DXO. So much so in fact, that I'm begining to doubt about the credibility of DXO testing. Specially after seeing the results of other tests done -with DXO software- with results completely different to those published here.

It sounds all so darn fishy... they wait and wait and wait, and finally, out of the blue, and when the OM-D no longer has any mediatic impact, they decide to release the results of their testing. By now it is irrelevant, save for historical reasons. It is of no real use to their readers.

The worst part is that these results lack credibility. My own experienced is very different. I own a Sony A77 as well as the OM-D and I have done my own informal testing and comparison with both. The OM-D is far superior -image quality wise- to the Sony in just aboout every aspect. It is hard for me to believe the A77 can be so far ahead in the ranking of DXO.

Not believable, guys.


Reply | Read all replies for this comment
First replies for this comment
---
Question for Axel

Hello Axel, thank you for testing this camera.
Can you please answer the comments about the true ISO values of this camera?
My question is general - does the scores in DXO are based on the real ISO sensitivity, or the manufacture stated values?


Reply | Read all replies for this comment
First replies for this comment
---
Added by

Spkeasy

| September 24 , 2012

Compare DxO and DPReview PICTURE results

Has anyone compared the pictures on dpreview.com under "16. Noise & Noise Reduction" for the OM-D EM-5?
http://www.dpreview.com/reviews/olympusem5/16
Compare the OM-D with a Panasonic DMC-G3, Sony NEX-7 and a Samsung NX200. Look at the tests for both JPEG and RAW. This is a little hard to do since NEX-7 only has noise reduction "High Low or Normal" and no apparent OFF. With NR "off" the Samsung is the cleanest up thru 6400, but the image produced by the Samsung is almost invisible at this stage. I guess great ISO is possible but if the picture is hard to see, why bother? Of the 4, the OM-D and NEX-7 are very close at NR=Low setting.
In the ACR Raw noise test (lets face it, RAW is where you see what the sensor can really do, internal processing can only degrade the image SOMEWHERE) the OM-D is far better up to 3200 with ACR NR off, not only are the test swatches smoother, the image is clearer. Again, the Samsung has better swatch but the image is too washed out to be useful.
I think DxO does a real service with their test results and they are useful for comparison before a purchase but primarily, I need to consider the results of the picture as I see it as the final factor.
I bought an OM-D in July and the results have been everything I hoped for. Great shots at incredibly slow speeds (11x14 is beautiful with 1/15 sec hand-held shots of a stream). Very clean shots up to 1600 (what ISO is that really? who knows but in evening light and with no flash I get great shots, that's what counts). Kind of reminds me of when I ditched my Brownie and bought my first Nikon.


Reply | Read all replies for this comment
First replies for this comment
---
Added by

seta666

| September 24 , 2012

ISO in Olympus E-M5 is way off

<div id="linkdxomark">This a comment for <a href="http://www.dxomark.com/index.php/Cameras/Camera-Sensor-Database/Olympus/OM-D-E-M5">this page on the website</a></div>

For me is incredible the way ISO is off in the E-M5, almost 1EV off

Manufacturer ISO: 200 Measured iso: 107
Manufacturer ISO: 400 Measured iso: 214
Manufacturer ISO: 800 Measured iso: 394
Manufacturer ISO:1600 Measured iso: 782

In isos over 400 it is over 1EV off, worst I have ever seen. That is why iso 1600 looks clean, because it is not even iso 800

Anyway, seems a good 4/3 sensor but I find this iso thing very anoying

If you compare this to the GF3 or GF5 which are very well calibrated it would show very easy
[url=http://www.dxomark.com/index.php/Cameras/Compare-Camera-Sensors/Compare-cameras-side-by-side/(appareil1)/816%7C0/(brand)/Panasonic/(appareil2)/793%7C0/(brand2)/Olympus/(appareil3)/763%7C0/(brand3)/Panasonic]http://www.dxomark.com/index.php/Cameras/Compare-Camera-Sensors/Compare-cameras-side-by-side/(appareil1)/816%7C0/(brand)/Panasonic/(appareil2)/793%7C0/(brand2)/Olympus/(appareil3)/763%7C0/(brand3)/Panasonic[/url]

Same shot in same lighting conditions with same exposure time, same aperture and same iso the E-M5 will always be 1EV underexpossed

For me this lying to the customers; I guess is better to say you have an amaizing iso 1600 than to tell the truth and say it is just iso 800


Reply | Read all replies for this comment
First replies for this comment
---
Added by

AaronMC

| September 24 , 2012

And Now We Know

I'm glad to finally have these results. I hope that you guys don't get swamped with work again and are able to test the GH3 very soon, because I find it to be the more exciting m4/3 camera.

I have to admit, I'm a little disappointed with the color depth and DR numbers. Obviously, I would have never expected ISO numbers to match the APS-C models, but I was hoping for closer readings on the other two variables.

Still, for me, this signifies more than anything else that Olympus has STOPPED MESSING AROUND. They spent three years producing shit, and they have finally given us the m4/3 camera they should have made when they originally produced the E-P1.

I am very, very happy for that.


Reply | Read all replies for this comment
First replies for this comment
---
Added by

Hakeem

| September 24 , 2012

finally here .. but the result data conflicts

I don't understand why there is such a difference of the results i am reading here and I can see on DPReview high ISO and dynamic range results.

Over there, it is always seen better than any APSC you select on comparison tool.

Strange!


Reply | Read all replies for this comment
First replies for this comment
---