Olympus PEN E-P5 review: Is it mightier than the rest?
By Kevin Carter -
Monday July 29 2013
Sensor Review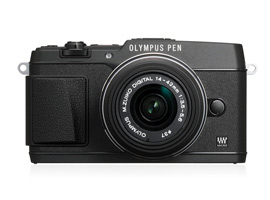 Following on from the enormous success of the OMD- E-M5, the firm has now upgraded its flagship PEN E-P model with a '5-axis' stabilized 16-MPix MOS sensor. Read on to find out how well it performs in our labs.
Last year saw the introduction of the Olympus O-MD E-M5, with a nod to firm's film-era cameras but packing an new 16-Mpix MOS type sensor on an advanced '5-axis' stabilized platform, built-in EVF, weatherproofing, high speed AF and 9fps continuous shooting, it became a sensation practically overnight. The new $999 (body only) E-P5 looks to capitalize on that using the familiar PEN body shape instead and by adding a sprinkling of promising new features, including focus 'peaking',1/8000 sec top shutter speed (and 1/320 sec flash sync), built-in intervalometer and time lapse movie creation option, as well as Wi-Fi for remote shooting and image transfer to a smartphone or tablet. Although the E-P5 lacks a viewfinder, it has a 1.04m dot 3-inch LCD touchscreen display with tilting mechanism, the firm also announced a new optional finder for it. Although an extra $279, the VF-4 has a new 2.36M dot LCD, proximity sensor and 1.48x (0.74 equivalent) magnification.
Further readings for the Olympus PEN E-P5 review: Is it mightier than the rest?
To provide photographers with a broader perspective about mobiles, lenses and cameras, here are links to articles, reviews, and analyses of photographic equipment produced by DxOMark, renown websites, magazines or blogs.
---
---
Comments
Added by

@go

| October 02 , 2013

New Olympus M.ZUIKO DIGITAL 14-42mm 1:3.5-5.6 II R??

You've got the old 14-42 in the database, is the new Olympus M.ZUIKO DIGITAL 14-42mm 1:3.5-5.6 II R the same optically?

Thanks


Reply | Read all replies for this comment
First replies for this comment
---
Re: New Olympus M.ZUIKO DIGITAL 14-42mm 1:3.5-5.6 II R??

Hello,

Thanks for your interest in DxoMark.

We will check it but it should be very close.

Best regards,

The DxOMark team



Reply
---
Added by

cccx

| August 31 , 2013

Missing some Panasonic lenses

Hi,

Thanks for trying to create a comparison article, however it seems incomplete given that the old Panasonic Lumix G 20mm F1.7 ASPH was never tested by you. Also the more recent Panasonic Lumix G 14mm F2.5 ASPH has not been tested by you.

These lenses have been widely available for quite some time...

Indeed it has been so long since that 20mm was released, there is actually a new version soon - the Panasonic Lumix G 20mm F1.7 II ASPH (which you should test) but people will still be curious as to how it compares to the MkI version (which you have not tested).

I hope you can catch-up on your Panasonic Lens testing backlog for the sake of data completeness.

Thanks.


Reply | Read all replies for this comment
First replies for this comment
---
Re: Missing some Panasonic lenses

Hello,

Thanks for your interest in DxOMark.

Panasonic Lumix G 20mm F1.7 II ASPH and version I are definitely the top priority for our micro four third lenses road map. Thanks for you suggestion http://www.dxomark.com/index.php/Lenses/Camera-Lens-Database/Panasonic/Panasonic-LUMIX-G-20mm-F17-II-ASPH

Best regards,

The DxOMark team



Reply
---