Olympus PEN E-PM2 review: Entry-level hybrid gets top-of-the-line sensor
By Janice Chen -
Tuesday November 20 2012
Sensor Review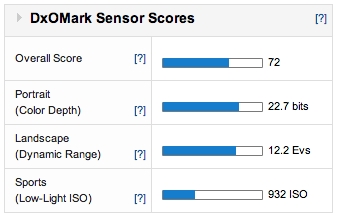 The top-flight sensor enabled the E-PM2 to turn in excellent performance on our DxOMark Sensor Scores, delivering the sixth highest Overall Score of all hybrid cameras we've tested, at 72. In fact, it scored within the top 10 on all Use Case scores as well, getting a particular boost from its excellent Sports score of 932 ISO, which is higher than many APS-C-based hybrids such as the Sony Alpha NEX-5 and all of the Samsung models. This indicates that the E-PM2 is a good choice for low-light or sports photography, which is particularly admirable given its very compact size.
Further readings for the Olympus PEN E-PM2 review: Entry-level hybrid gets top-of-the-line sensor
To provide photographers with a broader perspective about mobiles, lenses and cameras, here are links to articles, reviews, and analyses of photographic equipment produced by DxOMark, renown websites, magazines or blogs.
---
Sensor
|
November 20, 2012
| | |
| --- | --- |
| | Introduced in mid September, the Olympus PEN E-PM2 is the second generation of Olympus' entry-level Micro Four Thirds hybrid camera. It sports a newly updated design with a useful, fixed grip and a touch-screen interface among other updates, but the big news is that it has inherited the sensor of the much-admired Olympus OM-D E-M5, the current top-of-the-line Micro Four Thirds camera. |
---
---