Olympus Pen E-PL5: Qualities of the OM-D E-M5
Thursday November 15 2012
Sensor Review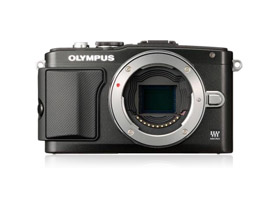 With the Pen E-PL5, Olympus updates its range of micro 4:3 compact hybrids with redesigned ergonomics, upgraded electronics, and especially with the integration of the same 16Mpix LiveMos sensor found in the OM-D E-M5. Will it show the same advances in image quality as the flagship camera of its line? Our tests provide the answer.
Announced at the same time as the E-PM2, with which it shares the same design and ergonomics, the Pen E-PL5 aims to be the worthy successor to the E-PL3, the flagship of Olympus's mid-range micro 4:3 cameras.
With this new version, Olympus offers a nice upgrade. The compact hybrid's new swivel touchscreen, although of only average resolution (460,000 points), gives it a real boost in autonomy. Along with speeds ranging from 200 to 25,600 ISO, the camera offers HDR mode, rapid burst shooting at 8 i/s, and 1080p video recording. A TruePic IV processor manages fast 35-point autofocus as well as 3D subject tracking.
Among the features of this "conservative" upgrade, we particularly note the use of the OM-D E-M5's 16Mpix LiveMos sensor. During our tests, that high-end Olympic camera's sensor achieved scores that approach those of its APS-C rivals, such as the Sony NEX cameras.
Further readings for the Olympus Pen E-PL5: Qualities of the OM-D E-M5
To provide photographers with a broader perspective about mobiles, lenses and cameras, here are links to articles, reviews, and analyses of photographic equipment produced by DxOMark, renown websites, magazines or blogs.
---
Sensor
|
November 15, 2012
| | |
| --- | --- |
| | With the Pen E-PL5, Olympus updates its range of micro 4:3 compact hybrids with redesigned ergonomics, upgraded electronics, and especially with the integration of the same 16Mpix LiveMos sensor found in the OM-D E-M5. Will it show the same advances in image quality as the flagship camera of its line? Our tests provide the answer. |
---
---
---
Comments
Added by

Toshik

| November 18 , 2012

incorrection

[quote]The comfortable lead that this Olympus micro 4:3 sensor enjoys in our test results with respect to the Nikon's first-generation 1" sensor is very likely to be upset by [b]the new Nikon 20Mpix sensor used in its recently-announced V2 model[/b]".[/quote]

[url=http://www.dxomark.com/index.php/Cameras/Camera-Sensor-Database/Nikon/1-V2]Nikon V2 has 14Mpix sensor[/url].

Where did you find information about 20Mpix?



Reply
---
Added by

AaronMC

| November 16 , 2012

Yay!

I'm very happy with this. Yet again, we see a slight increase in ISO performance when the AA filter is removed. I would really appreciate some input from the DxO crew as to why this is the case.


Reply | Read all replies for this comment
First replies for this comment
---
Re: Yay!

Isn't it obvious? You remove a piece of glass, you get more transmission and so you can now get, say, ISO 89 performance at ISO 100. Re-calibrate the sensor to be in line with the ISO standard, and voila, you get less noise.


Reply
---