Olympus Pen E-PL5: Qualities of the OM-D E-M5
Thursday November 15 2012
Sensor Review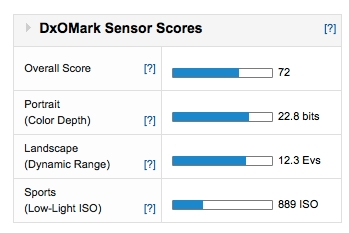 With a DxOMark Score of 72, the Olympus Pen E-PL5 takes the lead among micro 4:3 compact hybrids and places 43rd in the overall DxOMark rankings, outpacing the OMD-EM5 by one point. That the Pen E-PL5 has come so close to the scores of the camera of reference for micro 4:3 hybrids simply illustrates the kind of progress Olympus has achieved with its Pen line.
The Olympus Pen E-PL5's 16Mpix LiveMos sensor delivers a color depth of 22.8 bits, identical to the gradation measured for the OM-D E-M5.
The E-PL5's dynamic range measured 12.3EV at its highest point — that is, at its lowest sensitivity (200 ISO). The Olympus offers the best dynamic range among all compact hybrids, and places 40th in the overall DxOMark rankings for this category.
At 889 ISO, the Pen E-PL5 achieves a very good low-light sensitivity score despite its sensor size (smaller than APS-C sensors). It achieves a better result than the OM-D E-M5 (measured at 828 ISO). It supplants the Sony SLT-A55 with its 16Mpix APS-C CMOS sensor, and goes head-to-head with the Canon EOS 60D.
Further readings for the Olympus Pen E-PL5: Qualities of the OM-D E-M5
To provide photographers with a broader perspective about mobiles, lenses and cameras, here are links to articles, reviews, and analyses of photographic equipment produced by DxOMark, renown websites, magazines or blogs.
---
Sensor
|
November 15, 2012
| | |
| --- | --- |
| | With the Pen E-PL5, Olympus updates its range of micro 4:3 compact hybrids with redesigned ergonomics, upgraded electronics, and especially with the integration of the same 16Mpix LiveMos sensor found in the OM-D E-M5. Will it show the same advances in image quality as the flagship camera of its line? Our tests provide the answer. |
---
---
---
Comments
Added by

Toshik

| November 18 , 2012

incorrection

[quote]The comfortable lead that this Olympus micro 4:3 sensor enjoys in our test results with respect to the Nikon's first-generation 1" sensor is very likely to be upset by [b]the new Nikon 20Mpix sensor used in its recently-announced V2 model[/b]".[/quote]

[url=http://www.dxomark.com/index.php/Cameras/Camera-Sensor-Database/Nikon/1-V2]Nikon V2 has 14Mpix sensor[/url].

Where did you find information about 20Mpix?



Reply
---
Added by

AaronMC

| November 16 , 2012

Yay!

I'm very happy with this. Yet again, we see a slight increase in ISO performance when the AA filter is removed. I would really appreciate some input from the DxO crew as to why this is the case.


Reply | Read all replies for this comment
First replies for this comment
---
Re: Yay!

Isn't it obvious? You remove a piece of glass, you get more transmission and so you can now get, say, ISO 89 performance at ISO 100. Re-calibrate the sensor to be in line with the ISO standard, and voila, you get less noise.


Reply
---