Olympus Stylus XZ-2 iHS review: promising point and shoot or prospective pro-level camera?
By Kevin Carter -
Tuesday February 19 2013
Sensor Review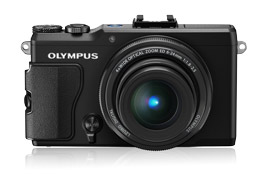 This year's theme for high-end compacts is undoubtedly the switch over from CCD to BSI CMOS sensors, but maker's are having to work hard to make the cameras attractive to those users who might also be tempted by interchangeable lens based mirror-less models. Olympus' upgrade to the original XZ-1 sees plenty of promising features including the new 12-Mpix BSI CMOS chip, but how well does it fair in our exhaustive tests?
High-end enthusiast orientated digital compact cameras like this one promise high-quality imagery in a very small form factor. The Olympus XZ-2 iHS measures just 113 x 65.4 x 48mm (4.4 x 2.6 x 1.9") and weighs 346g (12.20 oz ) but packs a 12Mpix 1/1.7-inch type (7.44x5.58mm) backside illuminated (BSI) CMOS sensor.
This is attached to a stabilized platform, much like the firm's 4:3 cameras and features a 6-24mm f/1.8-2.5 (28-112mm equivalent in 35mm terms) iZuiko-Digital branded zoom lens.
One nice control feature of the XZ-2 is the Hybrid control ring surrounding the lens, it can be used to alter a number of settings including aperture values, shutter speeds and adjust EV compensation among others.
The XZ-2 also has a tilting 3-inch touch-sensitive screen and provision for an optional electronic EVF (the same finders as the firms' 4:3 models) although at $600, the addition of either the $160 VF-3 or higher-res $249 VF-2 makes the combination pricey. Like rivals, the upgrade to CMOS technology allows Full HD video (1080p) as well as 720p video at 30fps, and a doubling of sensitivity up to ISO12800.
Further readings for the Olympus Stylus XZ-2 iHS review: promising point and shoot or prospective pro-level camera?
To provide photographers with a broader perspective about mobiles, lenses and cameras, here are links to articles, reviews, and analyses of photographic equipment produced by DxOMark, renown websites, magazines or blogs.
---
Comments
Added by

peevee

| February 19 , 2013

Silly to present Nikon P7700 as better

It has the same sensor, so your "advantages/disadvantages in tests" are just your own measurement errors, well within your margin of error (see your comparison of Fuji X10 and Fuji X-S1, Oly E-M5 and Oly E-PM2 - sensors and processors are the same, your ISO scores differ by 10-20%).
But P7700 has slower lens, chosen to be slower to provide longer zoom range. So the choice is do you want better 28-112 (XZ-2) or better 130-200 (P7700) for which you don't need to crop (113-120 or even more I guess as good or better on Oly even with a little crop due to faster lens at 112).



Reply | Read all replies for this comment
First replies for this comment
---
Re: Silly to present Nikon P7700 as better

Hello,


Thanks for your comment. It pretty much corresponds to our conclusion. Nikon takes the lead thanks to a wider ISO latitude but basically differences in IQ should not be noticeable on your final images (as noted in our comparison review).

It is worth noting that DxOMark sensor score only takes into account sensor quality.

Best regards,


Reply
---