Olympus Stylus XZ-2 iHS review: promising point and shoot or prospective pro-level camera?
By Kevin Carter -
Tuesday February 19 2013
Sensor Review
Olympus XZ-2 iHS vs. Olympus XZ1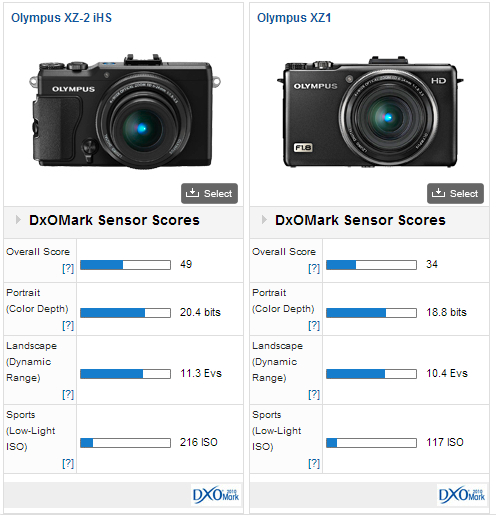 While we did note an improvement of just under 1 Ev in our Sports (Low-Light ISO) score from ISO 117 to ISO 216, no doubt due to the improved light-sensitive capabilities of the BSI architecture the XZ-2, there were also significant improvements seen at low ISOs. There's nearly a 1.0 Ev improvement in the Landscape (Dynamic Range) and more at higher ISOs as well as over 1.5 Ev in Portrait (Color Depth) use case scores. The 11.3 Ev Dynamic Range is very good for a compact and better than some 1-inch sensors, such as that found in the Nikon 1 J3, but the Low-light scores continue to be well behind modern DSLRs, as you might expect.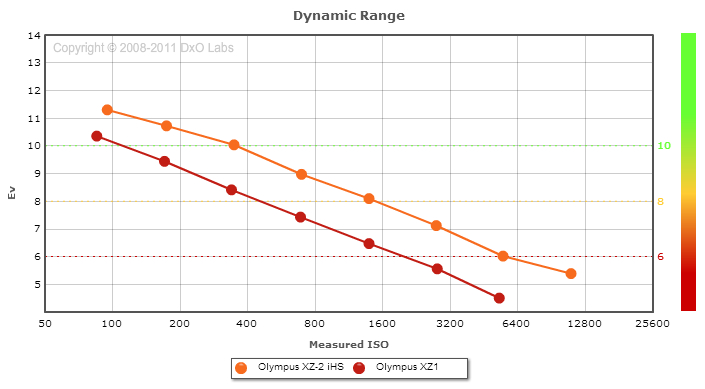 The XZ-2 shows a qualitative gain in DR, especially at higher ISOs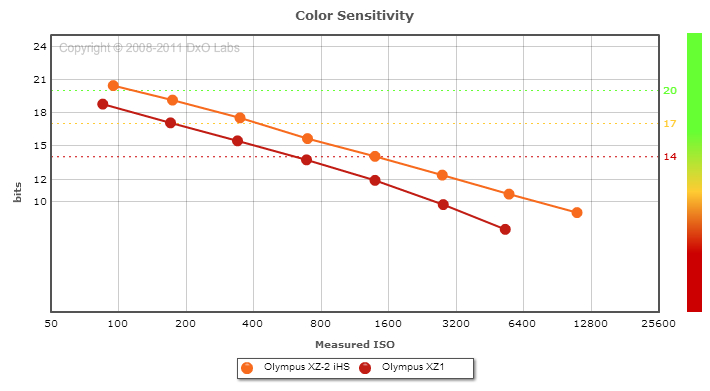 Equally as impressive is the 1.6 bits extra Color Depth at base ISO over the earlier CCD-based XZ1
Olympus XZ-2 iHS vs. Canon PowerShot G15 vs. Nikon Coolpix P7700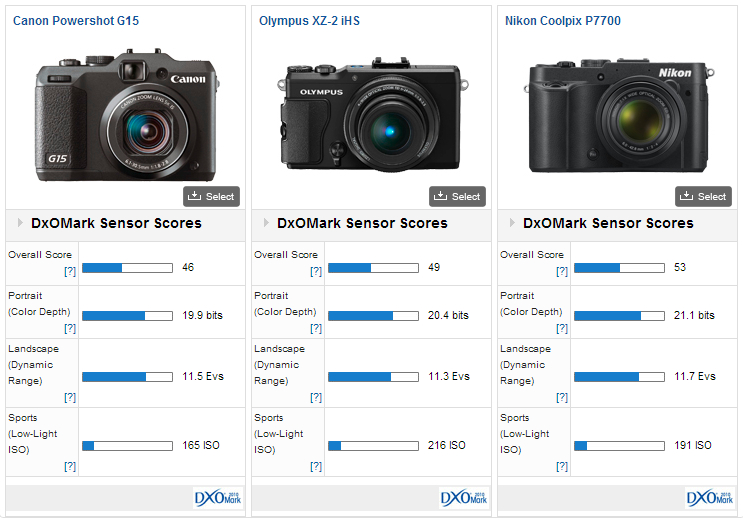 If you're considering the $549 Olympus XZ-2 chances are that you'll also be looking at the Canon PowerShot G15 and the Nikon Coolpix P7700, as both are priced at around 10-percent less at $499.
The Canon has a tempting spec, including a similar resolution sensor and lens 'speed' but with slightly longer zoom range from 28-140mm (the longer focal lengths accounting for f/2.8 max aperture at 140mm). It also image stabilization, sensitivity up to ISO12,800 and has a built-in (albeit small) optical viewfinder.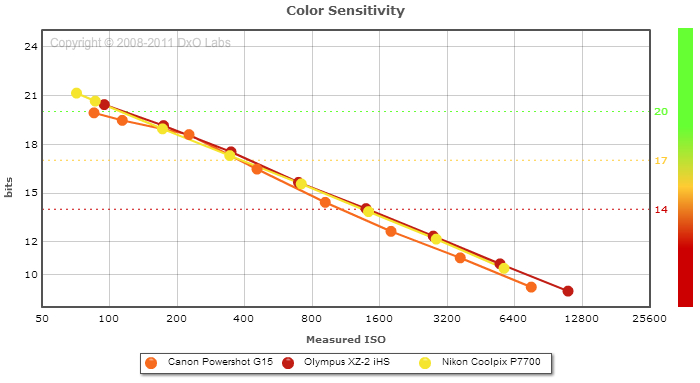 Differences of below 1 bit are barely noticeable, nevertheless the Nikon has 0.7 bits extra Color Depth over the Olympus XZ-2 which in turn has an extra 0.5 bits extra over the Canon G15
However, while the Olympus sensor performs similarly in general terms it should potentially be more suited to portraits with its higher Color Depth (equating to around 0.5 stop more) than the Canon G15, though in real world use the differences are too low to be obvious in images.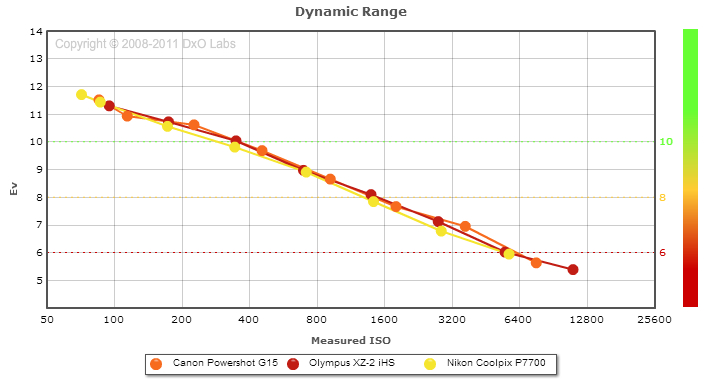 Although the measurements are close, the Nikon P7700 has an additional 0.47Ev in Dynamic Range at base ISO over the Olympus XZ-2.
Compared with the Nikon, the XZ-2 can't quite match it in Color Depth or Dynamic Range. Qualitatively, the improvements in image quality wouldn't be noticeable and that's also likely true in the Low-Light ISO scores, where the Olympus is ahead slightly. You might see performance differences between the Canon and Nikon but the XZ-2 sits in the middle of those two in terms of the quality of sensor output.
The Nikon, however, is a very strong challenger. Not only does it have the longest zoom range, equivalent to 28-200mm, only a slightly 'slower' f/2.0-4.0 maximum variable aperture, and useful articulated 3-inch rear screen but, with a DxOMark score of 53, it performs very well indeed. It's also about $50 cheaper. It's also worth noting the decision to drop the optical finder of previous iterations may be a shortcoming for some users, especially as there's no option to add an electronic finder. The Olympus has a choice of two models, both originally designed for their micro 4:3 bodies but no less compatible with the XZ-2.
Olympus XZ-2 iHS VS Panasonic DMC-LX7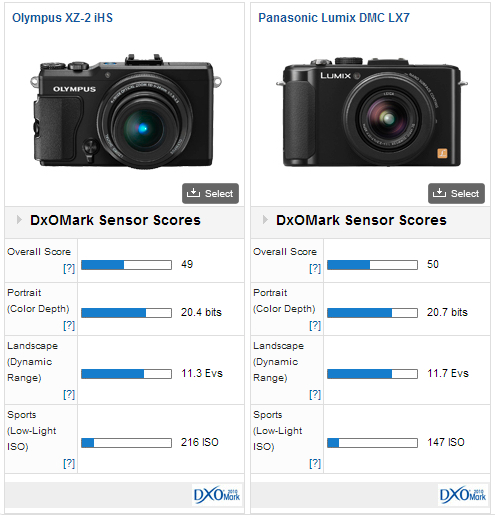 Another contender in this category is the recently tested Panasonic Lumix DMC-LX7. Although it has a slightly lower 10-Mpix resolution CMOS sensor it's more accessibly priced at around $450. It is also built around a high-grade Leica-branded zoom lens, equivalent to a 24-90mm f1.4-2.3. Not only is it theoretically, two-thirds of stop 'faster', the wider field of view at 24mm is a particularly attractive feature for interiors, landscapes and architecture. In our labs, the Lumix DMC-LX7 tested similarly to the Olympus with an overall DxOMark score of 50 vs 49, respectively. Most of the gains, which were slight, were made in Color Depth and Dynamic Range although with around 0.5 Ev advantage, the Olympus sensor is the better of the two in low–light.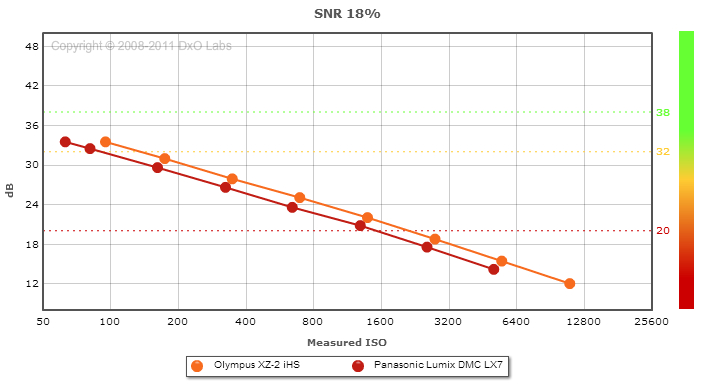 Further readings for the Olympus Stylus XZ-2 iHS review: promising point and shoot or prospective pro-level camera?
To provide photographers with a broader perspective about mobiles, lenses and cameras, here are links to articles, reviews, and analyses of photographic equipment produced by DxOMark, renown websites, magazines or blogs.
---
Comments
Added by

peevee

| February 19 , 2013

Silly to present Nikon P7700 as better

It has the same sensor, so your "advantages/disadvantages in tests" are just your own measurement errors, well within your margin of error (see your comparison of Fuji X10 and Fuji X-S1, Oly E-M5 and Oly E-PM2 - sensors and processors are the same, your ISO scores differ by 10-20%).
But P7700 has slower lens, chosen to be slower to provide longer zoom range. So the choice is do you want better 28-112 (XZ-2) or better 130-200 (P7700) for which you don't need to crop (113-120 or even more I guess as good or better on Oly even with a little crop due to faster lens at 112).



Reply | Read all replies for this comment
First replies for this comment
---
Re: Silly to present Nikon P7700 as better

Hello,


Thanks for your comment. It pretty much corresponds to our conclusion. Nikon takes the lead thanks to a wider ISO latitude but basically differences in IQ should not be noticeable on your final images (as noted in our comparison review).

It is worth noting that DxOMark sensor score only takes into account sensor quality.

Best regards,


Reply
---