Panasonic LUMIX G X Vario 12-35mm f2.8 ASPH. Power O.I.S review - Panasonic's Quality Standard Zoom for Micro 4:3
By Ben Boswell -
Wednesday March 20 2013
Lens Review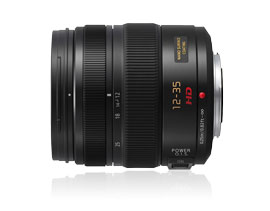 The Micro 4:3 market is maturing nicely: there are products available now to suit a wide range of needs. Up to now the upper end of this sector consisted entirely of fixed focal length lenses, but the Panasonic LUMIX G X Vario 12-35mm f2.8 ASPH. Power O.I.S changes all that. This is the first 'standard' zoom lens that DxO Mark has tested that really competes with fixed lenses on this format.
The Panasonic Lumix G X Vario 12-35mm f2.8 ASPH Power O.I.S is a high quality zoom lens with a Micro 4:3 mount. It will fit onto cameras from Panasonic and Olympus. The design is of 14 elements in 9 groups, 4 of the elements are aspherical, 1 is UED (Ultra Extra-low Dispersion) and 1 is UHR (Ultra High Refractive) Glass. The lens features nano-surface coating to improve transmission and contrast.
The Focal length range of 12mm to 35mm covers the "standard" range, the relative focal length for full frame 35mm would be 24mm through to 70mm. The maximum aperture of f2.8 is fixed throughout the range and the minimum is f22. The lens is not designated as a macro lens and the minimum focus distance is 0.25m giving a maximum magnification of 0.17x. Autofocus on the lens uses a silent motor design and works during video capture. There is also 'Power O.I.S: Optical Image Stabilizer which Panasonic claim to be twice as good as their previous system. As one would expect from a fast lens like this, it is quite solidly built, 68mm across, 74mm long and weighing in at 305g.
Further readings for the Panasonic LUMIX G X Vario 12-35mm f2.8 ASPH. Power O.I.S review - Panasonic's Quality Standard Zoom for Micro 4:3
To provide photographers with a broader perspective about mobiles, lenses and cameras, here are links to articles, reviews, and analyses of photographic equipment produced by DxOMark, renown websites, magazines or blogs.
---
Comments
Pansonic vs Olympus

How is it you have awarded the Olympus 12-40 f2.8 an overall score of 20 (Olympus OM-D E-M1 body) but only 19 for the Panasonic 12-35 f2.8?

They both score the same for sharpness - 9
The Panasonic has better transmission (T-stop) - 3.1 (Pana) vs 3.3 (Oly)
less vignetting - -0.8 (Pana) vs -0.9 (Oly)
less distortion - 0.9% (Pana) vs 1.3% (Oly)
Only on the Chromatic aberration test does the Olympus score better than the Panasonic and then by only 1um.
They are both pretty close in performance, but it seems to me the overall scores should be reversed.


Reply
---
Added by

dCap

| July 20 , 2013

good comparison

this is good to see the comparison with the Oly 12 and Oly 45, from the graphs it looks like we just need to go for our personal preference: 12 & 45 on a PEN vs the 12-35 on the OMD ... these give very different size solutions and of course that extra stop for the primes


Reply
---
Better than the Canikon?

Interesting comparison. Why not compare to similar lenses in other format like what was done with the 35-100/2.8?

Anyway, this lens is a good one. It has better overall score than both Canon and Nikon 17-55/2.8 with better sharpness and CA than the Canon and better transmission and vignetting than both:
http://www.dxomark.com/index.php/Lenses/Compare-Camera-Lenses/Compare-lenses/(lens1)/173/(brand)/Nikkor/(camera1)/0/(lens2)/960/(brand2)/Panasonic/(camera2)/0/(lens3)/169/(brand3)/Canon/(camera3)/0


Reply | Read all replies for this comment
First replies for this comment
---
Added by

sflxn

| May 12 , 2013

Re: Better than the Canikon?

First, get a clue about which lens to compare with. Pana 35-100 needs to be compared with 70-200/2.8 from Canon and Nikon on a FF sensor. The dinky m43 lens isn't in the same universe as the Canon and Nikon equivalent.


Reply
---
Added by

sflxn

| May 12 , 2013

Re: Better than the Canikon?

My bad. I saw the comments from the 'Forums' page. It didn't have a link back to the lens page you were commenting about. I just saw 35-100 and assumed you were talking about that lens. Now, I know you're talking about the 12-35 lens. The forums page is very poorly done on this site.


Reply
---
personal use

Rented the lens for a family vacation, fantastic results. Great exposures and very sharp and vivid colors. Did punch up the saturation before use, but liked it so much i ordered one.


Reply
---