Panasonic Leica DG Nocticron 42.5mm F1.2 ASPH OIS lens review: Best performing Micro Four Thirds model
By Kevin Carter -
Friday April 18 2014
Lens Review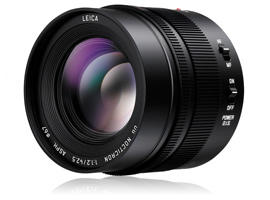 After evaluating Panasonic's high-end Leica 15mm f1.7 Summilux lens, we've continued the theme by assessing the firm's ultra-high speed stabilized 42.5mm f1.2 Nocticron model. Read on to find out if this new lens can contend with the best offerings from its partner and rival Olympus.
Introduced at CES at the beginning of the year, the Panasonic Leica DG Nocticron 42.5mm (85mm equivalent) f1.2 ASPH OIS is an ultra high-speed and stabilized model designed to tackle portraits in available light.
Unsurprisingly perhaps for a lens with a $1,600 ticket, it adopts an advanced optical formula consisting of 14 elements in total, arranged in 11 groups, including two aspheres, one low dispersion and one high refractive index glass element.
Adopting a new "Nocticron" moniker for its high-speed design, the new model features Nano lens coating for improved contrast, a circular diaphragm consisting of nine-blades and a metal exterior complete with an aperture collar. As this lens is likely to appeal to video enthusiasts as much as stills photographers a stepper motor is used for smooth, near silent autofocus.
While not exactly small with a 67mm front accessory thread and measuring 2.91 x 3.03" (74 x 77mm) this lens is more compact than rival offerings for full-frame models and is only moderately heavy at 14.99 oz (425 g). It is available now at $1,599.
Further readings for the Panasonic Leica DG Nocticron 42.5mm F1.2 ASPH OIS lens review: Best performing Micro Four Thirds model
To provide photographers with a broader perspective about mobiles, lenses and cameras, here are links to articles, reviews, and analyses of photographic equipment produced by DxOMark, renown websites, magazines or blogs.
---
---
Comments
Added by

sajo

| October 31 , 2015

Lower scores

I wonder why all lenses have lower sharpness on GX7 than GH2.I thought it would be the other way. Thanks!


Reply
---
Lumix 42.5 f1.2 lens, is > 1 stop faster than f1.8 not "less than 0.5 stops faster"!

I don't understand how a technical site like this can make such downright misleading statements? I am speaking about this:

"Olympus also offers a model that will, arguably, more directly compete with the new Leica lens. The 45mm is just a quarter of the price, and at f1.8, less than ½ a stop slower (1/3 stop when measured)."

Do you even know what a stop signifies? The difference between an f1.7 and an f1.2 lens is ONE FULL STOP more light, so the difference between f1.8 and f1.2 is EVEN MORE THAN ONE FULL STOP. Your statement that the difference between f1.8 and f1.2 is "less than half a stop" is just wrong.

Would you say the difference between f1.4 and f2.0 is "just 0.6 stops"? NO. It is one full stop.

Please correct this grossly misleading statement in your review.

Sheesh!



Reply | Read all replies for this comment
First replies for this comment
---
Re: Lumix 42.5 f1.2 lens, is > 1 stop faster than f1.8 not \

OK, never mind. I see that you took actual measurements of light transmission, and that the 42.5 f1.2 has a T-stop of 1.6 versus t-stop of 2.0 for the Oly 45. f1.8.

Sorry for my original comment!

Where is th 'red faced' emoticon? :-)




Reply
---
Added by

Valo

| April 30 , 2014

Works

Just a follow-up, thanks it works now! :)


Reply
---
Added by

Valo

| March 31 , 2014

DxO Optics Module

Hi, I have been waiting patiently this whole month but the DxO optics module for this particular lens has still not been released. Your 'Supported Equipment' page has a target date of '03.2014'. Any idea when it will be released?
Thanks


Reply
---