Panasonic Lumix DMC G5 review: New features and a new sensor
Thursday October 04 2012
Sensor Review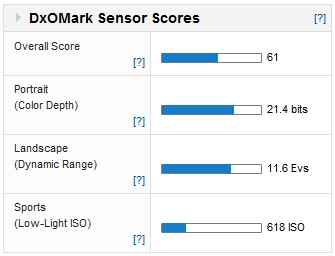 Panasonic made some refreshing changes – new creative features, improved ergonomics, and more filming options – in its latest addition to its highly esteemed Lumix G-series. The G5 also helps Panasonic inch forward in its quest for better and better image quality. Its DxOMark Overall Score of 61 makes it the second highest rated Panasonic sensor, behind the Lumix DMC GH1, in DxOMark's database.
The G5 performed well during DxOMark sensor testing for color depth – capturing a variety of colors and reproducing them richly, with it peaking at 21.4 bits at around 200 ISO – making it an ideal camera for photographers attracted to portraits and colorful outdoor nature photography.
The camera also had applaudable results for dynamic range. The G5 would make many landscape and architecture photographers happy with its ability to capture details in high contrast images that include bright highlights and dark shadows.
But Panasonic's newest Lumix camera was dragged down by a mediocre low light score, which should give pause to sports, entertainment, and other photographers who heavily depend on a camera that excels in poor lighting. The camera's threshold for producing quality images in low light was around ISO 700, pretty disappointing in a camera era that includes some true low light stalkers.
Further readings for the Panasonic Lumix DMC G5 review: New features and a new sensor
To provide photographers with a broader perspective about mobiles, lenses and cameras, here are links to articles, reviews, and analyses of photographic equipment produced by DxOMark, renown websites, magazines or blogs.
---
Sensor
|
October 04, 2012
| | |
| --- | --- |
| | Panasonic has added a new member to its highly esteemed Lumix G-line. The 16-megapixel Lumix DMC G5 adopts the Japanese brand's mirrorless and Micro Four Thirds technology, and it replaces the one-year-old G3. But did Panasonic's renovation of features and design for the G5 extend to the camera's image quality? DxOMark has some answers. |
---
---
Comments
am eagerly awaiting this!

I am contemplating the G3 or G5 and whilst I think the latter is a worthwhile upgrade on features, there is quite a price premium, and I wouldn't want to pay it if the sensor wasn't a significant upgrade. thanks.


Reply
---