Panasonic Lumix DMC G5 review: New features and a new sensor
Thursday October 04 2012
Sensor Review
Lumix DMC G5 vs. Lumix DMC GX1 vs. DMC G3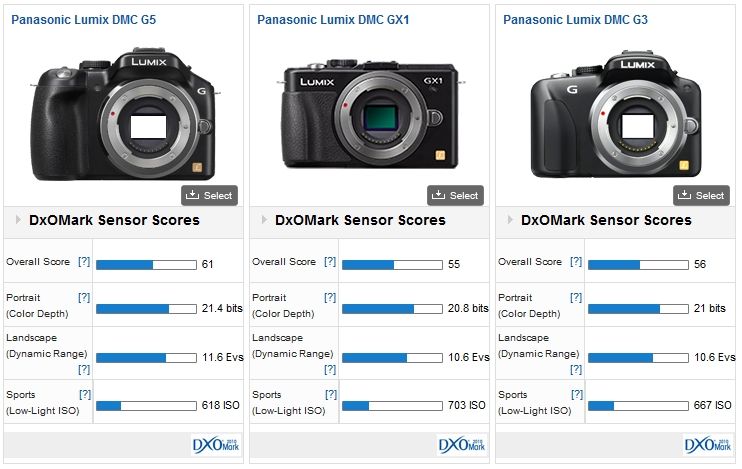 Each new generation of camera aims to be better than the last, at least in the rapidly evolving technology world. For its part, Panasonic newest generation of its esteemed mirrorless Lumix G-line bested its predecessor, the G3, by a praise-worthy five points. It also topped another popular Panasonic hybrid, the Lumix DMC GX1, by six points.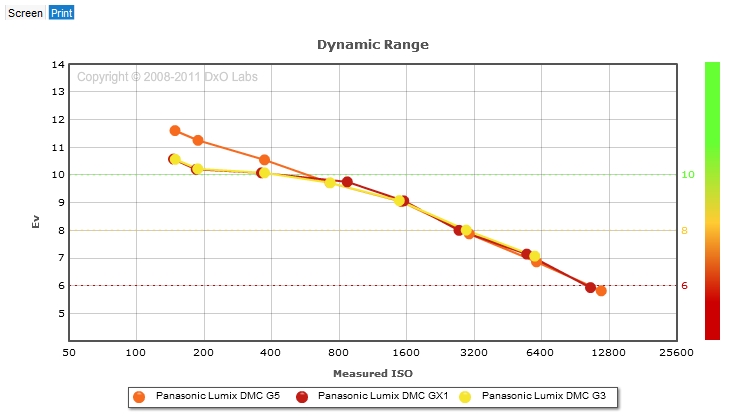 The G5 performed particularly well against its family members in dynamic range, proving it to be the best of the bunch for landscape and architecture photographers. Its documented score of 11.6 Evs make it a full stop better in dynamic range than both the GX1 and G3. This means the G5, at least compared to the GX1 and G3, can capture more details in an even wider swath of contrasting shadows and highlights.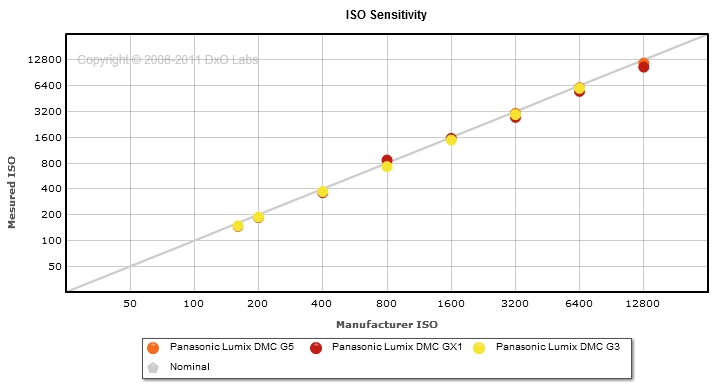 However, the G5 delivered a lackluster low light performance. Its score lagged behind the already poor low light performance of the G3, contradicting Panasonic's claims that the G5's digital' Live MOS sensor would improve upon its older brethren. All three cameras struggled to produce good image quality at about 700 ISO, making them subpar tools for sports and entertainment photographers.
Lumix DMC G5 vs. Sony NEX-F3 vs. Olympus OM-D E-M5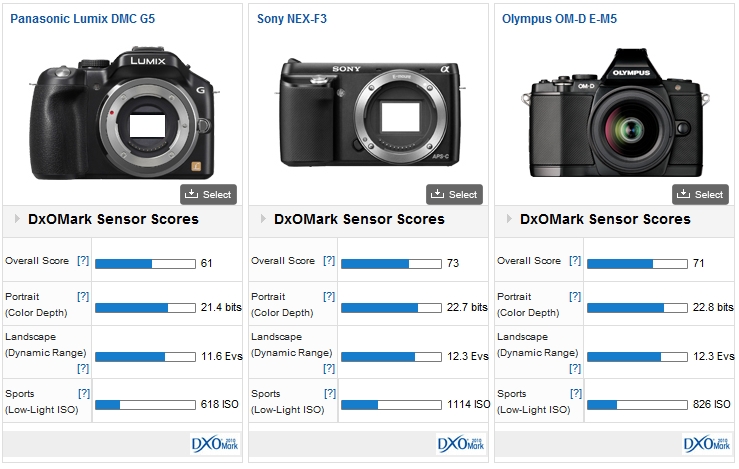 The G5 made gains on most Panasonic Lumix cameras. But how did it fair against rivals with similar hybrid technology? The short answer is not well, especially when going head-to-head against Sony's NEX-F3 and its DxOMark score of 73 or Olympus' OM-D E-M5 and its rating of 71. Both swept Panasonic's latest Lumix G camera in every category.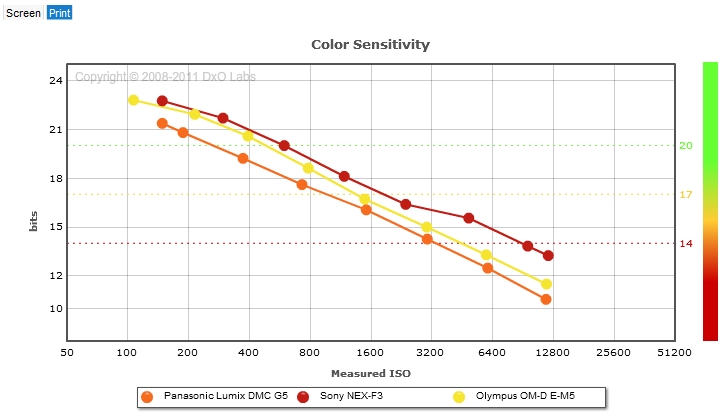 The G5, while having good color depth, still trailed the 16-megapixel NEX-F3 and E-M5. Both competing cameras were more than 1-bit better than the G5; giving them more than twice the number of color hues and saturations they can capture compared to the G5.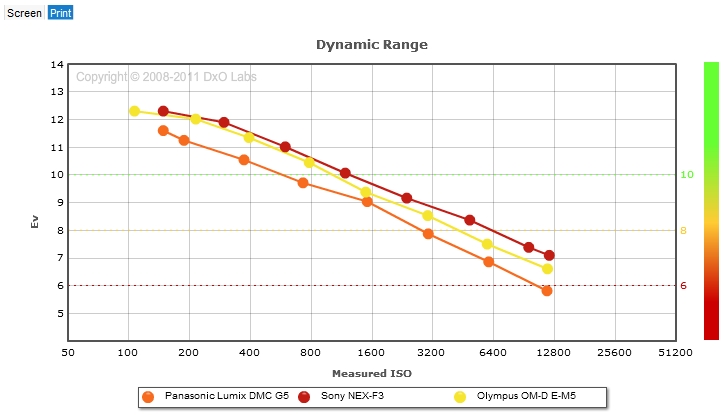 Both mirrorless models from Sony and Olympus trumped the G5 in dynamic range quality. Their half-stop gain over the G5 gives the duo that much more leverage in snagging details in difficult high contrast environments.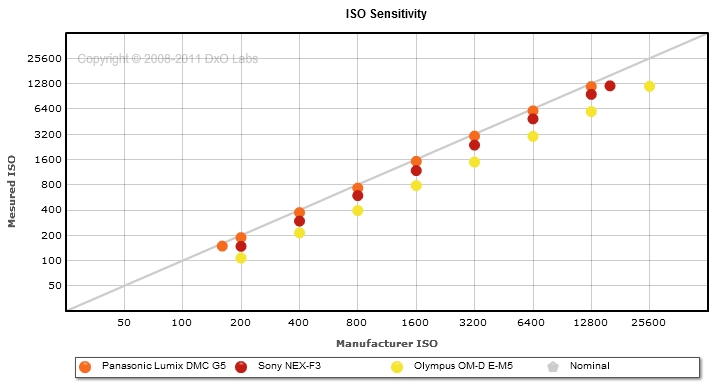 The G5's weak low light performance contrasts sharply with the NEX-F3. The Sony camera nabbed a low light score of 1114 ISO, giving it a nearly one-stop advantage over the G5. The NEX-F3's low light operations make it an enviable top pick for sports photographers and adds to its distinct all-around advantage over the G5. The E-M5 sat between the G5 and NEX-F3 in this category.
Further readings for the Panasonic Lumix DMC G5 review: New features and a new sensor
To provide photographers with a broader perspective about mobiles, lenses and cameras, here are links to articles, reviews, and analyses of photographic equipment produced by DxOMark, renown websites, magazines or blogs.
---
Sensor
|
October 04, 2012
| | |
| --- | --- |
| | Panasonic has added a new member to its highly esteemed Lumix G-line. The 16-megapixel Lumix DMC G5 adopts the Japanese brand's mirrorless and Micro Four Thirds technology, and it replaces the one-year-old G3. But did Panasonic's renovation of features and design for the G5 extend to the camera's image quality? DxOMark has some answers. |
---
---
Comments
am eagerly awaiting this!

I am contemplating the G3 or G5 and whilst I think the latter is a worthwhile upgrade on features, there is quite a price premium, and I wouldn't want to pay it if the sensor wasn't a significant upgrade. thanks.


Reply
---