Panasonic Lumix DMC-GF5 review
Monday September 17 2012
Sensor Review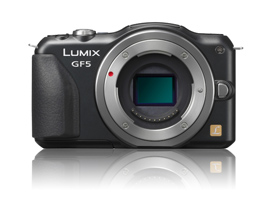 Panasonic's sleek and stylish Lumix DMC-GF5 relies on the Micro Four Thirds technology – a technology that includes a 4:3 ratio sensor, and lacks a mirror box and pentaprism – allowing for the camera's compact size and airy weight of 267 grams.
The April released Lumix DMC-GF5 updates many of the popular features found in the GF3, its predecessor: including a speedier and more accurate autofocus, improved ergonomics for the slick fingered, and a bright and sharper 920k-dot touch screen for better viewing. The camera also adds new shiny bells and whistles like art filters that allow a photographer to snap pictures with a soft focus, or add a twinkly-starry effect to images. (You can read about the Lumix DMC GF5's new and updated features here, in our preview guide.)
Panasonic's fourth generation of the esteemed Lumix DMC-G line relies on a 12.1-megapixel sensor. This sensor allows the GF5 to bump up its ISO to a maximum 12,800, double that of the GF3.
But what other image quality improvements were gained (or lost) on the Lumix DMC-GF5? DxOMark has some answers.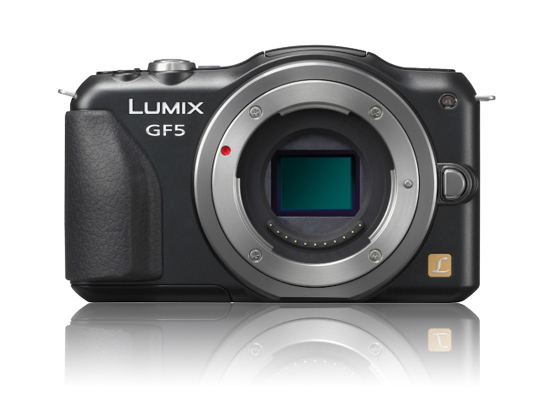 The Canon EOS 5D Mark III, left, and Nikon D800 go head-to-head in DxOMark's image quality and sensor performance tests.
Further readings for the Panasonic Lumix DMC-GF5 review
To provide photographers with a broader perspective about mobiles, lenses and cameras, here are links to articles, reviews, and analyses of photographic equipment produced by DxOMark, renown websites, magazines or blogs.
---
Sensor
|
September 17, 2012
| | |
| --- | --- |
| | The compactness, flexibility for interchange lenses, and touchscreen focus and interface makes Panasonic's Lumix DMC-GF5 an attractive companion for amateur photographers who want the usability of a point-and-shoot, but the versatility of a DSLR. But with a number of similar hybrid cameras entering the market, is the GF5 right for you? |
---
Comments
First replies for this comment
---
Re: My first comment and it's to correct grammar

Should be, "My first comment, and it's to correct grammar". However, some spell checkers will still mark it as a fragment.


Reply
---
Yay.

Yay. Yet another iteration of the same damned camera. Really pushing boundaries there, eh Panasonic?


Reply
---