Panasonic Lumix DMC-GF5 review
Monday September 17 2012
Sensor Review
Panasonic Lumix DMC-GF5 vs. Panasonic Lumix DMC GX1 vs Panasonic Lumix DMC GF3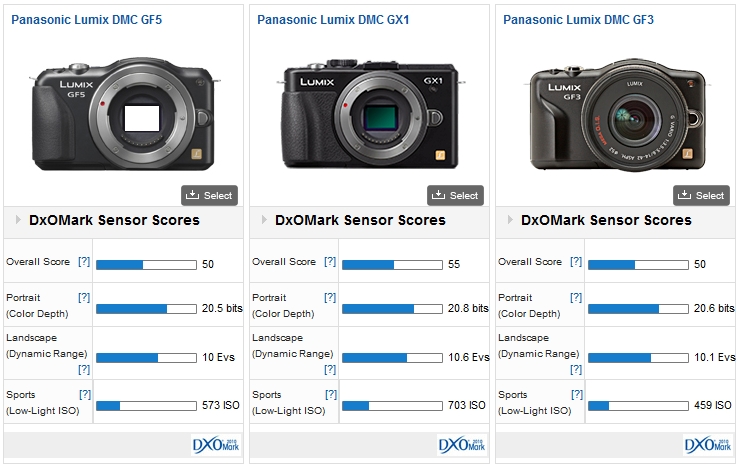 The Panasonic Lumix DMC-GF5's predecessor is the Lumix DMC-GF3. It launched last year to mixed reviews, most of which were focused on it shrinking 17% in size and 16% in weight over the Lumix DMC-GF2. This shrinking effect also seemed to impact its sensor quality, as it regressed a few points from the GF2.
Did Panasonic repeat the same mistake in sensor quality regression with the GF5?
The short answer is no. The GF5 equalized the GF3 in DxOMark's overall sensor quality score, and both had near identical results in the portrait and landscape categories.
Their most distinguishing difference was observed in the sports category, or lowlight ISO, with a slight nod given to the newer GF5 for having an ISO score of 573 compared to the GF3's 459 ISO score.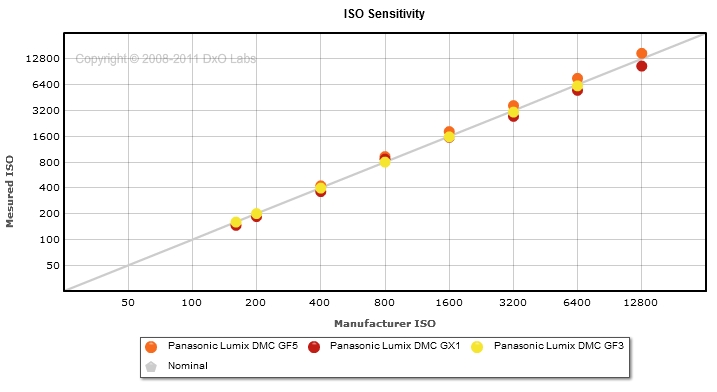 These results provide evidence that Panasonic likely didn't evolve the sensor's quality. Rather, the company placed emphasis on improving the exterior of the camera, improving existing components like audio and video capabilities, and adding features like 14 creative filters that superimpose artistic or nostalgic photo-like qualities onto an image.
Photographers sold on getting a new compact-hybrid DSLR-like camera from Panasonic should also consider the Lumix DMC-GX1. It costs $100 more than the GF5's $599 (USD) price tag, but the GX1's 16-megapixel camera sensor registered slightly better quality over the GF5 in:
Lowlight, with a 1/3 stop improvement, making it a better camera for night-oriented photographers.
Dynamic range, notching only a modest improvement over the GF5.
Panasonic Lumix DMC-GF5 vs. Sony NEX-5N vs. Olympus PEN EPL-3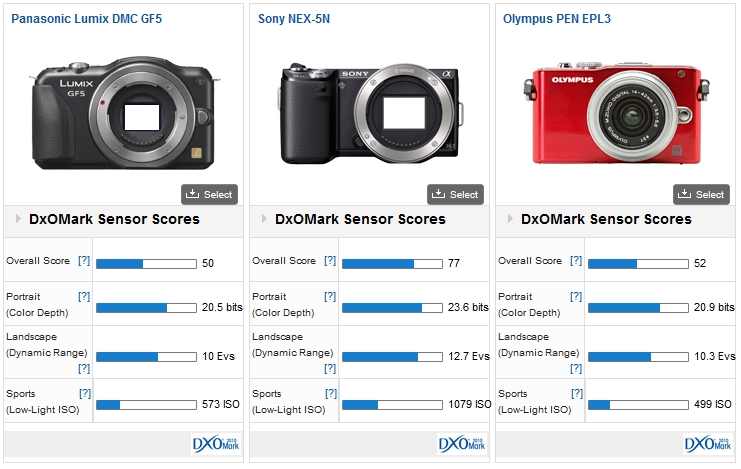 The hybrid digital still camera market is crowded. Panasonic's Lumix DMC-GF5 has more than a dozen competitors, with some of its stiffest headwinds coming from rivals Olympus and Sony.
Sony's NEX-5N, while costlier at $860, backs up that price with a number of features that outshine Panasonic's Lumix DMC-GF5. The NEX-5N boasts a bigger screen, better battery life, and a larger and more superior sensor.
Sony NEX-5N's 16.14-megapixel sensor, receiving an overall DxOMark sensor score of 77, was buoyed above the GF5 in:
Lowlight ISO, with its sensor nearly 1 full f-stop better than the GF5. The NEX-5N pushes the limits of good image quality recorded at a high ISO setting, especially for a hybrid camera. The NEX-5N's breaking point was around 1079 ISO, making it an ideal piece of equipment for dark shooting conditions.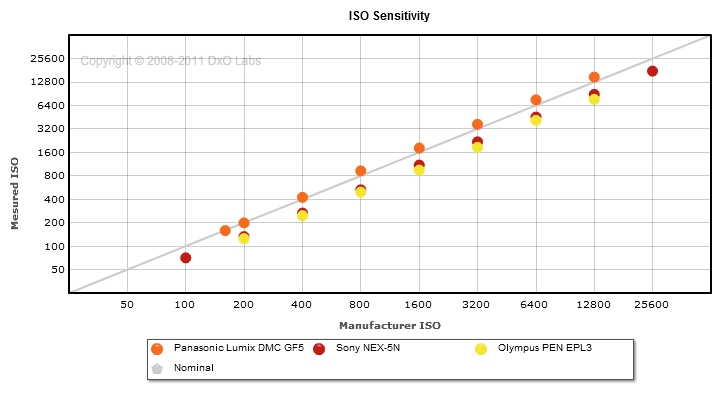 Color depth, registering a full 3.1 bits higher than the GF5, giving it the ability to capture a wider variety of colors. This camera will work great for portraits and detail shots.
Dynamic range, at 12.7 EVs, the NEX-5N can secure many of the details difficult to capture in high contrast pictures that include dark shadows and bright highlights.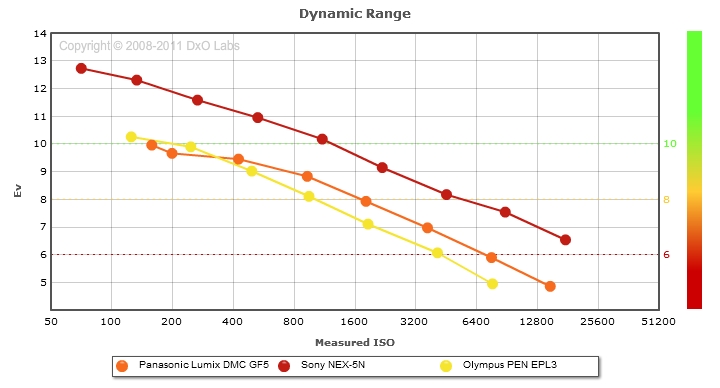 Olympus, who collaborated with Panasonic on the Micro Four Thirds system, also has a number of compact hybrid cameras that share this 4:3 technology. Many of these Olympus cameras consequently go head-to-head with the GF5, including the similarly performing one-year-old PEN EPL-3.
The PEN EPL-3 provides:
Slightly smaller lowlight ISO quality compared to the GF5.
A better value, priced at $460 (USD), the camera is about $140 cheaper than the GF5.
Slightly better color depth and an insignificant .1 EV improvement in dynamic range over the GF5.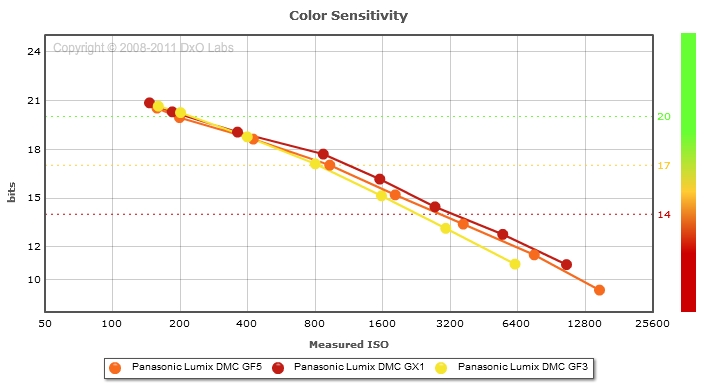 Further readings for the Panasonic Lumix DMC-GF5 review
To provide photographers with a broader perspective about mobiles, lenses and cameras, here are links to articles, reviews, and analyses of photographic equipment produced by DxOMark, renown websites, magazines or blogs.
---
Sensor
|
September 17, 2012
| | |
| --- | --- |
| | The compactness, flexibility for interchange lenses, and touchscreen focus and interface makes Panasonic's Lumix DMC-GF5 an attractive companion for amateur photographers who want the usability of a point-and-shoot, but the versatility of a DSLR. But with a number of similar hybrid cameras entering the market, is the GF5 right for you? |
---
Comments
First replies for this comment
---
Re: My first comment and it's to correct grammar

Should be, "My first comment, and it's to correct grammar". However, some spell checkers will still mark it as a fragment.


Reply
---
Yay.

Yay. Yet another iteration of the same damned camera. Really pushing boundaries there, eh Panasonic?


Reply
---