Panasonic Lumix DMC GF6 review: is WiFi and 16-Mpix sensor enough?
By Kevin Carter -
Monday June 17 2013
Sensor Review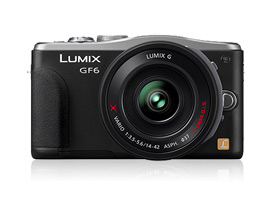 Panasonic's entry-level DMC GF6 sees a return to a more conventional control layout and adds several useful features including a touch-sensitive, tilting monitor and easy wireless connectivity with smart-phones via WiFi with NFC capability. The new camera also features a 16-Mpix sensor, but just how well does it perform in our labs?
At $599 including the 14-42mm f/3.5-5.6 II kit lens, Panasonic's latest iteration of the entry-level, finder-less Lumix GF features a higher resolution 16-Mpix MFT sensor (up from 12.1MPix for the previous model) with sensitivity up to ISO 25,600. It also boasts a tilting, capacitive touch screen and built-in WiFi with the convenience of NFC (Near Field Communication) technology for simplified connectivity with suitably equipped smart-phones. Panasonic has also returned to a more traditional layout complete with a shooting mode dial on the top plate, yet at the same time the GF6 adds an unusual jog-style zoom lever surrounding the shutter-release button (useful for the optional 'pancake' powered zoom). HD movie capabilities haven't been ignored with 1080p30 stereo clips captured as either MP4 or AVCHD format. So, how well does this stack up in today's competitive mirrorless market?
Further readings for the Panasonic Lumix DMC GF6 review: is WiFi and 16-Mpix sensor enough?
To provide photographers with a broader perspective about mobiles, lenses and cameras, here are links to articles, reviews, and analyses of photographic equipment produced by DxOMark, renown websites, magazines or blogs.
---
---